Mixology finds ABC looking for love in a singles bar
02/24/14 05:10 PM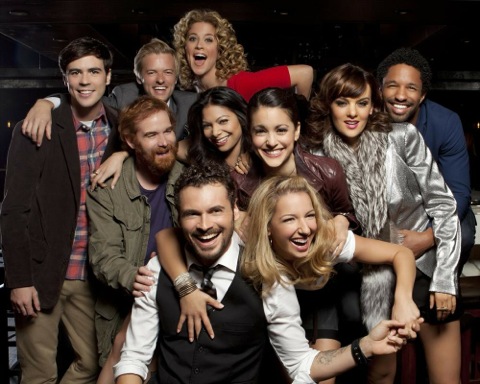 Cheers to the 10 single barflies of Mixology. ABC photo
Premiering:
Wednesday, Feb. 26th at 8:30 p.m. (central) on ABC
Starring:
Adam Campbell, Adan Canto, Alexis Carra, Craig Frank, Ginger Gonzaga, Blake Lee, Vanessa Lengies, Andrew Santino, Frankie Shaw, Kate Simsess
Produced by:
Jon Lucas, Scott Moore, Ryan Seacrest, Nina Wass, Ira Ungerleider, Adam Sher
By ED BARK
@unclebarkycom on Twitter
Guy walks into a bar and . . . ABC's
Mixology
emerges in place of the unlikely to be seen again
Super Fun Night
.
Each of the planned 13 half-hour episodes apparently will begin with a narrative advisory that "this is the story of 10 strangers, one night and all the . . . ridiculous things we do to find love." The first three do anyway.
Viewers looking for anyone to like will not instantly settle on the would-be alpha male of this group. Bearded Bruce (Andrew Santino) instantly comes off as a grubby-looking, womanizing a-hole in a military shirt he hasn't earned.
"Girls have changed, man," he assures pals Tom (Blake Lee) and Cal (Craig Frank) near the start of Wednesday's premiere episode. "They will sleep with anything. I get laid all the time and I am disgusting -- head to toe."
That he is. And even more so when Bruce follows up with, "Let's find you a nice, sweet drunk girl."
But
Mixology
also offers mini-back stories of two characters per week. And in Episode 3, Bruce can be seen for what he is -- which is a bit more than a gross human dildo. Instead he talks big to compensate for an unhappy childhood.
The producers of this series, who include Ryan Seacrest, nonetheless are asking viewers to patiently sort through a lot of characters. And to complicate matters, one of them, Janey (Sarah Bolger from ABC's
Once Upon a Time
), was written out after Episode 1. She'll be supplanted next week by Fabienne (Frankie Shaw), "frenemy" of divorced single mom Jessica (Alexis Carra), who initially arrived at the bar with her sister, Janey. Who's gone poof.
All 10 characters are seen and at least fleetingly heard in each episode. But two of them are spotlighted each week. In Wednesday's premiere it's the aforementioned Tom -- on the rebound after being nastily dumped by his fiancee -- and Maya (Ginger Gonzaga), a tart-tongued, tomboy sports attorney whose back story includes a cameo by former NFL star Keyshawn Johnson. The two of them dated for a bit until he deduced, "You are the biggest bitch that I've ever met. The biggest. And Keyshawn Johnson has seen some bitches."
I'll bet he has -- in his own mind at least.
Maya so far is the most interesting character of the bunch, though, whether ripping on Tom ("She left you because you're a sniveling little bitch") or in Episode 3 carping about how she's always mistaken for being Hawaiian.
Episode 2 focuses on the engaged, timid Liv (Kate Simses) and a roguish Brit named Ron (Adam Campbell), who's newly penniless. Her backstory includes this narrative zinger about how she bonded with her equally goody good fiancé: "Liv and Jim liked scrapbooking, cheese and the entire CBS comedy lineup." Which, by the way, ABC sorely wishes it had.
Cal, the lone black character in
Mixology
, won't be fleshed out until Episode 4, when his back story kicks in. Meanwhile, he gets Episode 1's most unfortunate lines, telling Tom, "You are a Viking. You rape, you pillage and you take what's yours." Pause, one-two. "OK, obviously don't rape her."
Given ABC's ongoing ratings woes, viewers may well call bar time on
Mixology
before it can build on a shaky but not altogether flimsy foundation. Through the first three episodes, I'm sold on Maya and care at least a speck or two about Jessica, Tom and maybe even, urp, Bruce. Then again, it wouldn't be much of a loss if the whole lot of 'em joined their network's growing pile of discards.
GRADE:
C
Email comments or questions to:
unclebarky@verizon.net