Don't get fooled again?: ABC's The River makes one feel Lost anew
02/03/12 03:43 PM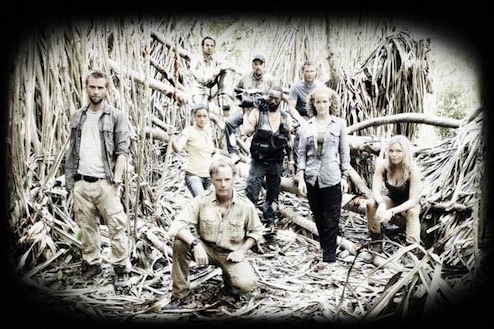 The cast of The River hopes to not fade away. ABC photo
Premiering:
Tuesday, Feb. 7th at 8 p.m. (central) with back-to-back episodes
Starring:
Leslie Hope, Joe Anderson, Bruce Greenwood, Eloise Mumford, Paul Blackthorne, Thomas Kretschmann, Daniel Zacapa, Paulina Gaitan, Shaun Parkes
Produced by:
Oren Peli, Michael Green, Jason Blum, Steven Schneider, Justin Falvey, Daryl Frank, Zack Estrin, Steven Spielberg
By ED BARK
Whatever the lessons of
Lost
, they seem lost on ABC.
Because here comes another otherworldly, string-along drama series whose humans are at the mercy of mysterious unseen forces that include a demon spirit reminiscent of "The Smoke Monster."
It's also filmed in Hawaii, as was
Lost
. CBS goes to the island for lushly appointed, but otherwise straight-ahead cop shows on the order of
Magnum, P.I.
and the network's past and current
Hawaii Five-0
. ABC goes for the murk.
The River
, launching on Tuesday, Feb. 7th with back-to-back hours, is replete with the jittery, grainy hand-held camera visions you'd expect from its principal executive producer,
Paranormal Activity
director Oren Peli. His playground is the Amazon, where explorer/TV host Emmet Cole (Bruce Greenwood) has gone missing and been declared dead.
Cole's TV series,
The Undiscovered Country
, ran for 22 years. His tagline, "There's magic out there," apparently became as popular as "Is that your final answer?" The guy loved snakes and reptiles, but wasn't much of a people person. His son, Lincoln (Joe Anderson), now a medical student, became estranged from dad after he missed too many birthdays and other milestone events. And his wife, Tess (Leslie Hope), had a stateside affair while hubby jaunted about on his good ship Magus.
Six months after he goes missing, though, Emmet's location "beacon" begins relaying signals. Tess instantly becomes intent on finding him alive. And his old network and producer, the uniquely named Clark Quietly) (Paul Blackthorne), are happy to pay all expenses as long as the cameras keep rolling and Lincoln comes along, too, in the interests of heightening the drama.
Oh no he won't.
Oh yes he will.
Let's meet the rest of the crew. Lena Landry (Eloise Mumford) is a comely young blonde who was Lincoln's best friend when they were kids. She then became Emmet's principal assistant while her likewise missing dad served as top cameraman.
Lena know things. Such as this: "He knew what he was doing out there, that he'd be inviting in darkness."
The Captain on this new excursion is a guy named Kurt Brynildson (Thomas Kretschmann), who apparently has some ulterior motives. There's also key crew member Emilio Valnzuela (Daniel Zacapa), whose teenage daughter, Jahel (Paulina Gaitan), used to have a "ghost friend." She now somehow knows that evil apparitions are on the prowl and very bloodthirsty.
Snippy Lincoln Cole may have a bug up his ass at times, but Jahel swallows a big bug whole while asleep in Tuesday's Hour 2. This enables her to talk like Emmet and tell his wife in his voice, "You need to let me go. They have me, Tess."
All the while, the cameras keep going crazy, whether on the decayed ship Magus or in the bush during a very weird search for Emmet that mostly consumes Hour 2. Look for lots of hanging dolls on some sort of "spirit tree."
The producers of
The River
(among them the now ubiquitous Steven Spielberg) hope to make your flesh crawl on a weekly basis while also peeling away layers of Emmet's disappearance. Co-executive producer Michael Green told TV writers in January that the series will have "longer term horizontal arcs" while at the same time making each episode "its own horror movie."
Yeah, they all say that, particularly where ABC is concerned.
The River
, also reminiscent of
The Blair Witch Project
, throws a lot of bodies around in its opening hours. And Joe Anderson's interesting portrayal of Lincoln Cole makes one hope he emerges reasonably intact at the end of however long
The River
lasts.
The guess here is that it won't be very long at all.
Lost
had a transfixing pilot episode, with the thrill of discovery palpable. But many fans -- not so much this one -- were let down by its magical, mystical, heaven-in-a handbasket finale. And it took six seasons to get there.
The River
in comparison seems like stale tap water, unworthy of any prolonged big drink of time or effort. Somehow we just know it's not all going to hold together, despite its best-intended clarion call at the end of Hour 1. "Dad was onto something," says son Lincoln. "And you know what? There
is
magic out there. Let's go see it."
Or, as many will prefer -- let's not.
GRADE:
C+