The Address: a here and now Ken Burns film about Lincoln's most enduring words
04/15/14 09:48 AM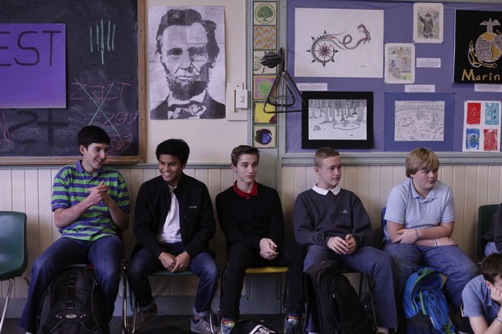 Greenwood School boys with "complex learning profiles" have a date with Lincoln's Gettysburg Address. Those who memorize it get immense satisfaction and a commemorative coin. PBS photo
By ED BARK
@unclebarkycom on Twitter
The Gettysburg Address took just two minutes for Abraham Lincoln to deliver, so it figures that Ken Burns would turn it into a 90-minute film.
That's the easy joke. But
The Address
is both an intimate and a "little" film compared to
The Civil War
(11.5 hours),
The War
(14 hours),
Baseball
(18.5 hours),
Jazz
(20 hours) and other Burns' epics during his more than 30 years with PBS.
Premiering
Tuesday, April 15th at 8 p.m. central (on KERA13 in Dallas)
,
The Address
is without sweeping scope but does resort to typically Burns-ian piano or violin interludes during its occasional contextual flashbacks to Nov. 19, 1863. That's the day Lincoln began his "Four score and seven years ago" masterpiece. You might say it's stood the test of time despite being reviled at the time by the
Chicago Times
as "the silly, flat, dishwatery utterances of the man who has to be pointed out to intelligent foreigners as the President of the United States."
The Address
is largely a telescoped look at an annual rite of Putney, Vermont's Greenwood School, which challenges its students to memorize Lincoln's words and deliver them at a candle-lit school dinner at which everyone gets dressed up. Greenwood accepts only boys with "complex learning profiles," limiting its enrollment to 50 with an age range from 11 to 17. Those who successfully navigate "The Gettysburg," as teachers call it, receive an official Greenwood coin and the priceless satisfaction that comes from completing a daunting task.
The film caps Burns' national "public outreach campaign" to remind Americans of the importance of the Gettysburg Address. He announced the initiative on the eve of the speech's 150th anniversary last November. A companion website,
learntheaddress.org
, since has welcomed video readings from one and all. Among those answering the call: President Obama and the four living former presidents, Carol Burnett, Louis CK, Whoopi Goldberg, Stephen Colbert, Jimmy Kimmel, Martha Stewart, Bill O'Reilly, Usher, Taylor Swift, Jerry Seinfeld, Rita Moreno, Conan O'Brien, Steven Spielberg and Dallas mayor Mike Rawlings.
Colbert does a comedic riff while wearing a beard and stovepipe hat to giggles from his studio audience. O'Brien does it straight.
In
The Address
, we see the students in class and sometimes at play. All are identified by first names only, and it seems that everyone gets at least a few seconds of camera time. Teachers gently but firmly guide them through initially halting memorizations of The Gettysburg. Seven of the students also are chosen as narrators of the film.
Ian, 14, is particularly down on himself. He talks of being taunted at previous schools, and in one scene, his self-pitying behavior comes close to being very tiresome, if not contemptible. But he rallies and re-dedicates himself to learning Lincoln's words. "It just tells people I'm not stupid," he tells the camera. "I'm not dumb. I'm not worthless."
The Address
becomes an instructive and affecting film, although not a true Burns classic. Still, it's nice to see him as a fly on the wall in a contemporary setting, with cameras capturing the here and now rather than recycling telling images from long times ago. The talking heads remain in place, but this time they're actual participants in an ongoing journey rather than historians and academics telling us what Lincoln must have felt like on that day.
Those who take a look Tuesday night might want to stick around for the closing credits and a surprise bonus snippet of a Greenwood School student asking, "Do you want me to do it as William Shatner?" And so he does -- for a few select passages.
GRADE:
B+
Email comments or questions to:
unclebarky@verizon.net