Coal takes the Thom Beers Deadliest Catch touch to the minefields
03/28/11 04:57 PM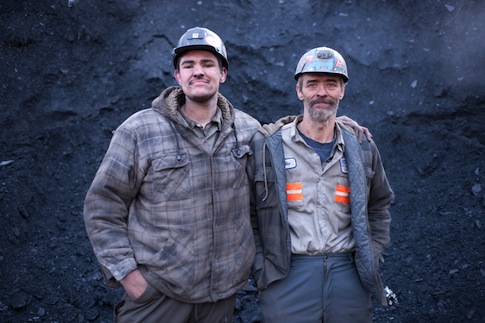 West Virginia coal miners Andrew Christian, Jr. and Sr. Spike TV photo
Premiering:
Wednesday, March 30th at 9 p.m. (central) on Spike TV
Starring:
Workers and owners tied to the Cobalt Coal company of Westchester, W. VA
Produced by:
Thom Beers, Philip D. Segal
By ED BARK
Producer Thom Beers has been sitting on a gritty gold mine with
Deadliest Catch, Ice Road Truckers, Ax Men
and other up-close looks at professions that can easily kill you.
Mines are next, with Spike TV's 10-episode
Coal
premiering just shy of a year after an April 2010 explosion took 29 West Virginia miners' lives.
The Westchester, W. VA men of
Coal
may sound inarticulate to many ears, with accents thick enough to sometimes merit subtitles. But their jobs are incredibly intricate. And claustrophobic. Plus dirty, dangerous and often dispiriting. Still, "it's in muh blood," says one of the lifers. "All my family's coal miners."
Beers as usual blends compelling storytelling, vivid characters and stark visuals into nuts 'n' bolts reality hours that are about as far removed from the hoity toity
Real Housewives
franchise as
Man v. Food
star Adam Richman is from a vegan diet. The common man stars of
Coal
may look unkempt and largely unacquainted with "book larnin'." But they resonate with an authenticity that usually can't be beat when Beers is at the controls.
His cameras settle on the small, struggling Cobalt Coal company. Its president, Tom Roberts, says he's been a millionaire on at least a couple of occasions. But he keeps sinking his money into new mines, which regularly give him the shaft. His fate, and that of partner Mike Crowder, rests with the likes of ace rock cutter Andrew Christian and his son, Andy Jr.
Christian Sr., who's teaching his son the trade, runs a dangerously balky but quite miraculous cutting machine that rips through rock, separates the coal and then eventually spits it out above-ground. A delicate touch is required in underground workplaces with 3.5 foot ceilings that force the miners to duck-walk into position after riding in on low-slung vehicles. You definitely wouldn't want to be there, unless it's the only livelihood you've ever known. Still, a " 'nother day in that man-made hell," as one miner puts it, is nothing to savor.
Andy Christian Jr. aspires to be a chip off the old block, someday becoming better than the old man at crapping coal from a balky mine to a profit center. "You're going to be a legend like him," he's told after subbing for his father after he calls in sick. The reward for an unexpectedly productive hard day's work is post-shift pizzas courtesy of Cobalt. Veteran miner Jerry "Wildman" Roberts, his preternatural white teeth gleaming from a coal black mug, is one of the happy imbibers.
Coal
never condescends. It's what makes Beers' productions stand out as tributes to the rigors of skilled, perilous work rather than cheap shots at the dumb asses who do it. There's genuine poignancy in the plight of night shift digger Randy Remines, a grizzled survivor of three heart attacks who can't hope to be as proficient as Andy Christian Sr. or his boy. But he needs the job and keeps at it, making mistakes that can cost Cobalt dearly.
"Right now he is not exhibiting the skills," says Roberts, who's still reluctant to let Remines go.
"Some people just don't have the rhythm," Crowder adds.
Coal
has the right stuff, putting viewers of a mind to hurt for these men -- who hurt right back. A twisted back in the line of duty sends one miner off in an ambulance, his future below-ground prospects newly jeopardized. And in next week's episode, a big, work-stopping storm looms.
It all adds up to real-life drama with far more at stake than where a "real housewife" will get her next facelift. Or whether a sculpted stud from
The Bachelor
will find made-for-TV love amid a bevy of supplicant beauties. The miners of
Coal
are alien to such life forms -- and vice versa. They just keep digging themselves deeper -- with no real way out.
GRADE:
B+