HBO's Elvis Presley: The Searcher has the added poignancy of Tom Petty's perspectives
04/13/18 02:50 PM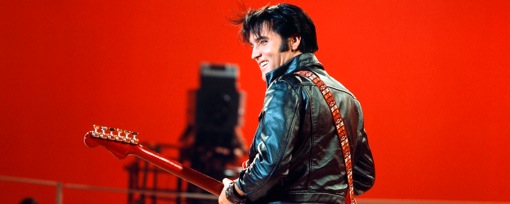 Elvis in fighting trim during his 1968 NBC "comeback" special.
By ED BARK
@unclebarkycom on Twitter
It can be disconcerting to those of us who have reached a certain age. In truth, though, there's no denying that the life and times of Elvis Presley have become ancient history to a majority of Americans.
Despite any remaining addled rumors to the contrary, "The King" hasn't been among the living since Aug. 16, 1977. And his landmark comeback special first aired 50 years ago on NBC. But honest, kids, he really was a big deal. You can see for yourself on Saturday, April 14th while elders who grew up with him take another big drag on the nostalgia pipe.
HBO's three-and-a-half hour
Elvis Presley: The Searcher
(
7 to 10:30 p.m. central
) is an evocative documentary without malice. It's also a case study of an unfulfilled rock 'n' roll mega-deity who near the end became "unmoored from the Earth experience," in the words of writer Warren Zanes, author of 2015's acclaimed
Petty: The Biography
.
Tom Petty's audio presence throughout
The Searcher
lends an extra layer of poignancy. If Elvis is of another time, Petty still seems to be among our collective heres and nows after suddenly passing last October.
"We shouldn't make the mistake of writing off a great artist by all the clatter that came later," Petty says in the early minutes of
The Searcher
. All of his words are off-camera, as are those of Bruce Springsteen, Priscilla Presley, Robbie Robertson, Emmylou Harris and a host of others who either knew Elvis personally, loved his music or studied his impact.
Directed by Thom Zimny and produced by Jon Landau,
The Searcher
tracks Presley from his boyhood devotion to black gospel music to his perhaps even greater and unfortunate fealty to Col. Tom Parker, who managed and merchandised him to death.
Presley's 1968 TV special (presented by the Singer sewing machine company), and his solitary bike rides as a dirt poor Tupelo, Mississippi kid are visually referenced time and again in the three-and-a-half hour film.
Mike Binder, who produced the special, tried to give Presley free reign to be his true self anew after Parker had chained him to a conveyor belt of mostly junk movies and companion soundtrack albums. Even Priscilla calls them "hum-drum." But as Binder tells it, an insecure Presley balked at the last second and had to be figuratively pushed onstage. The result was a revelation: Elvis in tight-fitting black leather tearing it up with his guitar and vocals while his old crew, including Scotty Moore, Bill Black and DJ Fontana, joyfully kept up with him.
As a kid, Springsteen recalls being revved up for months beforehand. "I can remember exactly where our TV set was set up in the dining room," he says -- as well as precisely where he sat.
There's an abundance of archival and performance footage in
The Searcher
, a good deal of it already oft-used and familiar. But Presley's signature "American Trilogy" performance during those many-spangled later years in Las Vegas have never lost their emotional edge. "It's
very
moving music," says Petty in tandem with your reviewer wiping away a tear.
The return to stage performances, first in Vegas and later all around the country, made Presley relevant again while also hastening his demise.
At the time, "there isn't a single studio that will throw any significant money down for an Elvis movie," says Petty, who rejoices "Thank God!" for Presley's second coming as a live performer.
On the other hand, they became addictive and self-destructive, with a geared-up Presley taking downers to put him to sleep and uppers to drag himself out there again.
"He's actually pretending at home to be normal," Springsteen says. "When he goes out on onstage at night, it's actually who he is. It's a very difficult dichotomy."
Says Petty: "He knew he had try to find something. But I think he gave up. I think he felt outgunned, and gave up."
The Searcher
curiously does not include author Peter Guralnick as one of the off-camera contributors. He's written a perhaps definitive two-volume biography of Presley (
Last Train to Memphis
and
Careless Love
) while also penning 2015's
Sam Phillips: The Man Who Invented Rock 'n' Roll
.
Phillips is given full credit in the documentary for producing the Sun Records single, "That's All Right (Mama)," that put Presley in a spotlight that never left him. The B-side, a still strikingly original version of "Blue Moon of Kentucky," wasn't bad either.
By the time of his death at age 42, Presley had, according to a printed epilogue, made 31 films, recorded 784 songs and performed 1,684 concerts. But don't turn away just yet.
The Searcher
concludes with Presley's full performance of "If I Can Dream" at the close of the 1968 TV special followed by Petty's cover of "Wooden Heart" from Elvis'
G.I. Blues
movie.
Those are very disparate songs, but performed by kindred spirits who tragically both died from prescription drug overdoses. Petty took his to relieve an abundance of physical pain, including a newly fractured hip suffered on what became his final tour. For Presley, who so famously shook his hips, the pain apparently ran well beyond that.
GRADE:
B+
Email comments or questions to:
unclebarky@verizon.net