Jobs well done: CBS' post-Super Bowl Undercover Boss pays as it goes
02/05/10 01:39 PM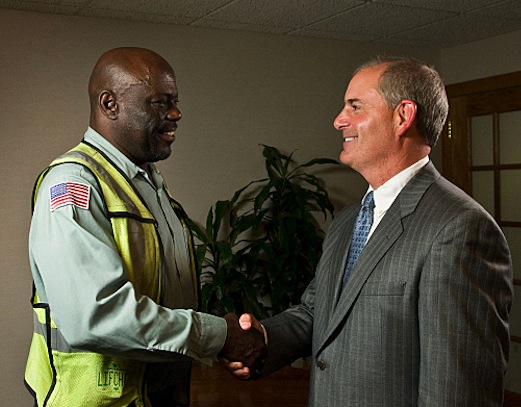 Walter the trashman meets Larry the COO on CBS' Undercover Boss.
Premiering:
After Super Bowl XLIV, Sunday, Feb. 7th on CBS
Starring:
Various undercover bosses and members of their workforce
Created and produced by:
Stephen Lambert
By ED BARK
See a chief operating officer get his hands dirty in a new reality series that doesn't feel dirty to the touch.
Still, you might feel a bit manipulated. But maybe edified, too. And you definitely can't say the latter about MTV's knuckle-dragging, fist-in-the-face
Jersey Shore
and star player Nicole "Snooki" Pilozzi.
CBS'
Undercover Boss
, which follows Sunday's Super Bowl XLIV, has found a dream executive for its premiere hour. He's Larry O'Donnell, positioned as the all-caring COO of Houston-based
Waste Management, Inc.
Billed as "America's largest trash company," it has 45,000 employees, 20 million customers and an ample number of nasty jobs. O'Donnell tries his hand at five of them Sunday night -- and meets five wondrous workers in the process. It spurs him to make some changes in the corporate culture while also rewarding those who have made even Port-o-Let cleaning seem like a life's calling.
O'Donnell infiltrates his own company by posing as Randy Lawrence, whose adventures as an entry level worker are being recorded by a camera crew as grist for a possible reality series. Or so everyone's told.
Before he heads out into the field, viewers briefly meet O'Donnell's family. He's married with two children, one of them a daughter whose brain was seriously damaged during a medical procedure gone awry. This provides the star of this hour with some built-in empathy before he tries to master the art of picking recyclable cardboard off a fast-moving conveyor belt while being encouraged by a dedicated employee named Sandy.
During a daily half-hour lunch break -- after O'Donnell has fouled up some of the equipment -- he witnesses Sandy suddenly hurrying off to punch her time card. The clandestine boss learns that employees are docked two minutes of pay for every minute they're tardy. It seems inhumane to him. And besides that, "My back is hurting like you wouldn't believe," O'Donnell tells the camera before retiring early in his room at a cheap motel.
Undercover Boss
succeeds in its depictions of both the sometimes hapless O'Donnell and the altogether genuine-seeming workers he encounters.
Walter, who tries to school him in the art of picking up hillside trash, has been on kidney dialysis for the past 20 years. Yet he perseveres.
Jaclyn is a cancer survivor who does multiple administrative jobs while striving to hold on to her family's home, which lately is up for sale. She even invites O'Donnell home for dinner, and he's touched by what he sees.
Buoyant Fred is a maestro at cleaning portable toilets. O'Donnell meets him at a Houston carnival, where he says, "I call it the battlefield of poop." And if you get some of it on you, "you're wounded but you keep going."
Finally, Janice has a sprawling trash collection route of a "little over 300" houses. To save time, she pees in a can. But she also makes time for some of her customers. O'Donnell gets choked up when a mentally handicapped woman reads Janice a thank you note.
It gets to you in ways that most reality series don't, can't or won't even try. In the end, the five employees are summoned to O'Donnell's corporate offices to find out who he really is. And to hear that he'll also be making their work lives better.
It might have helped -- from an overall believability standpoint -- if O'Donnell had encountered at least one heavy-duty malcontent. Instead, the first hour only singles out the fleetingly seen time card cop, who's told to be more lenient.
Undercover Boss
will settle into its regular 8 p.m. (central) Sunday slot on Valentine's night, when Hooters goes under the microscope. That's a little easier sale than a waste management company. But the show's inaugural post-Super Bowl edition almost assuredly makes a better first impression. In continued tough economic times, its salt-of-the-earth supporting players are relatable and worth rooting for. And the bossman seems all right, too.
GRADE:
B