Michael Jackson gets velvet glove treatment on wide array of cable/broadcast networks
07/07/09 03:02 PM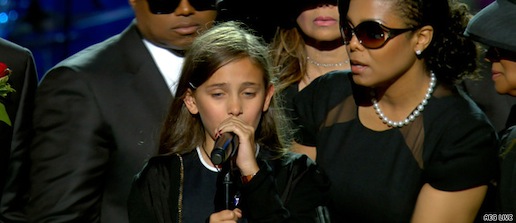 Michael Jackson's only daughter, Paris, with his sister, Janet, in the closing minutes of Tuesday's memorial. Photos from cnn.com, msn.com
By ED BARK
Touching, tasteful and shown live on all the major broadcast and cable news outlets, Tuesday's memorial to Michael Jackson had a majesty befitting the self-proclaimed King of Pop.
That's fully intended as a compliment. What could have been a tawdry and misshapen mess instead rose to this much-ballyhooed occasion. Beginning at 12:11 p.m. and ending two-and-a-half hours later, the celebration/eulogy of all things Michael came off as dignified, dramatic and occasionally defiant. In any case, it delivered, never more so than when Jackson's surviving 11-year-old daughter, Paris, said through tears, "Ever since I was born, daddy has been the best father you could ever imagine. And I just want to say I love him so much."
That moment of course will be replayed multi-millions of times in the hours and days to come. They were the first public words from any of Jackson's three secrecy-shrouded children.
Not only that, "This is the first time that I've ever heard him called daddy. And I may not forget it," Fox News Channel anchor Shepard Smith said.
"However they were conceived and whoever their mothers were, he absolutely adored them," said ABC's Martin Bashir, whose much-discussed 2003 documentary on Jackson helped trigger a subsequent child molestation trial in which Jackson was acquitted of all charges.
That's where the defiance came in.
"There was nothing strange about your daddy," the Rev. Al Sharpton declared during his portion of the program. "It was strange what your daddy had to deal with."
That drew an ovation from the 16,000 Jackson fans packed into Los Angeles' Staples Center. Houston congresswoman Sheila Jackson Lee also received prolonged applause after telling the crowd, "We know that people are innocent until proven otherwise. "That is what the Constitution stands for."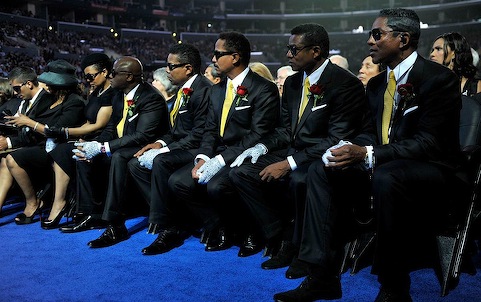 The Jackson family turned out in force for Tuesday's memorial.
The memorial was equally notable for its sentiment and moving performances from the likes of Stevie Wonder, Mariah Carey, John Mayer, Usher and Jackson's brother, Jermaine, who sang "Smile" after longtime friend Brooke Shields said it was Michael's favorite song.
Shields, who said she first met Jackson when she was 13, told of their bond as child stars who "needed to be adults very early. But when we were together, we were two little kids having fun."
Her remarks were a revelation, with Shields struggling to compose herself as she spoke of a friend who "loved to be teased" and "saw everything with his heart."
The recriminations and bone-picking will resume soon enough. And some no doubt were sickened by Tuesday's entire ceremony on behalf of a man they'd rather characterize as "Wacko Jacko" without reservation.
From this perspective, though, this was a television event that lost its footing only when an Emergency Alert System test briefly short-circuited everything for North Texas viewers just after Lionel Richie took the stage.
Jackson, who arrived and departed in a flower-laden, shining gold casket, will remain both a controversial and indelible figure whose legacy won't ever be just his music.
"Maybe now, Michael, they will leave you alone," his brother Marlon said before breaking down and being engulfed in a group-hug by his siblings.
There's no chance of that. But among friends and family Tuesday, Michael Jackson indeed could rest in peace on at least 18 cable and broadcast networks that carried his memorial from start to finish. That may well be an all-time and perhaps unbreakable record. As was Jackson's
Thriller
for albums sold -- and still being bought.