TNT's Trust Me not as good as advertised
01/23/09 09:54 AM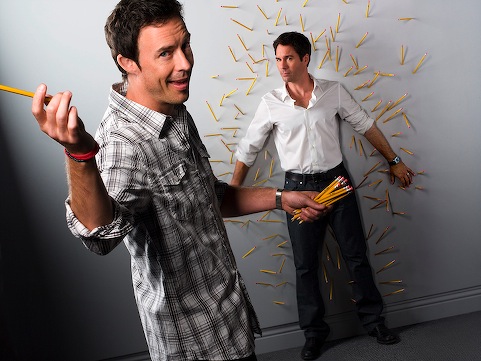 Tom Cavanaugh and Eric McCormack pair up in TNT's Trust Me.
Premiering:
Monday, Jan. 26th at 9 p.m. (central) on TNT
Starring:
Eric McCormack, Tom Cavanaugh, Monica Potter, Griffin Dunne, Sarah Clarke, Mike Damus, Geoffrey Arend
Produced by:
Greer Shephard, Michael M. Robin, Hunt Baldwin, John Coveny
By ED BARK
A shorthand review of "Not terrible" won't send products flying off shelves or sell a TV show that's all about salesmanship.
Nor does its underachieving title,
Trust Me
, make for much of a hook.
The above TNT artwork is inspired, though. And the network also has positioned
Trust Me
to succeed by slotting Monday's premiere (
9 p.m. central
) after a new episode of its most bankable hit,
The Closer
. So there's that.
Viewers may not instantly be sold, though, on a present-time series about advertising that's set in Chicago and so far lacks
Mad Men
's delicious devotion to its characters' personal lives.
Nary a cigarette or hard liquor drink are consumed either. The ad men of
Trust Me
instead mainline Starbucks coffee, one of several real-life products placed in the series' first two episodes. Fast-forwarding must be defeated by any means necessary in today's decaffeinated advertising climate.
Trust Me
otherwise prominently displays two familiar TV stars, Eric McCormack (
Will & Grace
) and Tom Cavanaugh (
Ed
).
Cavanaugh gets only a first name, Conner. McCormack gets a fuller moniker, Mason McGuire. And the series' main female character, Sarah Krajicek-Hunter (Monica Potter), gets the full tongue-twisting monty. There's no rhyme or reason to this, but whatever.
Mason and Conner are longtime writing partners at Rothman Green & Mohr, where an internal battle instantly brews over who's going to get the Arc Mobile cell phone account.
Cavanaugh of course plays the motor-mouth. His Conner essentially is a gibberish-spouting basket case who's occasionally capable of spitting out a halfway decent product tagline. "Shut up, willya?" would be a good one for him.
McCormack again plays the straighter-laced guy, enduring Conner in much the same way he weathered Sean Hayes' histrionics on
Will & Grace
. His new character has a wife and kids, but Mason's life away from the workplace is basically beside the point in
Trust Me
's first two episodes.
Monday's premiere also features a guest stint by
Life on Mars
star Jason O'Mara, who plays bombastic creative director Stu Hoffman. He livens things up, but not for long. Let's just say that job stress can be a killer.
More durable is Griffin Dunne as constantly fretting ad team supervisor Tony Mink. A couple of wise ass junior ad men, Hector and Tom (Geoffrey Arend and Mike Damus), are reminiscent of the unkempt underlings on NBC's
30 Rock
.
Trust Me
is rich in banter, but so far too skimpy otherwise. It strives for poignancy, especially at the end of Episode 2. But the accompanying acoustic guitar music might as well be a ring tone. Where's the "there" to these characters?
McCormack's Mason otherwise wears pretty well in the scenes where he's blessedly freed from his frenetic partner's verbiage. But that's not necessarily a good thing for a show relying so heavily on their byplay -- during which Cavanaugh predictably chews scenery as though he were in a hot dog eating competition.
Maybe
Trust Me
will find its way in due time.
Mad Men
instantly registered as something very special. These Chicago guys still seem to be quite a way from making the sale.
GRADE:
C+