Hulu's Castle Rock: a unique fling with Stephen King
07/23/18 11:54 AM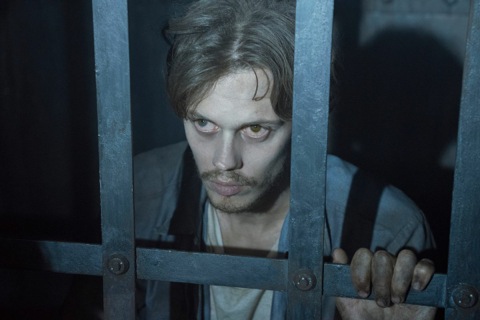 Advisory: Do not raise this young man cage-free. Hulu photo
Premiering:
The first three of 10 episode begin streaming Wednesday, July 25th on Hulu
Starring:
Andre Holland, Bill Skarsgard, Melanie Lynskey, Sissy Spacek, Scott Glenn, Terry O'Quinn, Frances Conroy, Jane Levy, Ann Cusack, Allison Tolman, Chosen Jacobs, Noel Fisher, Caleel Harris
Produced by:
J. J. Abrams, Ben Stephenson, Liz Glotzer, Sam Shaw, Dustin Thomason
By ED BARK
@unclebarkycom on Twitter
Screen adaptations of Stephen King's work long ago entered the realm of countless.
Ah, but Hulu's
Castle Rock
turns out to be a frightmare apart from the likes of
Carrie, The Shining, It, Cujo, Under the Dome, Pet Sematary, Christine, Bag of Bones, The Dead Zone, The Shawshank Redemption
and
Salem's Lot
-- to name just a few.
As the opening credits note,
Castle Rock
is "based on characters and settings" created by Stephen King. Which means that its story revisits some of his old haunts without otherwise borrowing from one of his previous novels or short stories. It's instead taking pages from FX's
Fargo
series, which was inspired by the classic Joel and Ethan Coen film but told all-new stories populated by original characters. The brothers gave executive producer Noah Hawley their blessing and otherwise pretty much stayed away. King similarly is taking a hands-off approach with
Castle Rock
after giving the go-ahead.
A production team headed by J. J. Abrams (
Lost, Alias
and several
Star Wars
and
Star Trek
feature films) also hopes to replicate the
Fargo
motif of new tales and casts each season. Hulu's first go-around with
Castle Rock
will have 10 episodes, with the initial three being made available for streaming on Wednesday, July 25th. TV critics were allowed to pre-screen a fourth episode as well. Based on what I've seen, this seems to be another pretty terrific handoff, with Abrams and the writers leaving a number of King-related "Easter eggs" hiding in plain sight while also ratcheting up the atmospheric tension.
The small burg of Castle Rock, Maine has been terrorized by Cujo the rabid dog among other things. Hulu also makes King's famed Shawshank State Prison a focal point. It's where a hollow-eyed, pale as milk young man known as "The Kid" (Bill Skarsgard) is discovered caged in an abandoned basement wing. Who put him there and why? Well, let's just say that warden Dale Lacy (Terry O'Quinn) seemingly has the answers, but isn't going to divulge them in the present tense -- as you'll see soon enough. Lacy then steps in as a narrator, dropping dollops of cryptic intel about what's infesting Castle Rock.
Meanwhile, Henry Deaver (Andre Holland), adopted African-American son of white parents, has fled to Houston and is specializing in representing death row inmates. As an 11-year-old, he had disappeared for 11 days in 1991 during the height of an unforgiving Castle Rock winter. Town sheriff Alan Pangborn (Scott Glenn in present day) had been out searching for reasons of his own when the presumed dead young Henry suddenly materialized. The kid then was suspected of foul play in the death of his minister father.
A grown Henry reluctantly returns to Castle Rock after "The Kid," who's otherwise been mostly mute, speaks his name to young prison guard Dennis Zalewski (Noel Fisher). Henry's mother, Ruth (Sissy Spacek of
Carrie
movie fame), is now afflicted with dementia and living with Pangborn, who also was a character in King's
Needful Things
and
The Dark Half
. Retired from law enforcement, he looks dried up but retains a dry wit. One of the simple, but highly pleasurable moments of
Castle Rock
comes in Episode 2, when Pangborn orders an over-priced beer at a hoity toity hotel bar while trying to warn the new prison warden (Ann Cusack) about her mysterious, newly discovered inmate. "Let's try the six dollar Coors," he says sardonically.
Henry's childhood friend, Molly Strand (Melanie Lynskey), also re-materializes as a realtor/developer with a drug addiction. Her straitlaced sister so far is played only peripherally by Allison Tolman, who broke through in a big way as Molly Solverson in Season One of
Fargo
.
Spacek's Ruth Deaver is more consequential but also almost an afterthought until Episode 4, when she works herself into a snarl via a take-notice scene with her son. "This is my home. I'll leave it in a box," she declares. "Don't you try to take me to Texas. Don't you dare."
Holland is solid in the lead role of the adult Henry, who's played by Caleel Harris in those scene-setting earlier scenes. But it's Glenn who's stealing the show with his slow-to-burn disposition and to-hell-and-back mug. Here's a guy who's seen things and then very likely covered them up. But what? And why? Skarsgard (Pennywise the Dancing Clown in the feature film version of
It
), stays completely and convincingly in character as the drama's perhaps demon-seeded death merchant.
Castle Rock
looks to be one of the best King things in years, even though the man himself serves primarily as a road map and blueprint. It's nothing against him -- because without him there'd be no foundation. But damned if FX didn't turn
Fargo
into a series that rose to the level of the movie and arguably surpassed it. And now here comes Hulu with a fighting chance to do the same over several seasons to come. Please, though, don't send in the clowns. At least not this first time.
GRADE:
A-minus
Email comments or questions to:
unclebarky@verizon.net