Mid-season merry-go-round: CBS' Rob is typically broad but bracingly diverse
12/31/11 09:27 AM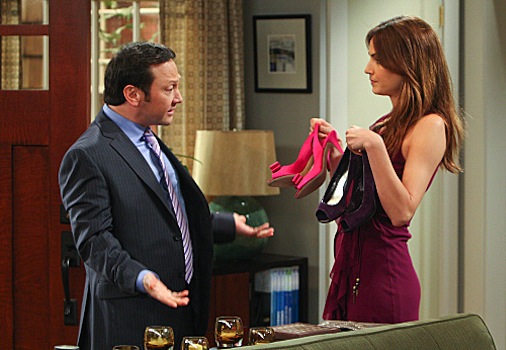 Rob Schneider and Claudia Bassols star in Rob. CBS photo
Premiering:
Thursday, Jan. 12th at 7:30 p.m. (central) on CBS
Starring:
Rob Schneider, Claudia Bassols, Cheech Marin Diana Maria Riva, Eugenio Derbez, Lupe Ontiveros
Produced by:
Rob Schneider, Lew Morton, Eric Tannenbaum, Kim Tannenbaum
By ED BARK
Schlumpy, plain-faced guy gets the shapely, knockout girl.
This infrequently happens in real life, unless you're a guy with lots of money -- or better yet, a guy with lots of money who's near death.
It happens all the time in TV sitcoms, though. Ask Jim Belushi of
According to Jim
. Or Kevin James of
The King of Queens
. Or Ed O'Neill of
Modern Family
.
The latest beneficiary is Rob Schneider, the doofus in many an Adam Sandler flik and the star of two
Deuce Bigalow
movies. But there is a bit of a twist here. The new CBS comedy series
Rob
finds its star newly married to a luscious Latina named Maggie (Claudia Bassols). CBS says it's "loosely based" on Schneider's real life, in which he married Mexican TV producer Patricia Azarcoya, his third wife, last April. She's very pretty and he's pretty plain-faced -- but presumably has lots of money. So there ya go.
Rob
, premiering Tuesday, Jan. 12th following
The Big Bang Theory
, is a highly energetic effort to milk laughs out of the title character's attempts to please his new Hispanic in-laws. Maggie didn't tell anybody about their quickie marriage in Vegas. But now she insists that Rob formally meet her parents and relatives, ruining new hubby's plans to stay in and "have sex all day."
"Big family," he says for openers after encountering a huge brood. "Now I know what goes on during those siestas."
Cheech Marin (looking more and more like Mr. Magoo) plays Maggie's conservative father, Fernando, who boasts of owning eight car washes and having 100 employees with a total of three Social Security numbers among them. Still, his remedy for illegal immigration is to the right of even Michele Bachmann's. "They ought to build a giant wall across the border and patrol it with cannons," he tells Rob.
Fernando and his wife, Rosa (Diana Maria Riva), are aghast that their daughter would marry a gringo. But layabout Uncle Hector (Eugenio Derbez) -- Rosa's "idiot brother" in Fernando's opinion -- doesn't mind because he now has someone to sponge off.
Grandma (Lupe Ontiveros) is pretty much oblivious, but warms to Rob after he accidentally spills hot wax on his genitals and then staggers about her bedroom in a compromising position. The physical comedy between Rob and grandma kicks in after he accidentally breaks her candlelit shrine. And yes, it's pretty funny -- in a broadly stupid way.
Rob
's basic premise is rife with comic potential. And the prime-time landscape certainly could use the diversity it embraces.
As for Schneider, well, no one expects subtlety from him. He goes after laughs in much the way a blind-folded child whacks at a pinata. There are lots of swings and misses amid the direct hits. And that's pretty much the way it is with
Rob
.
GRADE:
C