Help them make it through their nights
01/03/08 01:59 PM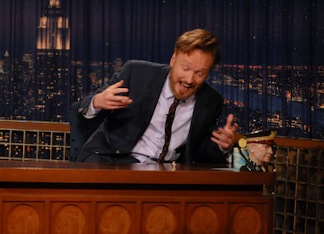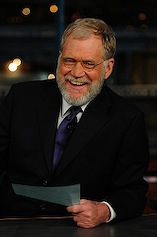 Post-hibernation: Conan and Dave return as bearded laddies.
By ED BARK
Does David Letterman know how bad he looks in a beard?
Conan O'Brien, who looks better, also let it grow, let it grow, let it grow during his two-month strike hiatus. That left Jay Leno, Jimmy Kimmel and Craig Ferguson without any visible signs of inactivity as late night returned to the living Wednesday.
Letterman and O'Brien both quickly called attention to their growth spurts.
"I know what you're thinkin'," Letterman said. "You're thinkin', 'Geez, Dave looks like a cattle drive cook.' "
For the record, that line presumably came from one of
Late Show
's writers.
"We're gonna start by talking about my beard," O'Brien said. "I grew it out of solidarity for my writers and to prove that I have some testosterone."
For the record, that line presumably was more or less spontaneous.
O'Brien's
Late Night
is still without its writers, as are Leno's
Tonight Show
and Kimmel's ABC production. Letterman and his followup act,
Late Late Show with Craig Ferguson
, are the haves in this quintet after Letterman's Worldwide Pants company reached an eleventh hour independent agreement with the Writers Guild of America.
All five hosts quickly got to the nub of the ongoing strike, which shows no sign of ending anytime soon.
"Let's get right to it," Leno began. "A Jew, a Christian and a Muslim walk into a bar . . ."
He then stopped short of any punch line, informing his audience that this requires writers and
Tonight
doesn't have 'em. But what's a lantern-jawed comic going to do after two months of supporting the strike and paying parts of his staff's salaries?
"We had essentially 19 people putting 160 people out of work," Leno said in explaining why he'd returned.
That's a good way of hammering things home. And Leno continued to function gainfully after duly noting that Letterman has a considerable advantage with all those writers back in his corner.
"One man against a monolith," Leno joked before trying out more self-written one-liners that his wife, Mavis, supposedly found funny. How cold is it in Iowa? "It's so cold that Hillary Clinton can actually see Barack Obama's breath breathing down her neck."
He had an entertaining guest in Republican presidential candidate Mike Huckabee, who then made a short jaunt to Ferguson's show to tape an appearance for Thursday's
Late Late Show
. Leno also welcomed celebrity chef Emeril LaGasse, who taught him how to make pepper steak. It all worked pretty much to the host's advantage. He seemed looser and less programmed.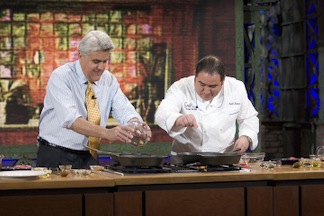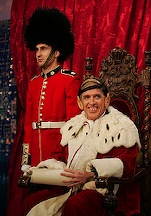 Leno goofing with Emeril and Ferguson as a goofball Prince Charles.
Letterman began with a taped cold open from Hillary, who noted how long he'd been off the air.
"Tonight he's back," she said. "Oh well. All good things come to an end."
Thud.
Letterman was escorted onstage by leggy chorus girls wearing tuxedo tops and carrying picket signs. After a while, the prevalent strike humor began to grate.
A Top 10 list of strike demands, read by out-of-work writers, clearly failed to resonate with Letterman's studio audience. No. 1 went like this: "Producers must immediately remove their heads from their asses."
Featured guest Robin Williams greeted Letterman as "General Lee" before ably carrying the ball through his two segments. Then came "Hal Gurnee's Network Time Killers" (two bolo artists) and a deadly dull "Know Your Staff" bit. The writers clearly aren't up to speed yet.
O'Brien welcomed guest Bob Saget and an amusing standup comic named Dwayne Perkins. His filler material included two efforts to break his wedding ring desktop spinning record of 41 seconds. But he fell short both times.
"What the hell am I doing?" he asked at one point. "I think we should immediately go back off the air."
But O'Brien's struggles were nothing compared to Kimmel's. He began the show at his desk rather than attempting even a bare-bones monologue.
"I don't even know how much people care," Kimmel said of the issues behind the writers' strike.
He resents picketers trying to stop talent from doing the three network-owned late shows operating without Guild-approved agreements.
"I just think at a certain point you back off a little bit," Kimmel said after noting that some hosts had been paying writers out of their own pockets. "So I'm pissed off. I'll be honest with ya."
Guests Andy Dick and Helio Castroneves were serviceable though hardly exceptional. Kimmel also ran two taped "Great Moments for Which Residual Payments are Made to Our Unemployed Writers." But his heart didn't seem to be in any of this.
Ferguson winged it with no guests, some comedy sketches and an extended monologue which he mostly improvises anyway. Along the way he made some solemn, and quite funny, promises:
"I want to send a message to all the D-list celebrities. You're always welcome here.
"We'll still have Kathy Griffin on, the guy who invented the electric cheese cutter, people who can fart musical notes.
"This show won't change a bit. It will be garbage. I make you this pledge, people of America. We will not improve this show. It will not be funnier. It will not be better."
You don't even need a beard for that.