NBC is first out of the 2011-12 starting gate with six new fall series after all of last autumn's freshmen fail to graduate
05/15/11 01:42 PM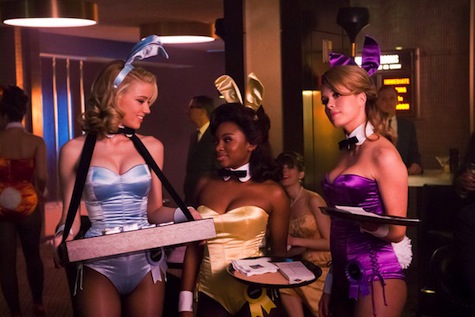 The Peacock will add flesh tones with The Playboy Club. NBC photo
By ED BARK
Whiffing with all of last fall's newcomers but striking it rich late this season with
The Voice
, NBC hopes to see you in September with a freshman class of six series and fervent hopes that the currently stalled NFL will re-start as scheduled.
Entertainment chairman Bob Greenblatt, putting together his first new season lineup since leaving Showtime last year, expressed "cautious but incredible optimism" about fourth-place NBC's prospects. Its most notable first-year drama likely will be
The Playboy Club
, a cheesecake factory set in the early 1960s during Hugh Hefner's halcyon years. It will lead off Monday nights, with
Chuck
getting a surprise reprieve and a final season of 13 episodes as Friday's latest night-starter.
The Peacock's fall 2010 roster of eight new fall series is completely wiped out, with cancellations including the Dallas-made
Chase
. Other casualties are
The Event, Law & Order: Los Angeles, Outsourced, Outlaw, Undercovers and School Pride. An eighth announced fall series, Love Bites, never got on the air. NBC also will be axing Minute to Win It, which is still being used as putty during the closing stages of this season.

"If we could do one or two things really successfully (next season), I would be thrilled," Greenblatt said in a Sunday afternoon teleconference with TV writers.

The Voice, which has been a major hit for NBC since premiering in late April, will be held back until mid-season, when it's slated to be paired on Monday nights with Smash, a new Broadway-set musical drama starring former American Idol runner-up Katharine McPhee. Holding a place this fall for The Voice is The Sing-Off, which previously had decent ratings as a limited-run holiday season competition show. Both The Voice and The Sing-Off will have two-hour running times.

NBC also will wait until mid-season to return 30 Rock for a string of uninterrupted new episodes. And it again hopes to have Donald Trump's The Celebrity Apprentice filling two hours on Sunday nights after the pro football season ends. Should he run for president, though, the show would have to be Trump-less. But the Peacock would still re-launch Celebrity Apprentice with a yet-to-be-named stand-in for Trump, whom Greenblatt generously described as a "fascinating, entertaining, smart, direct shooter kind of guy."

Isn't he a headache, too?

There are "no real headaches," Greenblatt replied. "Nothing but increasing ratings on that show . . . There may be headaches down the road."

Greenblatt said he's "pretty optimistic" that the NFL will resolve its difficulties in time for NBC's most popular prime-time attraction, Sunday Night Football. But if there's a delayed start, NBC has several "event"-type reality specials in development to fill the void. Greenblatt declined to specify further.

The cancellation of Law & Order: Los Angeles, and the ongoing announced final season of Law & Order: Criminal Intent on sister network USA, leaves just Law & Order: SVU in play for next fall. It will return for a 13th season on Wednesday nights, with no new Law & Order spin-offs in the cards, Greenblatt said. "These things age," he added, and "at some point you have to bring in the younger concepts."

Here are NBC's six fall season newcomers:

The Playboy Club (drama) -- The "legendary" Chicago bunny hatch serves as the "door to all of your fantasies" in an opus fronted by former CSI: Miami co-star Eddie Cibrian. He plays attorney Nick Dalton, described as an "ultimate playboy" with mob ties who comes to the rescue of a rookie bunny who "accidentally kills" the head of a Windy City crime family. David Krumholtz, formerly of CBS' Numb3rs, is also in the mix as the club's general manager. The principal bunnies are played by comparative unknowns Amber Heard, Laura Benanti, Naturi Naughton and Leah Renee.

Prime Suspect (drama) -- This continuation of the PBS classic starts Maria Bello in place of Helen Mirren. And her detective character will be named Jane Timoney instead of Jane Tennison. She'll be based in New York City, with well-regarded Peter Berg (Friday Night Lights) serving as co-executive producer along with Alexandra Cunningham (Desperate Housewives, NYPD Blue).

Grimm (drama) -- The best known name in this one is behind the camera. That would be Sean Hayes (Will & Grace), who heads the executive producer team. It is, however, inspired by the "classic Grimm's fairy tales," with a batch of modern-day Grimms striving to "keep the balance of humanity safe from the supernatural creatures of the world."

Up All Night (comedy) -- Christina Applegate, formerly of Samantha Who?, gets another sitcom shot as a public relations exec named Reagan. Will Arnett, also on the rebound from this season's Running Wilde, plays her stay-at-home husband, Chris, who grapples with the couple's new baby. Maya Rudolph co-stars, with her former Saturday Night Live boss, Lorne Michaels, bossing her anew as the show's executive producer.

Free Agents (comedy) -- Hank Azari heads the cast in this adaptation of a "cult U.K. series" about two public relations experts on the rebound. His character, Alex, is newly divorced, and his business partner, Helen (Kathryn Hahn from Hung), is a widow. They wind up in bed together after he gets drunk. Laughs supposedly ensue.

Whitney (comedy) -- NBC sees this one as a "hilarious look at modern love," with Whitney Cummings and Chris D'Elia starring as an outwardly contented unmarried couple who in fact might be "dangerously close to relationship boredom."

Here is NBC's night-by-night prime-time lineup for next fall with all times central:

MONDAY
7 to 9 p.m. -- The Sing-Off
9 to 10 p.m. -- The Playboy Club

TUESDAY
7 to 9 p.m. -- The Biggest Loser
9 to 10 p.m. Parenthood

WEDNESDAY
7 to 7:30 p.m. -- Up All Night
7:30 to 8 p.m. -- Free Agents
8 to 9 p.m. -- Harry's Law
9 to 10 p.m. -- Law & Order: SVU

THURSDAY
7 to 7:30 p.m. -- Community
7:30 to 8 p.m. -- Parks and Recreation
8 to 8:30 p.m. -- The Office
8:30 to 9 p.m. -- Whitney
9 to 10 p.m. -- Prime Suspect

FRIDAY
7 to 8 p.m. -- Chuck
8 to 9 p.m. -- Grimm
9 to 10 p.m. -- Dateline NBC

SATURDAY
Repeats

SUNDAY
6 to 7:15 p.m. -- Football Night in America
7:15 p.m. to closing -- Sunday Night Football

POST-FOOTBALL SUNDAYS
6 to 7 p.m. -- Dateline NBC
7 to 9 p.m. -- The Celebrity Apprentice
9 to 10 p.m. -- The Firm

Besides the aforementioned Smash, NBC has announced five other new midseason series. Here they are:

The Firm (drama) -- An adaptation of the hit feature film, with the continuing adventures of attorney Mitchell McDeere picking up 10 years after the events depicted on the big screen. No cast has been announced yet.

Awake (drama) -- Jason Isaacs from the Harry Potter movies and Showtime's acclaimed Brotherhood series stars as a detective who finds himself living "two duel realities" after regaining consciousness following a family car accident. The supporting cast is stocked with three well-known veterans of past successful series -- Wilmer Valderrama (That 70's Show), Cherry Jones (24) and Steve Harris (The Practice).

Are You There, Vodka? It's Me, Chelsea (comedy) -- Another That 70's Show alum, Laura Prepon, plays the title role in this continuation of the bestseller by talk show host/comedian Chelsea Handler. She'll have a recurring role as Chelsea's sister, Sloan.

Best Friends Forever (comedy) -- A cast of unknowns populates a laugher "that takes a look at what happens when best friends promise to support each other -- no matter what the cost or circumstances."

Bent (comedy) -- Amanda Peet tries again for series success as a recently divorced lawyer raising an eight-year-old daughter. She meets a screwed up handyman named Pete (David Walton), who's hired to re-do her kitchen while also needing a makeover himself. Sparks fly, with old reliable Jeffrey Tambor also participating as Pete's father.