Reviewing Amazon Prime's Transparent (after streaming all 10 Season One episodes)
09/29/14 02:59 PM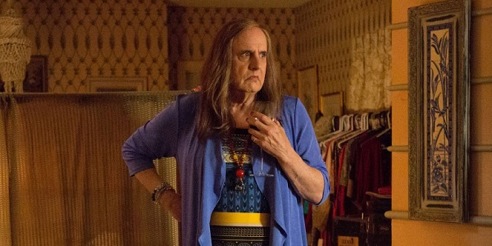 Jeffrey Tambor is the star trans in Transparent. Amazon Prime photo
Streaming:
on Amazon Prime, with all 10 Season 1 episodes available
Starring:
Jeffrey Tambor, Gaby Hoffman, Amy Landecker, Jay Duplass, Judith Light, Alexandra Billings, Melora Hardin, Carrie Brownstein, Kathryn Hahn, Rob Huebel, Bradley Whitford, Alison Sudol, Brett Paesel
Produced by:
Jill Soloway, Andrea Sperling
By ED BARK
@unclebarkycom on Twitter
The Pfefferman family dynamics in
Transparent
are far messier than the sauce-slathered ribs they gnaw on in the opening episode.
This is the series that puts Amazon Prime on the map, if not yet on the same level with competing streamer Netflix. Season 1's 10 half-hour episodes went up on Friday morning, and this review is based on seeing all of them.
Jeffrey Tambor, best known as Hank Kingsley on
The Larry Sanders Show
and then George Bluth Sr. in
Arrested Development
, takes the biggest dare of his career in the uncompromising
Transparent
. He's Mort turned Maura Pfefferman, divorced father of three problematic adult children whose needs he's been meeting all of his life without ever really meeting his.
"They are so selfish," Mort as Maura says during a group session at L.A.'s LGBT Center. "I don't know how it is I raised three people who cannot see beyond themselves."
Mort/Maura's impossible to please ex-wife, Shelly (more tremendous work from Judith Light), has known for years of his fondness for wearing women's clothing in private. His children still haven't had a clue, though, and now Mort/Maura is finally taking it to the streets. But how and under what circumstances will he tell Sarah (Amy Landecker), Josh (Jay Duplass) and Ali (Gaby Hoffman)? The timing never seems to be quite right, although
Transparent
is by no means a comedy of constantly mixed signals and errors. In fact it's really no more of a comedy than Netflix's
Orange is the New Black
, which didn't stop them from submitting it as such to Emmy voters.
Tambor looks very sad-faced in early episodes. But as the series moves on, we see him in happier frames of mind during both 1994 flashbacks and in the current-day company of supportive Davina (Alexandra Billings), who's had the full-blown sex change that Mort/Maura hasn't embraced yet.
As for the kids . . . well, there's been a lot of damage done over the years.
Sarah is married with children to Len Novak (Rob Huebel), but lately has fallen madly in love with Tammy Cashman (Melora Hardin), a lesbian designer and home decorator with a very high opinion of her talents. Len immediately wants to "fix" her via psychiatric help.
Josh is a successful record producer who sleeps with just about every woman he encounters. This is a byproduct of the sustained sexual relationship he had as a teenager with Rita (Brett Paesel), the adult family babysitter. His parents simply looked the other way rather than intervene.
Then there's youngest daughter Ali, a twisted, parasitic wreck who seems incapable of self-sustenance. Daddy's little girl is inevitably on the dole and on the prowl for new sexual adventures. In a searing Episode 10 -- no more specifics will be revealed -- Maura/Mort asks somewhat rhetorically, "Do you like me? If I didn't give you any money, would you even talk to me?"
Transparent
abounds with other interesting characters. Bradley Whitford is a recurring presence as Mark/Marcy, who in Episode 8 accompanies Mort/Maura to the Camp Camellia trans camp, It's the only half-hour set entirely in what turned out to be a pivotal 1994. Both men are happy and relaxed among like-minded men until a free-spirited wife of one camper begins muddying things up.
Kathryn Hahn excels as Rabbi Raquel Fein, who looks to be the best thing that ever happened to Josh and in fact almost certainly is. Carrie Brownstein plays Ali's longtime gal pal Syd, who's always felt extraneous.
Transparent
may end up being the signature creation of Jill Soloway, whose previous credits include
United States of Tara
and
Six Feet Under
. This is far more provocative work, with the sex scenes throughly adult and the premise a major challenge to pull off.
The three fractious yet sometimes united siblings of the series are still capable of laughing easily amongst each other. As when Ali cracks Sarah up by telling her she'll call their father "moppa" from now on (for both momma and poppa). But
Transparent
earns its occasional laughs from characters, not punchlines. Light's Shelly may have gotten almost as batty as Estelle Getty's Lucille on
The Golden Girls
. But there's also an underlying sadness to her declaration that "when you get to my age, your skin is like Kleenex."
Tambor who at age 70 is hardly going quietly into the night, is the overall glue as Mort/Maura. And by Episode 10 -- which is open-ended with a smattering of closure -- he's owning what he proclaimed in Episode 2.
"My whole life I've been dressing up like a man," he tells daughter Sarah. "This is me." He therefore acts the part -- only it's not an act. We can drop the "Mort" now. It's "Maura" without reservation or hesitation in a groundbreaking series that's not for everyone and surely will repulse some. Our free country marches on.
GRADE:
A-minus
Email comments or questions to:
unclebarky@verizon.net