Number could soon be up for CBS' latest crime entry, NYC 22
04/11/12 02:50 PM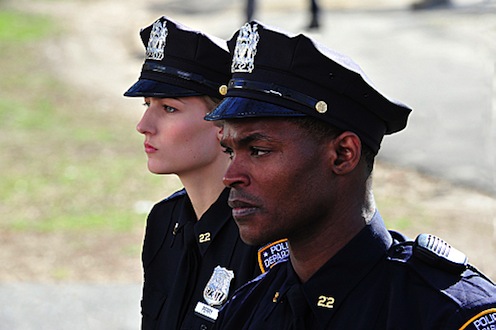 Leelee Sobieski and Harold "House" Moore of NYC 22. CBS photo
Premiering:
Sunday, April 15th at 9 p.m. (central) on CBS
Starring:
Terry Kinney, Adam Goldberg, Leelee Sobieski, Harold "House" Moore, Sark Sands, Judy Marte, Tom Reed, Felix Solis
Produced by:
Robert De Niro, Jane Rosenthal, Richard Price
By ED BARK
ABC has become the home of empowered women while Fox keeps positioning itself as the daring edge-of-the-ledge network.
NBC is still searching for a latter-day identity other than the network of sitcoms that few people watch. And CBS? Crime, crime, crime -- which certainly has paid.
Its latest new one,
NYC 22
, premieres on Sunday, April 15th in the 9 p.m. (central) slot previously occupied by
CSI: Miami
. Its co-executive producers include Robert De Niro, who made his big-screen bones as a bad guy.
But
NYC 22
-- previously titled
Rookies
and then
The 2-2
-- fails to generate much power in its first two hours. Its principal protagonists are six rookie cops who basically prowl their beats while waiting for something to "go down." Most of CBS' crime dramas are pro-active, with their law enforcers quickly on the scent of whoever committed that murder or murders in the opening minutes. In this one the crime tends to take its time. And for the most part, the wrongdoing is comparatively mundane anyway.
NYC 22
is more realistically grounded but also duller around the edges than ABC's equivalent
Rookie Blue
, which will fire up its third season on May 24th. It means well and looks good -- almost too good in fact given the "gritty streets of upper Manhattan" description in CBS publicity materials. When the director yells "Action!" it's too often a case of relative inaction. And the rookies, three of whom get nicknames, aren't quite interesting enough to make this thing really pop.
Sunday's premiere begins with the six principals heading off to their first day at work to the beat of a musical sequence with the lyrics, "I'm back. Back in the New York groove."
Some of the rooks are pretty lippy -- right from the start.
Tonya Sanchez (Judy Marte), spawned from a family with a criminal bent, wastes no time in barking, "You lay a hand on my stuff, I'll snap it off your wrist."
And Jayson "Jackpot" Toney (Harold "House" Moore), a former NBA phenom who blew it, has instant lust in his heart for Jennifer "White House" Perry (Leelee Sobieski), a steely former college volleyball star and Marine MP.
"I'm gonna hit that before the sun goes down," he boasts. They of course become opening day beat partners, sassin' each other while steadily growing closer.
Sanchez is paired with Ray "Lazarus" Harper (Adam Goldberg), an ex-newspaper crime reporter who one day walked into the office to find his stuff in a cardboard box. Not even a buyout offer. The bastards. But getting screwed will come in handy when "Lazarus" later finds himself commiserating with a rifle-brandishing nut case who likewise got the shaft from his employer.
The other featured rookies are Ahmad Khan (Tom Reed), an Afghani native who "fought his way to freedom," and Kenny McLaren (Stark Sands), latest in a long line of New York cops from the same family.
The series' tough but firm mentor is Daniel "Yoda" Dean (Terry Kinney) -- oh ple--e-e-ease! There's also a scruffy plainclothes "gang intel" guy named Terry Howard (Felix Solis). Veteran TV watchers might immediately see him as a facsimile of Bruce Weitz's Mick Belker from
Hill Street Blues
. Otherwise he's neither funny or very interesting.
Sunday's premiere eventually gets around to a brief but active showdown between two gangs before "Yoda" predictably reads the riot act to all the rooks for their failures to follow police procedure. Then he calms down -- predictably as well.
Episode 2 follows the newcomers on their first "midnight tour," with the fire-bombing of a residential "weed house" the principal flashpoint. I guessed the perpetrator a mile away, and was disappointed when it played out just that way. The hour otherwise is shot almost entirely in the dark, which doesn't help either.
NYC 22
has some OK scenes among its major characters. But they don't resonate to the point where it's an acceptable trade-off to also endure some of the tedium.
In short, nothing really jumps off the screen here. And Tom Selleck from CBS' Friday night uniformed cop entry,
Blue Bloods
, is not scheduled to make any remedial "cross-over" guest appearances from his post as NYC police commissioner Francis "Frank" Reagan.
So no, it doesn't look good.
GRADE:
C