Surviving Suburbia gives Saget another ABC port
04/06/09 10:43 AM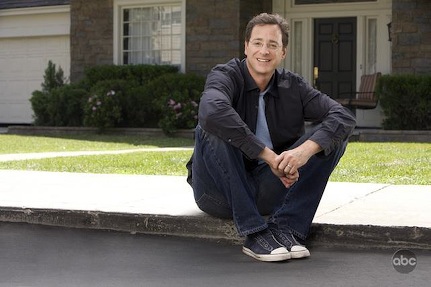 New Bob Saget sitcom has little curb appeal. Hardy hoo-hah!.
Premiering:
Monday, April 6th at 8:30 p.m. (central) on ABC
Starring:
Bob Saget, Cynthia Stevenson, Jere Burns, Jared Kusnitz, G Hannelius, Dan Cortese
Produced by:
Kevin Abbott, Michael Hanel, Mindy Schultheis
By ED BARK
Maybe Bob Saget has incriminating pictures of ABC execs from his lovable single dad days on
Full House
.
Or perhaps he has compromising footage from his tenure as host of the network's
America's Funniest Home Videos
.
Or could it be that ABC simply has a lingering soft spot for Saget, who drops in Monday night as the still boyish-looking 52-year-old star of a comedy series that even The CW network junked before it could air?
The company behind
Surviving Suburbia
, Media Rights Capital, briefly had been in charge of CW's entire Sunday night schedule until the network abruptly cut ties last fall.
That left
Surviving Suburbia
without a home and seemingly with little hope of finding one. The show's surprise emergence on ABC -- in a cushy slot following
Dancing with the Stars
no less -- might remind some viewers that this is the network that once made its bacon with laugh track-driven family sitcoms such as
Full House, Growing Pains, Roseanne, Home Improvement, Who's the Boss, Family Matters
and
According to Jim
.
You can't go home again, though -- at least not with this one.
Surviving Suburbia
begins as
Home Improvement
often did -- in a fake backyard on a soundstage.
Saget's character, father-of-two Steve Patterson, is quickly afflicted by his next door neighbor, a strip club owner named Onno played by the once semi-promising Dan Cortese.
"Whew, it smells like crap back here," he proclaims. "It's like the back of your house farted."
"It's the fertilizer -- mostly," Patterson deadpans.
We could stop right here after noting that
Surviving Suburbia
likewise is a real stinker. But let's tarry just bit longer.
Steve and his wife, Anne (Cythia Stevenson), apparently have recently moved to the 'burbs, where he's having a hard time adjusting. Or at least that's what he says near the end of the first episode, noting that wifey never minded him being a "screwup" until they left the inner city.
Earlier in these proceedings, Steve and his dim pal, Jim (long-suffering Jere Burns), think they could be royally screwed after inadvertently setting Onno's house on fire while feeding his fish. Instead they make up a story about saving the place from burning. This makes Steve a hero, leading to more lameness and a few crude jokes at the expensive of a heavy-set woman who loves both Scotch and heroes. Steve presumes she means a sandwich. Ba-da-boom-thud.
In its own dumb, stupid, idiotic way,
Surviving Suburbia
might be just a bit better than ABC's
In the Motherhood
, which premiered last month. That's largely due to Stevenson's portrayal of Anne Patterson. She knows the comedy ropes, and makes the best of what's given her.
Saget, who's gone blue in his nightclub act, plays Steve Patterson as a hapless semi-sourball whose character's timing is bad in this punishing economic downturn. Stressed viewers might be in the mood for simple-minded comedy requiring no mental exertion. But bitching about life in the cushy 'burbs isn't likely to resonate in any way, shape or form.
Nor, for that matter, is the sight of Burns' character sprawled nude on the Pattersons' couch in the show's climactic money shot. Guess you'll have to be there.
GRADE
D