MTV's The Inbetweeners is at best uneven -- just like the teens it depicts
08/20/12 11:27 AM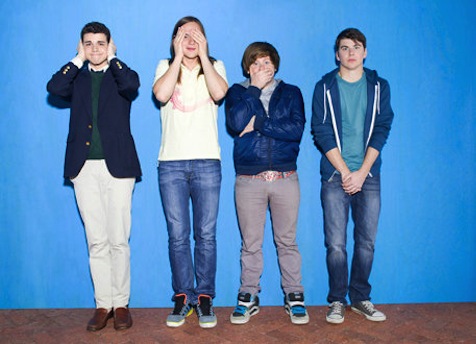 The misfit toy teens of new sitcom The Inbetweeners. MTV photo
Premiering:
Monday, Aug. 20th at 9:30 p.m. (central) on MTV
Starring:
Joey Pollari, Bubba Lewis, Zack Pearlman, Mark L. Young, Alex Frnka (correct spelling), Brett Gelman
Produced by:
Brad Copeland, Aaron Kaplan, Damon Beesley, Iain Morris
By ED BARK
@unclebarkycom
MTV's teen comedies -- unlike those on ABC Family or Disney Channel -- are the ones that most parents don't want their teens to watch.
They tend to highlight adolescent behavior in its most primitive forms. And
The Inbetweeners
, adapted from the same-named hit British series, duly includes projectile vomiting (on a little kid no less), a restroom embarrassment, heavy drinking and heavier-duty sex talk in its premiere episode.
It gets better with age, though, not that the four featured high school boys show any undue signs of maturity. The three episodes provided for review might even provoke a few guilty grins from the smattering of moms and dads taking MTV for a spin Monday night.
Will McKenzie (Joey Pollari), the principal star and narrator, is newly arrived at Grove High School, where his preppy dress habits make friends hard to come by. So he settles for:
***
An obese, sex-crazed Sam Kinison in training (Zack Pearlman as Jay Cartwright).
***
A doofus long-haired dude reminiscent of Sean Penn's Jeff Spicoli in
Fast Times at Ridgemont High
(Mark L. Young as Neil Sutherland).
***
A reasonably well-adjusted third wheel who's still hopelessly in love with a girl he's known since they both were eight-year-olds. (Bubba Lewis and Alex Frnka as Simon Cooper and Carly D'Amato).
Mishaps and mis-understandings pile up faster than the prototypically snide remarks from bearded principal Mr. Gilbert (Brett Gelman). Some of them are amusing, not including the projectile puking. And
The Inbetweeners
really should lose the recurring and thudding "My dad is not gay!" protestations from Neil.
Episode 2 includes a trip to the nearby Sunshine Mountain amusement park, where some fairly funny stuff happens after Simon's first car, a very nerdish yellow Sport Edition, has its passenger side door clipped off in the parking lot.
This half-hour also includes an indelible exchange between Neil and Jay after Carly's dark bra is exposed when her shirt is wetted down. Jay notes it's a model that can be unsnapped from the front before Neil adds admiringly, "I watched Jay chew his way through the bra department at Ross."
"Gotta practice somewhere," Jay adds.
You don't get those kinds of high schooler riffs on ABC Family or Disney Channel. But
The Inbetweeners
isn't quite as coarse as it often sounds. Will is a decently relatable sort with a hot divorced mom whose husband unaccountably left her for someone else. And Simon is worth rooting for in fits and spurts. Even if Carly's boyfriend is a hunk who also happens to be a very decent guy. That may be a teen comedy first.
Monday's Episode 1 unfortunately doesn't make a very good first impression. But next week's amusement park yarn is an improvement and the subsequent "Wrong Box" episode hits on a few more cylinders after the boys decide to form a cooking club in hopes that their fave Grove High crushes will happily join in. Food fight!
In this respect,
The Inbetweeners
seems to be experiencing the growing pains of its principal characters. A better start would have been preferable, but at least the show's weekly slings and arrows are pointing upward.
GRADE:
C+