NBC's The Cape falls apart at the seams
12/28/10 09:30 AM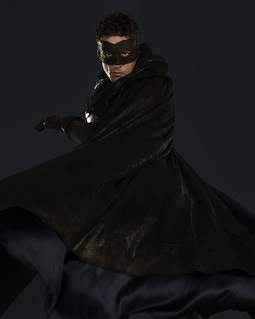 Bad-nasty Chess intends to conquer The Cape. NBC photos
Premiering:
Sunday, Jan. 9th at 8 p.m. (central) with a two-hour "event" before a repeat of same on Monday. The series then moves to its regular Monday, 8 p.m. slot on Jan. 17th.
Starring:
David Lyons, Jennifer Ferrin, Ryan Wynott, Summer Glau, James Frain, Keith David, Dorian Missick, Martin Klebba, Vinnie Jones
Produced by:
Gail Berman, Lloyd Braun
By ED BARK
Cartoonish while also straining to be taken very seriously, NBC's big ticket mid-season series needs both a sedative and a sense of direction.
The Cape
, launching Sunday, Jan. 9th with a splashy two-hour "Event," is unfortunately supplanting
The Event
until its planned Feb. 28th return. The latter is notably superior, even if it's gotten a bit bogged down of late.
The Cape
, which swoops into its regular Monday 8 p.m. (central) slot on Jan. 17th, is a mash-up of overplayed villains and preposterous goings-on edited disjointedly into an overall slap-happy mess.
The setting is generic Palm City, a too sunny, generic blah of a burg that currently is bedeviled by a masked killer named Chess. A new police chief has been named to restore order but he's quickly dispatched by a thin silver tube of explosive L-9. Framed for the dirty deed is dedicated security cop Vince Faraday (David Lyons), a hometown boy and devoted father who clandestinely reads
The Cape
comic books with his son, Trip (Ryan Wynott), while wife/mom Dana (Jennifer Ferrin) thinks they're doing homework.
The resident mastermind of all things evil is billionaire Peter Fleming, whose Ark Corporation is intent on privatizing the Palm City police force en route to gaining total control. He also happens to be the masked Chess, and in both cases grossly over-acts. Faraday gets on his bad side after being tipped by a beauteous investigative blogger known as Orwell (Summer Glau from Fox's
Terminator: The Sarah Connor Chronicles
). She puts him on the scent of a big L-9 shipment arriving via train and hidden within Pammy Pees dolls. It's dangerous when urine the know, as Faraday quickly discovers while at the mercy of Chess.
"You have one move left. Run," he sneers before our hero is chased down on live television and presumably blown to bits while his wife and kid watch. But Faraday instead drops beneath the city and is delivered unto The Carnival of Crime, a gang of circus acts specializing in costumed broad daylight bank heists. Meanwhile, their imperious ringleader, Max Malini (Keith David), declares, "I've broken 92 bones in search of the perfect illusion . . . You give me your soul, Vince Faraday, and I'll make you the greatest circus act that ever lived."
And so on.
In another ridiculous sequence, Faraday earlier watches his burial service from behind a tree, more or less hiding in plain sight while his grieving wife and son struggle to cope with their sudden loss. He won't rest, of course, until Chess is checkmated. And almost quicker than you can say cockamamie, Faraday has mastered the arts of wielding a cape like a weapon, disappearing in a cloud of smoke and escaping Houdini-like while encased in chains and sent to an underwater tomb by one of Chess's multiple henchmen. Sunday's two-hour premiere introduces both Scales, a disfigured WWE-like villain, and Cain, a pale-faced poisoner extraordinaire.
Eventually in league with Orwell, the resourceful but still overly impulsive Faraday is here, there and everywhere as The Cape. There's even a groaningly cliched scene with son Trip (Sarah Palin's reach apparently is never-ending), in which Dad perches topside in the guise of the kid's sainted comic book hero.
"I know the guilty. And I will not stop until they know justice," Trip is told. And by the way, Dad is innocent and keep up with your school work.
What's supposed to be a taut and many-splendored mythical yarn in league with
Heroes
instead registers as a topsy turvy laughable feast complete with chapter titles.
The Cape
just keeps on careening, to the point of absurdity and well beyond. But does it at least stop short of posing its hero atop a skyscraper for the premiere's closing image?
Sorry, that's asking way too much.
GRADE:
C-minus