Welcome to poo corner with FX's Wilfred
06/22/11 09:11 AM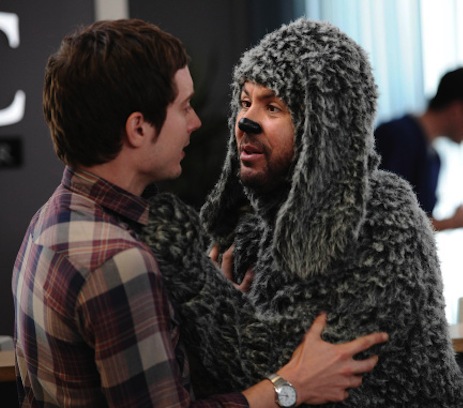 Doggie nag: Elijah Wood, Jason Gann in Wilfred. FX photo
Premiering:
Thursday, June 23rd at 9 p.m. (central) on FX
Starring:
Elijah Wood, Jason Gann, Fiona Gubelmann, Dorian Brown
Produced by:
Jason Gann, David Zuckerman, Jeff Kwatinetz, Rich Frank, Paul Frank, Joe Connor, Ken Connor
By ED BARK
Lassie, come home. But no.
It's also irresistible to note that this dog won't hunt. Which the title character in
Wilfred
won't. But the show itself does have its oddly coarse charms, even without a standard issue fire hydrant joke in the first three episodes sent for review.
Wilfred
's star canine is a blunt-talking, pot-smoking mutt of some sort with an acquired taste for anal sex and an ability to sniff out excrement in all its forms. Only one person sees him that way, though. That's Jason (Elijah Wood), a down-on-his-luck, suicidal nebbish in whose care Wilfred (Jason Gann) is left by comely next door neighbor Jenna (Fiona Gubelmann). She still sees him in all-fours dog form, as does everyone else.
There's a passing resemblance to the
1950 chestnut Harvey
, in which Jimmy Stewart's Elwood P. Dowd became best pals with a giant invisible rabbit. But FX's
Wilfred
is borrowed directly from the same-named Australian hit comedy, in which Gann also put on a dog suit. So he knows what he's doing by now. And it shows in both his delivery and incredible ability to maintain a straight face while wearing a ratty looking dog suit.
The overall idea here is to restore Ryan's manhood and overall self-confidence via constant goading and taunting by Wilfred. Each episode has a one-word subtitle drawn from what's supposed to be a timeless quote. Thursday's premiere, which precedes the Season 2 return of FX's
Louie
, extrapolates "Happiness" from Mark Twain's observation that "Sanity and happiness are an impossible combination."
Who knows what Twain would have thought of
Wilfred
? Your friendly content provider thinks it has its moments, some of them of laugh-out-loud caliber. It's also more than a little weak downstairs at times, particularly with a final Episode 1 image of "Happiness" that has Wilfred humping a big stuffed bear while smoking a cigarette.
Wilfred and Ryan are usually puffing pot, though. Much more so than the ensemble cast of
That '70s Show
. In Episode 3, Wilfred rejects Ryan's gift of a big, scented rawhide bone. "You want me to be excited, Ryan? Buy me a new bong," he demands.
Lucky for them then, they've discovered a big crop of killer "purple thunder paranoia" marijuana in the home of super-loutish next door neighbor Spencer (guest star Ethan Suplee from
My Name Is Earl
). Spencer's other passions are "porning out" and strip clubs, all of which eventually persuade Ryan to man up in order to shuck Spencer as his new best friend.
Suplee played idiot brother Randy for several seasons on
Earl
, and remains a solid practitioner. But it's probably time for him to branch out a bit.
Other guest stars in Season 1 include Ed Helms, Mary Steenburgen, Rashida Jones, Peter Storemare and Dwight Yoakam. There'll also be plenty of presumably fake pot on hand to aid and abet Wilfred's weekly lessons on life.
In the end, all of this may amount to little more than a one-trick dog and pony show. But Gann can be irresistibly gross at times while Wood is good at being hapless. Together they sometimes make quite a comedy team. Almost as good as
Turner & Hooch
.
GRADE:
B-minus