CW's The Carrie Diaries takes a Sex and the City time trip
01/14/13 11:59 AM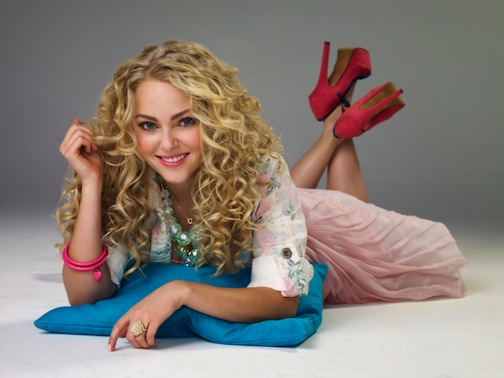 AnnaSophia Robb stars as a bouncy teen Carrie Bradshaw. CW photo
Premiering:
Monday, Jan. 14th at 7 p.m. (central) on The CW
Starring:
AnnaSophia Robb, Austin Butler, Ellen Wong, Stefania Owen, Chloe Bridges, Katie Findlay, Brendan Dooling, Freema Agyeman, Matt Letscher
Produced by:
Candace Bushnell, Amy B. Harris, Josh Schwartz, Stephanie Savage, Len Goldstein
By ED BARK
@unclebarkycom
Those who endured or walked out on the second
Sex and the City
movie may have vowed to wash their hands of Carrie Bradshaw and her three materialistic pals.
That's not the young Carrie's fault, though. She had nothing to do with it. She was only en route to becoming the future wife of "Mr. Big."
So The CW network hopes you'll get in on the ground floor with
The Carrie Diaries
. In this passable yet too often cloying little trinket, she's a 16-year-old girl still trapped in 1984. Recovering from the recent cancer death of her mother, Carrie (AnnaSophia Robb) lives in bland suburban Connecticut with her almost painfully understanding father, Tom (Matt Letscher), and a bratty 14-year-old sister named Dorrit (Stefania Owen).
All the usual CW adornments are in place: constant narration, more mood music than the law should allow and storylines primarily aimed at the network's target audience of 18-to-34-year-old females. Candace Bushnell, creator of the Carrie Bradshaw character, also is on board as a co-executive producer. Why not wring as many bucks out of this thing as you can?
Carrie is starting a new school year, the first without her mom in the picture. She's still a little blue, but also buoyed by the sight of transfer student Sebastian Kydd (Austin Butler), who looks very much like a taller Macaulay Culkin had he turned out better. Carrie got to know him a bit over the summer, but their impulsive swimming pool smooch didn't have much traction.
Her best friends are Maggie Landers (Katie Findlay from
The Killing
) and an Asian-American classmate who's unfortunately nicknamed "Mouse" (Ellen Wong). Maggie is still dating Walt Reynolds (Brendan Dooling). But both are keeping secrets from one another and his of course has to do with his sexual "identity."
Meanwhile, Mouse surprises her pals with a revelation that she lost her virginity over the summer. Her description of what it felt like already is making the social media rounds. "It was like putting a hot dog in a key hole," she says. "It hurt so bad!"
There's also the requisite school vixen, and her name is Donna LaDonna (Chloe Bridges) rather than Roseanne Roseannadanna. She likewise has designs on young Sebastian, a sensitive sort who nonetheless seems willing to set up a hot dog stand.
Luckily for Carrie, her high school tribulations are greatly eased by daddy intervening. He somewhat magically lands her an internship at a Manhattan law firm, leaving the kid pretty wild-eyed with excitement while also sounding like a wizened longtime native. "Manhattan was a lot like my purse. Damaged and it had seen better days," Carrie narrates. Still, she "wouldn't trade this moment for anything."
One last piece in this puzzle is the predatory Larissa Loughton (Freema Agyeman), style editor for
Interview
magazine. Running into Carrie in a Manhattan department store, she's immediately entranced by the purse Carrie accessorized after her kid sister spilled nail polish on it. Larissa knows all the trendy clubs. She also knows how to use people.
AnnaSophia Robb is appealing enough in the title role, but Monday's first episode (being repeated immediately after at 8 p.m. central) starts to sag from all the CW-ian title character narration and overall pop tune heaviness. Near the end we get both a funereal male vocalist version of Cyndi Lauper's "Girls Just Want to Have Fun" followed by the peppier standard version.
It's all enough to prompt Carrie to conclude: "Finding my voice wasn't going to be easy But for the first time in a long time, I thought it might be fun."
Well, good luck with that. Don't get too carried away, though. You still have
Sex and the City 2
in your future.
GRADE:
C
unclebarky@verizon.net