Censors have a Field day on Fox Emmy telecast
09/16/07 11:02 PM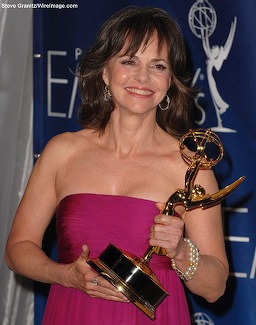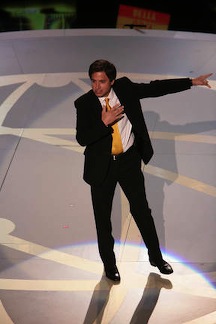 Mouth to mouth: Winner Sally Field and presenter Ray Romano.
By ED BARK
Chalk up another memorable acceptance speech from Sally Field. Only this time she didn't quite get to finish it before Fox cut her off and left ample room for Monday morning tongue-wagging about her anti-war offensive.
Field's upset Emmy win on the network's live Sunday night telecast put the veteran actress in a fast-talking, increasingly frazzled state.
She first dutifully praised the cast and crew of ABC's
Brothers & Sisters
for making her third Emmy win possible.
"But at the heart of Nora Walker (her character), she is a mother," Field then detoured. "So surely this belongs to all the mothers of the world. May they be seen, may their work be valued and raised, especially the mothers who stand with an open heart and wait -- wait for their children to come home from danger, from harm's way and from war."
The audience loudly applauded as the show's play-off music kicked in. But Field wasn't finished.
"Hurry up, quiet! I have to finish talking!" she said in what charitably could be called a near-hysterical shriek. She then had serious trouble re-gathering herself, stammering "Um, um, uh, um" before finally coming to this: "As to war, I am proud to be one of those women. And let's face it, if the mothers ruled the world, there would be no god . . . "
Fox cut to five seconds of silence at that point, freeze-framing TV screens with a juxtaposition of a large metallic-looking ball, portions of the Emmy audience and a giant Emmy statue in the background. Viewers then heard Field say, "Thank you so much" to loud applause before the show's producers cut to the annual montage of the past year's TV dead. Bizarrely, it began with a clip of the late Jane Wyatt from
Father Knows Best
.
Later reports said that Field closed her speech by saying "goddamned wars in the first place." In Fox's defense, you can't let that out over the public airwaves in times when the highly unpredictable FCC stands ready to levy heavy fines for whatever it deems indecent or profane. But the network's corporate ties to Fox News Channel no doubt will prompt many to argue that the cut-off was politically motivated.
Frankly, that's nonsense in light of what happened near the start of the three hour, 14 minute telecast. Comedian Ray Romano, in a decidedly less than hilarious mini-monologue, chided his former
Everybody Loves Raymond
co-star, Patricia Heaton, for sleeping with Kelsey Grammer on their new
Back To You
Fox sitcom.
Romano reportedly used a dicier word than "sleeping," however, prompting Fox to also briefly black him out. A bit later in the show, censors had to act even faster to at least partially waylay an expletive from Katherine Heigl of
Grey's Anatomy
. But viewers clearly could see her mouthing "Oh (s-word)" from the audience after winning winning a best supporting actress Emmy.
Romano immediately left the Shrine Auditorium, but Field later told reporters backstage that she didn't mind being bleeped.
"Oh well. I've been there before. Well, good, I don't care," she said. Field later added, "I would have liked to have said more bleeped-out words."
In her much-parodied 1985 Oscar acceptance speech for
Places In the Heart
, Field trilled, "I can't deny the fact that you like me. Right now, you really like me." That was benign. This time she's unleashed something far more fierce.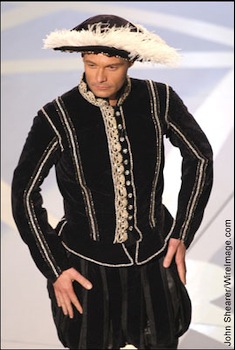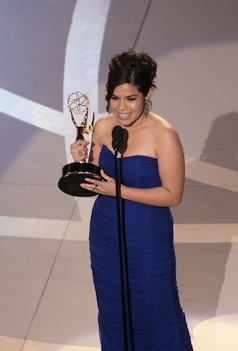 Host Ryan Seacrest gets medieval while America Ferrera wins again.
Fox found itself in a no-win situation on another front, too. It claimed none of the 29 major Emmy awards up for grabs, with its
American Idol
losing yet again to CBS'
The Amazing Race
in the contest for "Outstanding Reality-Competition Program." That turned out to be CBS' only win of the night, with NBC, ABC and HBO otherwise dominating.
The two big prizes, best comedy and drama series, went to the Peacock's freshman
30 Rock
and HBO's
The Sopranos
, which won for only the second time in the category.
The Sopranos
took three major Emmys overall, tying AMC's
Broken Trail
, NBC's
Tony Bennett: An American Classic
and PBS'
Prime Suspect: The Final Act
for the night's top prize-winners.
Host Ryan Seacrest did no undue harm, even when briefly changing into an award-winning costume from Showtime's
The Tudors
.
"You know, this looked a lot less gay on the rack," he cracked. "Can I keep it?"
Seacrest mostly schmoozed with the front row celebrities surrounding a six-step theater-in-the-round at Los Angeles' Shrine Auditorium. His principal
American Idol
foil, Simon Cowell, was notably out of view. But the host did aim a jab at judge Paula Abdul, who reacted with seemingly feigned disapproval when Seacrest riffed, "I mean,
Weeds
, a great show, an amazing after-party. Isn't that right, Paula?"
Many in the audience were faced with watching presenters' and performers' backs, prompting lead actor in a drama series James Spader (
Boston Legal
) to grouse, "I've been to thousands and thousands of concerts in my life. And I can tell you these are the worst seats I've ever had."
Wayne Brady, host of Fox's
Don't Forget the Lyrics!
presided over the show's funniest bit after describing Seacrest as a "medieval pimp" while he ran offstage in his
Tudors
outfit.
Brady's higher purpose was emceeing a singing competition between Rainn Wilson of
The Office
and rapper Kanye West.
West intentionally got one of the lyrics wrong from his new song, "Stronger," ending with "That's how long I've been on you."
But the correct word is "ya," Brady said. "You picked a bad time to speak properly."
The victorious Wilson then rapped, "Let's get lost tonight. You can be my black Kate Moss tonight."
A game West carped, "I never win," a reference to his second straight shutout at the previous Sunday's MTV Video Music Awards.
Pre-show rumors were that Britney Spears somehow would apologize at the Emmys for her exhaustively chronicled VMA debacle. Thankfully, that never materialized on a night when Sally Field very much made her presence felt instead.
Here's the complete list of Sunday night's 29 winners:
Best Drama Series
--
The Sopranos
(HBO)
Lead Actor, Drama Series
-- James Spader,
Boston Legal
(ABC)
Lead Actress, Drama Series
-- Sally Field,
Brothers & Sisters
(ABC)
Supporting Actor, Drama Series
-- Terry O'Quinn,
Lost
(ABC)
Supporting Actress, Drama Series
-- Katherine Heigl,
Grey's Anatomy
(ABC)
Best Comedy Series
--
30 Rock
(NBC)
Lead Actress, Comedy Series
-- America Ferrera,
Ugly Betty
(ABC)
Lead Actor, Comedy Series
-- Ricky Gervais,
Extras
(HBO)
Supporting Actress, Comedy Series
-- Jaime Pressly,
My Name Is Earl
(NBC)
Supporting Actor, Comedy Series
-- Jeremy Piven,
Entourage
(HBO)
Best Miniseries
--
Broken Trail
(AMC)
Best Made-For-TV Movie
--
Bury My Heart At Wounded Knee
(HBO)
Lead Actor, Miniseries or Movie
-- Robert Duvall,
Broken Trail
(AMC)
Supporting Actor, Miniseries or Movie
-- Thomas Haden Church,
Broken Trail
(AMC)
Lead Actress, Miniseries or Movie
-- Helen Mirren,
Prime Suspect: The Final Act
(PBS)
Supporting Actress, Miniseries or Movie
-- Judy Davis,
The Starter Wife
(USA)
Best Variety, Music or Comedy Series
--
The Daily Show
(Comedy Central)
Best Variety, Music or Comedy Special
--
Tony Bennett: An American Classic
(NBC)
Best Individual Performance in Variety or Music Program
-- Tony Bennett,
Tony Bennett: An American Classic
(NBC)
Best Reality-Competition Program
--
The Amazing Race
(CBS)
Writing for Variety, Music or Comedy Program
-- Head writer Mike Sweeney and 15 others,
Late Night with Conan O'Brien
(NBC)
Writing, Drama Series
-- David Chase,
The Sopranos
(HBO)
Writing, Comedy Series
-- Greg Daniels,
The Office
(NBC)
Writing, Miniseries, Movie or Dramatic Special
-- Frank Deasy,
Prime Suspect: The Final Act
(PBS)
Directing for Variety Music or Comedy Program
-- Rob Marshall,
Tony Bennett: An American Classic
(NBC)
Directing, Drama Series
-- Alan Taylor,
The Sopranos
(HBO)
Directing, Comedy Series
-- Richard Shepard,
Ugly Betty
(ABC)
Directing, Miniseries, Movie or Dramatic Special
-- Philip Martin,
Prime Suspect: The Final Act
(PBS)
Outstanding Creative Achievement in Interactive Television
-- Current TV, founded by Al Gore