Can't stop falling in love: Showtime's Roadies returns Cameron Crowe to his rock roots
06/23/16 09:49 AM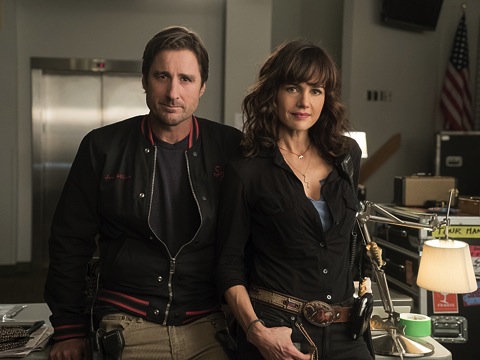 Luke Wilson, Carla Gugino are at the heart of Roadies. Showtime photo
Premiering:
Sunday, June 26th at 9 p.m. (central) on Showtime
Starring:
Luke Wilson, Carla Gugino, Imogen Poots, Rafe Spall, Keisha Castle-Hughes, Colson "Machine Gun Kelly" Baker, Peter Cambor, Ron White, Jacqueline Byers, Finesse Mitchell, Luis Guzman, Branscombe Richmond, Tanc Sade
Produced by:
Cameron Crowe, Winnie Holzman, J.J. Abrams, Bryan Burk, Len Goldstein, Kathy Lingg
By ED BARK
@unclebarkycom on Twitter
Coming off some of the worst reviews of his career for
Aloha
, former rock journalist Cameron Crowe otherwise has been gradually re-immersing himself, at age 58, in what initially made him tick and throb.
The rock docs
Pearl Jam Twenty
and
The Union
were both released in 2011, well after the onetime
Rolling Stone
teen wonder tried to recapture those days in 2000's semi-autobiographical and critically praised
Almost Famous
.
Showtime's
Roadies
, for which Crowe is the creator, principal writer and co-executive producer, is his first weekly television series after a feature film career that also has included
Fast Times At Ridgemont High, Vanilla Sky
and the blockbuster
Jerry Maguire
.
Roadies
is steadfastly determined, at times too much so, to celebrate "The Unsung Heroes of Rock." A quote to that effect, from grandmaster rock tourist Tom Petty, serves as the opening act for Sunday's premiere. "I think the general public has no idea what roadies do," he once said. "Bless 'em all. I just play the songs. They make the show happen."
Crowe has a pair of estimable collaborators in Winnie Holzman (the landmark
My So-Called Life
but not much else of real note), and J.J. Abrams (seemingly just about everything, including
Alias, Lost
, and the big-screen reboots of
Star Trek, Star Wars
and
Mission: Impossible
).
They've put their heads together and come up with a behind-the-scenes look at a profession that steers far from TV's four basic food groups of crimefighters, doctors, lawyers and befuddled sitcom dads. Principal among those who set the stage for the Staton-House Band are tour manager Bill Hanson (Luke Wilson) and production manager Shelli Anderson (Carla Gugino). He's first seen in bed with a considerably younger woman before she pops in on him and isn't surprised. The constant nakedness of Hanson's latest conquest, whether she's in bed or walking around, seems more than a little gratuitous if not voyeuristic on the part of the aging Crowe, who directed all three episodes made available for review.
It takes a while to introduce all the supporting cast members. Initially registering the strongest is Kelly Ann (Imogen Poots), an aspiring filmmaker who's planning to leave the crew and enroll at NYU after the band's New Orleans stop.
"I don't hear the music the same way. I don't feel it's mine anymore," she rather pretentiously tells grizzled road manager Phil (Ron White), who's seen it all and never tires of saying so.
Kelli has a crazed twin brother named Wes (real-life rapper Colson "Machine Gun Kelly" Baker), who's determined to rejoin the tour as a killer espresso maker. He also comfortably adapts to being a "manny" (just like Uncle Buck!) for the misbehaving, insult-hurling, pre-teen son of the band's lead singer.
Also incoming is cost-cutting Britisher Reg Whitehead (Rafe Spall), who's been ordered to fire people while finding more ways to make money. But he also has a soft side that's never quite believable, and an attraction to Kelly Ann that appears to be grudgingly and sometimes gratingly mutual.
There's a groupie, too, named Natalie (Jacqueline Byers). In Episode 1, she leads the skateboarding Kelly Ann on a ridiculous chase after stealing credentials from a weathered roadie with whom she has sex. So when is this thing going to jell? Well, not for starters. But it starts to get better in Episode 2, courtesy of a killer raw rehearsal by the real-life band Reignwolf, which has been hastily signed to be the opening act in Memphis. The power of their music has some of the roadies believably transfixed. And for this short burst at least, the occasional magic of their profession is self-evident without any clunky pronouncements from Wilson's Hanson.
Episode 3 is stunt-casted with Lindsay Buckingham as the new temporary opening act on the Atlanta stop and Rainn Wilson playing a caustic, self-important music blogger named Bryce Newman. He's just strafed the Staton-House Band as "relentlessly irrelevant," and
Roadies
treats this as an Armageddon moment that must be immediately remedied by inviting Newman to the Atlanta show and thoroughly kissing his ass.
For one thing, no one has that kind of influence anymore. And if there were a Supreme Being of rock criticism, he or she presumably wouldn't be sucked in so easily. But Wes comes to the rescue with a renegade tactic that further knocks this episode off-stride. Meanwhile, the thoroughly reverential treatment of Buckingham likewise becomes off-putting.
And yet . . . the worst of
Roadies
doesn't negate its sweet spots. It's almost as if the series is an ongoing collection of albums, some far better remembered than others. Wes is a possible breakout character while Kelly Ann is appealingly idealistic, although sometimes overly weepy.
Luke Wilson's typically hangdog acting has never been more than capable while Gugino remains both crush-worthy and dependable. Her character is married, but not all that fulfilled, leaving the door open for Hanson if he can ever kick his proclivity for one-night stands.
So far,
Roadies
both shows Crowe's age and showcases his never-ending love of the environment that once put many of his stories on the cover of
Rolling Stone
. He still goes home again by occasionally writing for the magazine. But if the thrill has never left, the execution is sometimes left wanting in
Roadies
, which is trying so awfully, awfully hard -- at times to the point of being awful. Perhaps, though, it can reverse the field of HBO's newly canceled
Vinyl
, which got worse as it went along. Because when you get right down to basics, Cameron Crowe is still a guy worth rooting for.
GRADE:
B-minus
Email comments or questions to:
unclebarky@verizon.net