Hulu's Casual comes off as watchable (but not must-see)
10/06/15 01:07 PM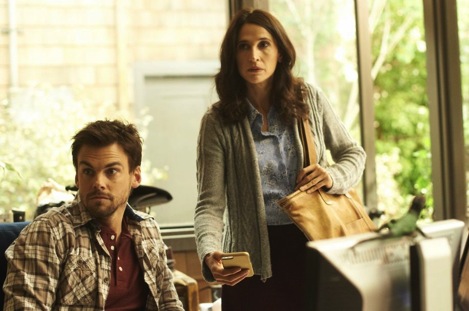 Brother and sister act: Tommy Dewey, Michaela Watkins in Casual.
Hulu photo
Premiering:
Wednesday, Oct. 7th on Hulu
Starring:
Michaela Watkins, Tommy Dewey, Tara Lynne Barr, Frances Conroy, Patrick Heusinger, Nyasha Hatendi
Produced by:
Jason Reitman, Zander Lehmann, Helen Estabrook, Liz Tigelaar
By ED BARK
@unclebarkycom on Twitter
To the casual observer . . .
OK, that's too easy. Hulu's new
Casual
, which starts streaming with weekly episodes on Wednesday, Oct. 7th, is more or less a comedy series that's also more or less watchable.
Its two adult leads, who are brother and sister, live together at his place in imperfect harmony with her teenage daughter from a recently failed marriage. Alex, 35, is the commitment averse co-founder of an online dating site called Snooger. His thoughts pass through his mouth unfiltered. He'll say what he means but not always mean what he says.
Valerie, 39, is an emotionally bruised therapist who's still ironing out the details of a less than amicable split. She's uptight and yearns to unwind. She also should know better than to take her brother's advice on such matters.
Tommy Dewey and Michaela Watkins play the two principals, with Tara Lynne Barr co-starring as Valerie's 16-year-old offspring, Laura. All three comport themselves well (particularly Watkins) in an outing overseen by executive producer Jason Reitman, whose formidable feature film credits include
Thank You for Smoking, Juno
and
Up In the Air
.
Reitman and the other principal executive producer, Zander Lehmann, have combined to make
Casual
more serio- than comic as the characters sort themselves out. The first four episodes were made available for review, with the third one steeped in some pretty dramatic developments. Alex is suddenly needy and rather pathetic in his efforts to keep Valerie from moving out with her daughter.
He's back to his old self, though, in the following half-hour. "Men don't want nice," Alex counsels his older sis. "They want bitchy and self-obsessed. And they want a challenge."
Alex's subsequent and very predictable liaison with a chunky bartender ends up making him an even more loathsome member of the male species, let alone the human race.
Casual
has made it difficult to get invested in this guy's overall well-being. But Valerie remains a character worth rooting for, particularly in the aftermath of her initially cathartic fling with a studly waiter.
Teen Laura likewise is striving to sort things out, mostly in the sexual arena. She's a good but confused kid who hasn't had the greatest of role models. So when in doubt, act out. This includes a very impulsive misstep at her high school.
Frances Conroy also co-stars as Alex and Valerie's mother, Dawn, who's referenced in very unfavorable terms until finally appearing in the flesh during Episode 4.
Casual
springs to vibrant life on occasion, with Watkins mostly responsible. Male dysfunction otherwise is a virtual constant, with Alex leading the charge. In his view, Valerie's ex-husband is a "colossal douche wagon," a term that in large part also applies to Alex. He does, however, come off better than his blind date during an Episode 1 parry and thrust that includes her telling him, "I only consume foods that were available during the Paleolithic era."
The grins and angst menu serves
Casual
well at times, but perhaps not well enough to keep a majority of first-time samplers coming back for more. It'd be nice, I guess, to see both Alex and Valerie somehow soar to the heights of even semi-happiness. But it's looking just as easy to leave them to their own devices and move on to another new TV show in a great big sea of 'em.
GRADE:
B-minus
Email comments or questions to:
unclebarky@verizon.net