HBO's Silicon Valley: a killer comedy series about the quests for killer aps
04/03/14 01:13 PM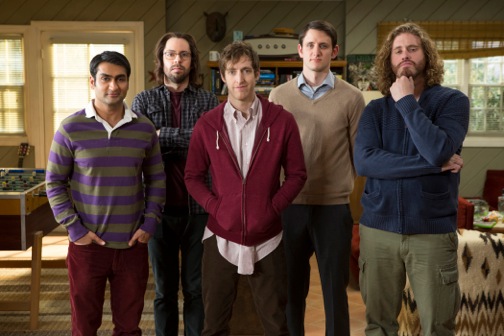 The five would-be billionaires of Silicon Valley. HBO photo
Premiering:
Sunday, April 6th at 9 p.m. (central) on HBO
Starring:
Thomas Middleditch, T.J. Miller, Zach Woods, Kumail Nanjiani, Martin Starr, Josh Brenner, Christopher Evan Welch, Amanda Crew, Matt Ross
Produced by:
Mike Judge, Alec Berg, John Altschuler, Dave Krinsky, Michael Rotenberg, Tom Lassally
By ED BARK
@unclebarkycom on Twitter
Mike Judge is outwardly quiet and unassuming, inwardly a raging subversive.
The creator of
Beavis & Butt-head, King of the Hill
and the 1999 cult classic
Office Space
invariably chooses wisely before letting loose anew. His latest comedy series, HBO's
Silicon Valley
, zeroes in on the land of killer apps, broken dreams and social misfits. It's a beauty in addition to being a loosely related descendant of
Office Space
.
The offices in
Silicon Valley
are an outhouse and a penthouse. "Hacker Hostel" is the plain-wrapped communal home of a would-be computer visionary named Richard (Thomas Middleditch) and his socially constipated pals. While perfecting his website, Pied Piper, Richard toils in the service of the tech giant hooli, whose cutthroat billionaire CEO phonily preaches the virtues of "giving back" in the greater interests of humankind.
Richard's website, which supposedly protects music from copyright infringement, seems destined to be a big loser. But its driving force, a super-powered "compression algorithm," is deemed the next big thing by both hooli potentate Gavin Belson (Matt Ross) and his arch rival, Peter Gregory (Christopher Evan Welch). A bidding war ensues while the anxiety prone Richard feels as though his head is exploding. Still, it's not a bad spot to be in, with Belson offering $10 million for total control while Gregory wants just 5 percent of Pied Piper for his $200,000 investment.
Richard is the angelic white hat of
Silicon Valley
, at least through the first five episodes sent for review. His counterpart is self-absorbed, grandiose Erlich (T.J. Miller), who might as well be dressed as a devil with a pitchfork.
Long-haired, pot-bellied and already a dotcom millionaire, Erlich lets Richard and his pals live rent-free at Hacker Hostel in return for a 10 percent cut of anything they invent. When in doubt, he always errs on the dark side.
"If you're not an asshole it creates this kind of asshole vacuum and that void is filled by other assholes," Erlich counsels Richard in Episode 2. He also hates the Pied Piper name, insisting that a company's moniker must be "something you can scream out during intercourse."
The
Silicon Valley
ensemble also includes Richard's friends Dinesh (Kumail Nanjiani), Gilfoyle (Martin Starr) and Big Head (Josh Brener), all of whom are in various stages of arrested development. A newcomer to Hacker Hostel, pale, anal Jared (Zach Woods), impulsively quits hooli to join Richard's startup. The male delivery occasionally is waylaid by Monica (Amanda Crew), a lieutenant of Peter Gregory's who also seems destined to become romantically interested in Richard. There are little seedlings of that in the first five episodes.
One very unfortunate development was the death of Christopher Evan Welch, who plays Gregory, during filming of
Silicon Valley
. Five of the eight Season 1 episodes were completed before he died of lung cancer at the age of 48. Welch's performance is letter-perfect as a demanding, neurotic billionaire with the social skills of a porcupine. His method of transportation, in an extremely compact and narrow vehicle, is the funniest sight gag of Sunday's premiere half-hour.
Episodes 3 and 4 of
Silicon Valley
end rather clunkily. Does television really need yet another exercise in projectile vomiting? Everything otherwise goes down very well, with ample amusement to be found in Richard's battle for the Pied Piper name with a sprinkler company; Erlich's efforts to design the perfect logo and the lame-o parties repeatedly thrown by bloated dot com giants.
Judge isn't quite jury and executioner of this whole crazily infantile, insular scene. But he clearly knows how to probe its soft spots. In that respect,
Silicon Valley
is its own killer app.
GRADE:
A-minus
Email comments or questions to;
unclebarky@verizon.net