NBC's Parenthood a long-needed feather in Peacock's plumage
03/01/10 04:07 PM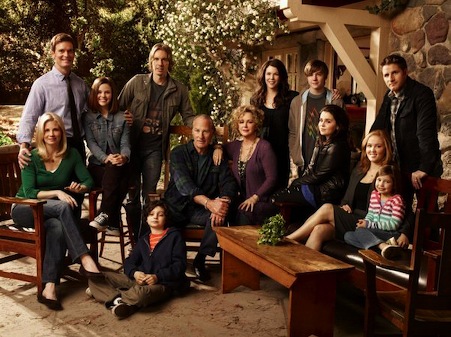 It's a Baker's Dozen of Bravermans in NBC's Parenthood. NBC photo
Premiering:
Tuesday, March 2nd at 9 p.m. (central) on NBC
Starring:
Lauren Graham, Peter Krause, Craig T. Nelson, Erika Christensen, Sam Jaeger, Dax Shepard, Mae Whitman, Miles Heizer, Bonnie Bedelia, Max Burkholder, Sarah Ramos
Produced by:
Ron Howard, Brian Grazer, Jason Katims, David Nevins
By ED BARK
It takes a little getting used to, this idea of NBC having a quality new scripted drama in the last hour of prime-time.
The network's disastrous dalliance with Jay Leno kept intelligent life at bay for what seemed like eight days a week.
Parenthood
, a very populated second coming of both a 1989 feature film and a short-lived 1990 NBC series, is a firm first step in restoring a little order.
It can be a little too cloying at times, and each of the first two episodes end all aglow and therefore too predictably. Even so,
Parenthood
on Tuesdays and ABC's
Modern Family/The Middle
on Wednesdays provide viewers with a higher order of dysfunctional family laughs and cries. Mom, dad and the kids are on the comeback trail, battling back against all those gruesome crime scenes and misfit singles.
The latest version of
Parenthood
is about the Bravermans instead of the Buckmans. But it's still the property of Ron Howard and company. Maybe a short crash course would help.
The feature film, directed by Howard, starred Steve Martin and Mary Steenburgen as Midwest-based Gil and Karen Buckman. A well-appointed cast also included Jason Robards, Tom Hulce, Dianne Wiest, Keanu Reeves, Rick Moranis and Joaquin Phoenix (who was known as Leaf then).
NBC's 1990 series version of
Parenthood
had a marked down TV cast of Ed Begley, Jr. and Jayne Atkinson as Gil and Karen. Leonardo DiCaprio and David Arquette also were in the mix, but as relative unknowns at the time. Howard was a co-producer, but didn't have to oversee things for very long. Cancellation intervened after less than three months.
Two decades later, Howard and longtime production partner Brian Grazer have struck again with a Northern California-set
Parenthood
stocked with a trio of familiar TV faces.
Craig T. Nelson (
Coach
) is the gruff but occasionally kindly family patriarch. Goes by the name of Zeek. Lives in a spacious compound with wife, Camille (a little-used Bonnie Bedelia in the first two episodes).
Zeek's oldest kid, Adam, is played by the never-out-of-work-for long Peter Krause (
Six Feet Under, Dirty Sexy Money
). Maura Tierney (
ER
) originally was cast as Adam's discombobulated sister, Sarah. But breast cancer surgery forced her to withdraw in favor of Lauren Graham (
Gilmore Girls
), who plays this role exceedingly well.
Sarah, a single mother previously married to a vagabond, drug-addled rock musician, is the reason for
Parenthood
's sometimes Ponderosa-esque feel. Strapped for cash and saddled with two problematic teen kids (Mae Whitman and Miles Heizer as Amber and Drew), she leaves Fresno to move back in with her parents.
The Braverman brood also includes youngest brother Crosby (Dax Shepard) and youngest sister Julia (Erika Christensen). He's afraid of commitment, but soon learns he's a dad. She's a hard-driving corporate lawyer whose little daughter prefers the company of her stay-at home dad, Joel (Sam Jaeger).
Adam, who runs a shoe company, also is married. But there's ample angst here, too, after he and his wife, Kristina (Monica Potter), learn that their son, Max (Max Burkholder), has Asperger's syndrome, a form of autism.
Despite the many characters at hand,
Parenthood
pretty much runs like a well-oiled machine. Sometimes a little too well-oiled. The drama initially unfolds with few if any genuine surprises, whether it's the grousing, old-school Zeek melting like buttah at crunch time or the insecure Sarah rising to the occasion of an impromptu date with a balding old high school flame whom she initially sees as an even bigger loser.
All of the performances are at the worst agreeably solid, though, with Graham and Shepard immediately exceptional while Krause's character gradually gains traction.
Parenthood
also gives NBC a point of pride in a season that would have been an abject embarrassment -- and a complete ratings hellhole as well -- without the presence of two sports Goliaths (
Sunday Night Football
and the just-concluded Winter Games).
The Peacock used to be prime-time's gold standard in the high-flying days of
Hill Street Blues, St. Elsewhere, L.A. Law, E.R., The Cosby Show, Seinfeld, Frasier, Cheers
, etc.
It merits at least a silver medal for
Parenthood
, which might someday be seen as the drama that helped NBC regain both its senses and sensibilities.
GRADE:
B+