Johnny Carson finally gets the retrospective he didn't want in PBS' King of Late Night
05/11/12 12:49 PM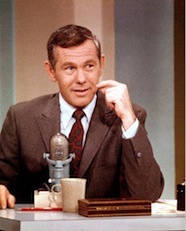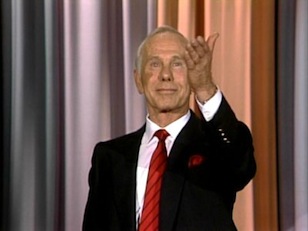 By ED BARK
@unclebarkycom
There's no time like the present to lament that "He-r-r-r-re's Johnny!" has morphed into "Who's Johnny?" for the millions of younger Americans who never witnessed his genius on NBC's
Tonight Show
.
It's been 20 years since Carson stepped down after 30 years of hosting what had been the gold standard of late night television. He then dropped almost completely out of sight until his death on Jan. 23, 2005 at the age of 79. And Carson simply didn't care about cooperating with or authorizing any full-bodied looks at his life, his times and his show of shows.
The two-hour
Johnny Carson: King of Late Night
(
Monday, May 14th at 8 p.m. central
), airing under PBS'
American Masters
banner, arrives after years of trying by filmmaker Peter Jones (2009's magnificent
Inventing LA: The Chandlers and Their Times
).
During a January session with TV critics, Jones said he had written Carson annually for 12 years before receiving a surprise call in 2002 from the man himself. In Jones recollection, Carson told him, "I want to tell you, you write a damn fine letter. but I'm not going to participate in anything on my life because you know what? I don't give a shit . . . One day something may get done, and you're probably the guy to do it. But it will never happen while I'm alive. I've done everything I've wanted to do. I've said anything I want to say. There is nothing more."
Jones persisted, eventually re-directing his solicitations to Carson's nephew, Jeff Sotzing, who controlled Uncle Johnny's vast archives. And in 2010, Sotzing finally bit for a simple reason: "I didn't want people to forget Johnny Carson."
People sometimes
do
forget how very big he was in the television firmament, even those of us who grew up watching him play around with animals, do his Carnac the Magnificent bits, swim and sink his way through nightly monologues, laugh his inimitable full-bodied laugh when a guest amused him and famously ad lib to Dolly Parton, "I would give about a year's pay to peek under there."
It's all here in
King of Late Night
, which also includes a wealth of archival family home movies and still pictures, plus new interviews with just about every surviving comedian, friend or associate who came under Carson's spell.
David Letterman, a longtime acolyte whose
Late Show
hosted Carson's last TV appearance on May 13, 1994, says of the grand master: "He put me together as a person. Honestly."
Drew Carey is near tears while recalling his first
Tonight Show
appearance and how Carson made the rare gesture of inviting him over to the desk. "It's like a religious experience," he says.
Beyond being a consummate joke-teller, "Johnny Carson was the best straight man
ever
, says Joan Rivers, who felt his wrath when she agreed to host a competing Fox late night show without first telling him.
"Johnny made us who we were," says Doc Severinsen, whose showy clothes and trumpeting made him a part of a
Tonight Show
troika that also included sidekick Ed McMahon.
Still, this is not a varnished Valentine. Severinsen also talks about his boss's estrangement from his three sons, for whom he never seemed to have time.
Middle son Rick died in a car wreck in 1991. And Chris and Corey declined to participate in this film. Severinsen recalls "Ricky" telling him, "Gosh, Doc, I wish I could get along with my dad as well as I get along with you."
As a kid growing up in Nebraska, young Johnny likewise felt unloved by his impossible to please mother, Ruth. Case in point: she told an interviewer for a
Time
magazine cover story, "That wasn't funny," after watching her star son deliver one of his
Tonight Show
monologues.
Carson also was a surly drunk (which he admitted in a 1979
60 Minutes
interview with Mike Wallace), an unfaithful husband and not much interested in socializing unless it involved a desk, a couch and a camera.
Joanne Carson, his second of four wives and the only one interviewed on camera, says she learned to look the other way while at the same time relishing her husband's stardom.
"Johnny had a right to live his life the way that was best for him," she says. "And I knew he would never embarrass me."
Carson's first
Tonight Show
was on Oct. 1, 1962, and his last on May 22, 1992. Only audio tapes exist of those early years, including the maiden voyage. Unbeknownst to Carson, NBC saw fit to erase each night's tape because it was cheaper to record a new show over it.
King of Late Night
makes no mention of this, but it should. Carson eventually got full ownership of all
Tonight Show
tapings when he signed a new three-year deal with NBC after threatening to quit.
"After 17 years, I'm getting a little tired of it," he told interviewers at the time. The guy knew how to negotiate, and a panicked NBC bowed to his every stipulation to keep him on the air. News anchor David Brinkley said memorably at the time, "Johnny Carson asking to get off
The Tonight Show
is roughly equal to George Washington asking to get off the one dollar bill."
Carson had been accessible to the press in his formative years as host of the game show
Who Do You Trust?
and during his early years in the
Tonight Show
chair. But he had pretty much quit cold turkey by the time I started writing about television for
The Dallas Morning News
in the early summer of 1980.
He made one exception, though, showing up on an NFL playoff Sunday in January 1982 in tow with Angie Dickinson during NBC's portion of the winter "press tour." Her short-lived
Cassie & Company
cop series was the first under a Johnny Carson Productions deal that he had negotiated with NBC. So it was both business and his longtime friendship with Dickinson that brought him to a hotel ballroom for a brief Q&A with TV writers.
I had one of those museum piece five-pound tape recorders in hand and it was rolling when I asked Carson whether NBC would dare cancel
Cassie & Company
, no matter what its ratings. He laughed that big Carson laugh while I ascended into some sort of heaven on earth. And as stupid as NBC was in erasing those early
Tonight Shows
, I grossly erred in either losing or taping over that exchange.
I also covered the long walkup to Carson's last
Tonight Show
, and was fortunate enough to attend a May 8, 1992 taping in person. This time I was smart enough to save the bright orange tickets. But a one-on-one interview with Carson was out of the question. Johnny just didn't do those anymore. Seeing him onstage, interviewing a producer and walking through nearby Johnny Carson Park were 100 times better than nothing, though.
These now musty memories likely would draw a blank stare from my own adult children. And why not? Johnny Carson's
Tonight Show
used to be hosted by "a guy who was as familiar as a bedtime story," future late night competitor Arsenio Hall says in
King of Late Night
.
But it's now 20 years after Carson said goodnight to
Tonight
. Late night TV is fragmented into small slices of viewer loyalties, with no dominant forces either on-screen or online.
Filmmaker Jones' exceptional look back at the mighty Carson and his times is especially evocative for those who stayed awake for him, fell asleep to him -- but always had him on.
"I bid you a very heartfelt goodnight," he finally said in closing.
And he never looked back.
GRADE:
A