FALL TV PREVIEW: New series -- Journeyman (NBC)
09/24/07 05:44 AM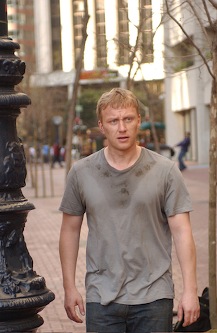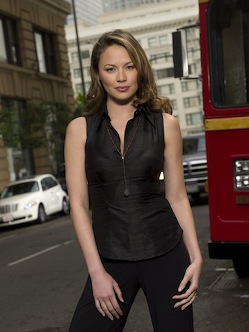 Our hero's dazed, confused and destined to re-meet his late fiancee.
Premiering:
Monday, Sept. 24 at 9 p.m. (central) on NBC
Starring:
Kevin McKidd, Gretchen Egolf, Reed Diamond, Moon Bloodgood
Created by:
Kevin Falls
By ED BARK
San Fran newspaper reporter Dan Vasser keeps missing deadlines after mysteriously disappearing, sometimes for days at a time. It's suspected he might be on booze, drugs or both again. Or maybe he's just philandering. No wonder his editor loves him.
NBC's
Journeyman
asks a lot of its audience, assuming there is one opposite
CSI: Miami
and
The Bachelor
. A number of this fall's new series require viewers to suspend disbelief. But this one demands more than a few too many big gulps during the title character's to and fro time travels.
For starters it's Dan's (Kevin McKidd) wedding anniversary. Alas, a flash of light sends him to a bar whose patrons are celebrating Terrell Owens' last-second 1999 playoff game TD catch against the Green Bay Packers. (Note to fellow faithful Packer fans: the team got screwed when the refs failed to call an earlier fumble by 49ers receiver Jerry Rice.)
Dan's not there to undo that injustice, though. Instead he'll jump through several more back-and-forth hoops, at one point encountering his old self with dead fiancee Livia Beale (Moon Bloodgood from last season's similarly constructed
Day Break
). By that time you'll likely be wondering whether this is really worth all the trouble. You also might be curious as to why the city's cable car operators seem blithely unaware of humans standing or lying directly in their paths.
Reporter Dan also has a wife, Katie (Gretchen Egolf), a little son, Zach (Charles Henry Wyson) and a cop brother named Jack (Reed Diamond). They're vexed by his disappearances, at one point staging an intervention. But that plot point vanishes as quickly as Dan, who's fated to do good deeds that deposit him in various years. Livia, who died in a plane crash, is a fellow time traveler, but can't seem to explain why. Then again, she's also her old pre-crash self in some scenes. Oh never mind.
McKidd, one of several sturdy Brits starring in new dramas this fall, has migrated from the lusty lad trappings of HBO's
Rome
. He's mastered the art of the furrowed brow, perhaps because he's as confused as many viewers might be.
A second episode sent for review is somewhat less murky even if no more plausible. This time Dan initially finds himself aboard a 1970s airliner whose passengers are smoking like chimneys, drinking like fishes. So what's he to do? He delivers a baby while a drunken doctor observes.
Dan's editor keeps him on the payroll, though. And his wife sucks it up after he proves to her that he indeed can disappear somewhere into the past at any moment. This includes a vanishing act during their plane flight to Oregon to have "lots of sex." Shouldn't she just have shackled him to a bedpost?
Although not flat-out terrible,
Journeyman
likely will be part of prime-time's past before a new year dawns. Luckily for Dan, though, he can't see into the future.
Grade:
C