Lifetime strikes a few sparks with The Conversation with Amanda de Cadenet
04/25/12 03:11 PM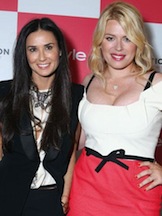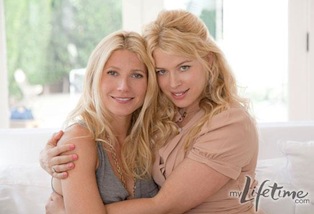 Amanda de Cadenet posing with Demi Moore and snuggle-posing with Gwyneth Paltrow for her weekly new series The Conversation.
Lifetime photos
Premiering:
Thursday, April 26th at 10 p.m. (central) on Lifetime
Hosted by:
Amanda de Cadenet
Produced by:
Amanda de Cadenet, Demi Moore
By ED BARK
Nearing 40 and on her second marriage to a rock star, British photographer/TV personality Amanda de Cadenet has met and befriended enough famous people to assemble a fairly imposing guest list for her first U.S. venture.
Premiering Thursday, April 26th (
10 p.m. central
) on Lifetime,
The Conversation with Amanda de Cadenet
follows the same night's launch of the network's
7 Days of Sex
, a decidedly bland and tedious weekly series in which couples attempt to mend their frayed relationships by doing it for a full week.
Judging from an episode sent for review -- which turns out not to be the first one -- this is all going to be about as sexually exciting as
Great Aunt Ida's 7 days of Quilting
. Except that Ida is known for being a tigress in the sack while
7 Days
won't even show Marilyn Tipps in the nightie that dull hubby Galan bought for her under duress.
So let's move on to the sometimes more stimulating
Conversation
, where the opening night guests are Jane Fonda, Gwyneth Paltrow, Sarah Silverman and Zoe Saldana.
That's not a bad list, although the obvious "big get" for de Cadenet would be the show's co-executive producer, Demi Moore. The two of them recently attended a launch party for the show, marking Moore's first public appearance since getting out of rehab. But a sit--down on her own show may well be asking a bit much of Moore, who might instead be aiming at the likes of Diane Sawyer, Barbara Walters, Katie Couric or Matt Lauer for her inevitable first big "tell-all."
De Cadenet, daughter of former champion race car driver Alain de Cadenet, married Duran Duran bassist John Taylor when she was still a teenager. They divorced in 1997, with Amanda remarrying in 2006 to The Strokes guitarist Nick Valensi, with whom she has twins.
She references both marriages, but not her husbands' names, during Thursday's cozily appointed interviews. A variety of stuffed couches in a living room setting are deployed, with de Cadenet and her subject usually facing each other with their feet up.
Fonda, now 73 and for the first time "free" in her view, says she didn't have real "intimacy" with any of her first three husbands -- film director Roger Vadim, political activist Tom Hayden and media baron/land tycoon Ted Turner. All were alpha males to whom she willingly subjugated herself, Fonda says.
But in the "third act" of her life, she's dating a man "who does not define me" after Turner declined to make the "adjustments" needed to sustain their marriage. She left him, Fonda says, because otherwise "I would die married. I wouldn't die whole."
De Cadenet tells Fonda that she promised just "10 years max" to her first husband. And the record shows that she delivered about six.
In the show's second talk, with Paltrow, both women say they experienced post partum depressions in addition to physical changes. They laugh together when de Cadenet says that her post-twins "tits" are now pointing this way and that.
Paltrow, who herself has a rock star husband (leader singer Chris Martin of Coldplay), also talks movingly of the bond she had with her late father, esteemed television producer Bruce Paltrow (
St. Elsewhere
). He was the signature man in her life, she says. And it was only after his death that she married for the first time.
"I refuse to have it just be a loss," she says of Bruce Paltrow's death in 2002 at age 58. "It's like what's the legacy in that?"
This is the best of the four interviews. Comedian Sarah Silverman then appears, with de Cadenet at one point telling her, "I loved hearing you talk about vaginas and tits and just body parts" as part of her stage act.
The closing interview mostly amounts to a exchanges of platitudes between de Cadenet and actress Zoe Saldana (
Avatar
. But de Cadenet does work in a second reference to her off-kilter bosom.
Then it's time for a buzz round that separately subjects all four interviewees to questions such as "Do you have any vices?" and "What is your favorite sex position?"
"What!?" Paltrow initially responds to the latter question before eventually confiding, "I'm down with all of them."
Silverman says, "I do enjoy a good, sound 'missionarying.' "
De Cadenet makes it very clear throughout that she empathizes. Boy, does she ever. And she seems equally intent on being pals, if she isn't already, with all of her celebrity guests. Therefore the climactic series of hugs and picture-taking.
Some interesting conversation does seep through, though, as part of what the host terms "the universal language of women." And although Moore apparently isn't booked yet, future guests include Alicia Keys, Lady Gaga, Donna Karan, Miley Cyrus, Eva Longoria, Gabby Sidibe, Olivia Wilde and New York Sen. Kirsten Gillibrand.
Perhaps the host will pop the "favorite sex position" question to Lady Gaga, even if that might take up the whole hour. But perhaps not to Sen. Gillibrand.
GRADES:
The Conversation with Amanda de Cadenet
-- C+
7 Days of Sex
-- D