Invasion from Planet Hollywood? Cute teen aliens abound in The CW's Star-Crossed
02/13/14 12:18 PM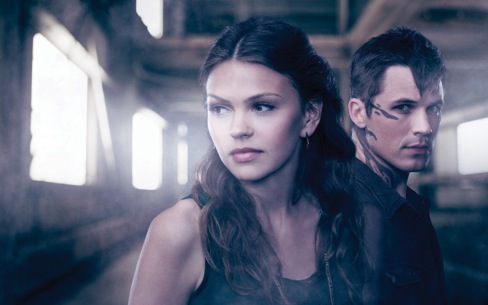 Aimee Teegarden and Matt Lanter star in Star-Crossed. CW photo
Premiering:
Monday, Feb. 17th at 7 p.m. (central) on The CW
Starring:
Aimee Teegarden, Matt Lanter, Grey Damon, Titus Makin, Jr., Malese Jow, Chelsea Gilligan, Greg Finley, Natalie Hall, Jonathan Schaech
Produced by:
Josh Applebaum, Meredith Averill, Andre Nemec, Adele Lim
By ED BARK
@unclebarkycom on Twitter
Little green men or long-necked, E.T.-shaped aliens need not apply when The CW network is shopping for creatures from another planet.
Instead they need to be hunky or beauteous in order to facilitate longing looks, teenage lust and other sexual urges. So the Atrians from Atria are set apart only by a wide variety of facial markings that might make Mike Tyson envious. Even though there are unconfirmed rumors that the males "have three penises -- small, medium and extra large," according to a willful Marshall High School "social queen" named Taylor (Natalie Hall).
Star-Crossed
, premiering Monday, Feb. 17th, further underscores CW's determination to be a Syfy Jr. populated by otherworldly young catalysts. Its lone remaining down-to-earth, present-day scripted series,
Hart of Dixie
, now seems as out of place as Miley Cyrus opening for The Oak Ridge Boys in Branson.
Here's the deal. In 2014, the Atrians crash-landed in the small town of Marshall during the course of fleeing their dying planet. In the narrative words of a now grown-up Roman (Matt Lanter), "It was meant to be a day of liberation. Refuge. But for everyone on Earth, it was invasion. The humans left us no choice but to defend ourselves."
Before being caught and seemingly killed, little Roman fled to a backyard shed and met the very helpful little Emery Whitehill (Aimee Teegarden from
Friday Night Lights
). She brought him a blanket that night and cold spaghetti the next morning. They exchanged smiles before uniformed humanoids burst in and plugged the boy.
Ten years later, teenage Emery is out jogging after spending four years recovering from some sort of serious illness. Meanwhile, seven teenage Atrians living in a heavily guarded government "Sector" have been chosen to "integrate" Marshall High as part of a controversial social experiment. Wouldn't you know that one of them is Roman. Wouldn't you know this also will mark Emery's return to school? And wouldn't you know that the loud, picketing protestors are depicted as a collective group of room temp IQ yahoos? One of them brandishes a "This Is My Land" placard.
Star-Crossed
nonetheless has some promise -- and a little wit, too. Being in school has its benefits, says one of the male Atrians. "At least we don't have to worry about 'Temblar' guns pointed at our heads."
"Or worse, glee club," adds a female of his species.
Emery of course is fated to recognize Roman, whose father, Nox (Jason Douglas), is leader of the entire and quite sizable Atrian contingent. She remains sensitive to the Atrians' plight. So do Emery's best friends, Lukas (Titus Makin, Jr.) and Jules (Malese Jow), who's in serious danger of dying from cancer.
Roman otherwise is taunted and physically attacked by the high school's punk brigade. A teacher who's been championing the assimilation effort nonetheless tells Roman to stop acting "like an animal." Because otherwise he'll have his testicles "put in a jar" for the purpose of medical study by military doctors.
"We don't want that. I don't want that," the teacher says in a ludicrous line that perhaps should be bottled for the ages.
"And my testicles definitely don't want that," Roman ripostes. The kid's got moxie. And this show clearly has a jones for male private parts.
Episode 2 (Feb. 24th), also made available for review, considerably ramps up the scheming and double-dealing. Roman's newly more powerful Uncle Castor (Jonathan Schaech) shifts into duplicitous over-drive. And Robert Vartan (Marcus Hester), bearded, deep-drawling, unkempt head of the town's Redhawk faction, shares his thoughts at a school board meeting to decide if the Atrians will be allowed to attend Marshall's annual homecoming carnival.
"God said let us make man in
our
image," he decrees. "After
our
likeness. And let them have dominion over every creeping thing that creeps upon the earth."
The guy is so laughably over-the-top oily that conservative TV and radio hosts will be entitled to whatever field days they might be planning. And Vartan, judging from the closing scene in Episode 2, is set to be more than just a peripheral character after first branding Emery a "race traitor bitch."
Star-Crossed
looks as though it intends to take itself very seriously as an allegory for a futuristic brand of race relations. It's also a budding love story, with Emery and Roman blowing hot and cold for one another while a seemingly goodly human student named Grayson (Grey Damon) hopes to cut in and claim her.
For those occasional grins, there's also the aforementioned Taylor, who's all that with a vengeance when the homecoming carnival is in jeopardy.
"When they start messing with tradition," she says, "that's when I go turbo-bitch! I mean, is nothing sacred?"
The CW has enjoyed some modest success this season with the freshman series
Reign
and
The Originals
, both of which have been picked up for next fall.
Star-Crossed
has the potential to make it a threesome while navigating its way through attempted social relevance and basic high school dynamics.
In the latter case, a muscular, short-tempered Atrian named Drake (Greg Finley) may be onto something when he snorts at Taylor, "Show me your school spirit, I'll show you mine."
It looks as though she kind of digs that.
GRADE:
C+
Email comments or questions to:
unclebarky@verizon.net