SEAL Team Six: a mini-"controversy" on a minor network
11/01/12 03:34 PM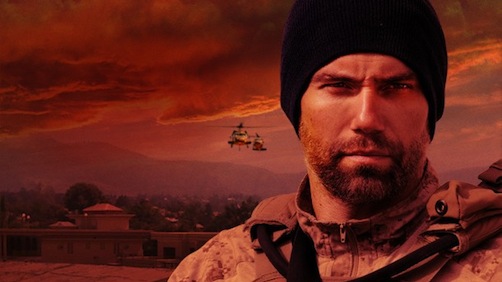 Anson Mount from Hell On Wheels heads the cast of SEAL Team Six.
National Geographic Channel photo
By ED BARK
@unclebarkycom
Some supporters of Mitt Romney have questioned the timing of National Geographic Channel's
SEAL Team Six: The Raid on Osama bin Laden
.
After all, it's premiering just two days before the presidential election (
Sunday, Nov. 4th at 7 p.m. central
) and supposedly was belatedly re-cut in order to ramp up the role of President Obama via archival news footage.
I've got another question, though. Where's Carrie Mathison? The Claire Danes-played bipolar heroine of Showtime's
Homeland
would fit right in here as a counter-terrorist CIA agent obsessed with bringing down bin Laden.
Instead we get something of a stand-in. A fictional counter-terrorist agent named Vivian Hollins (Kathleen Robertson from Starz's
Boss
) is the most empathetic character in
SEAL Team Six
. She cajoles, she persists and in the end she gets her man despite resistance from the top until almost the very last drop.
The 90-minute film, intercut with a half-hour's worth of commercials, carries the usual "docudrama" disclaimers. "This story is inspired by real events," viewers are informed. "Some characters, dialogue and action have been dramatized."
Originally planned as a feature film titled
Code Name: Geronimo
(the moniker give bin Laden by those out to kill him),
SEAL Team Six
comes from The Weinstein Company and its Obama-backing chieftain, Harvey Weinstein. According to an
Oct. 23rd report in The New York Times
, he strongly suggested to director John Stockwell that more footage of Obama be included in the finished product. Stockwell complied, explaining that Weinstein's suggested revisions "gave the movie context and helped root it in reality."
On the other side of the coin, National Geographic Channel president John T. Owens told the
Times
that the network insisted on removing footage in which Romney appeared to oppose the raid on bin Laden's compound.
Whatever you believe,
SEAL Team Six
in reality is highly unlikely to influence any votes. It's airing on a relatively obscure network on a night that's loaded with big-ticket competing attractions ranging from
Homeland
to NBC's
Sunday Night Football
to CBS'
The Good Wife
.
Beyond that, it's a decently made but hardly exceptional movie without any high wattage star power but with a few familiar faces.
William Fichtner and Robert Knepper, former co-stars of Fox's
Prison Break
, respectively play a CIA major domo and a SEAL commander. Anson Mount, star of AMC's ratings-challenged
Hell on Wheels
western series, and Freddy Rodriguez (
Six Feet Under
), are fictional SEALs known as "Cherry" and "Trench."
Cherry is sometimes at odds with team leader "Stunner" (Cam Gigandet). So much so that they doff their armor and weapons at one point to duke it out before Knepper's character breaks it up. Who knows whether that really happened?
In one of his frequent talk-to-the-camera interludes, Cherry later says, "He thinks I'm a hot-headed redneck, which I am. I think he's a surfer boy. Which he is. And uh, it takes all types."
The real-life Bin Laden is seen fleetingly in old news footage. But on the May 2, 2011 night of his death, an actor standing in for him is never shown full-faced before or after taking a bullet to the forehead from Cherry.
Obama is something of a central player, exclusively via archival video. Early in the film, he laughs it up at the White House Correspondents dinner when comedian Seth Myers tells a bin Laden joke. We now know what the President fully knew then -- that a make or break raid on bin Laden's Pakistan compound was imminent.
The President almost gets to close the film with the words, "Justice has been done." Mount's character then adds a kicker -- "It was a good day to be an American" -- as the SEALs return to their own compound for a secret celebration of a job very well done.
SEAL Team Six
often has a documentary feel, even when actors are involved. But it's not entirely bloodless and includes some affecting scenes in which team members talk via Skype to their loved ones before heading off to hopefully take out "Geronimo."
Knepper, the head weasel of
Prison Break
, is effective in an entirely different guise as the team's rock-jawed commander. And the aforementioned Robertson nicely plays the dogged Vivian Hollins. Mount's cowboy-ish Cherry also breaks through on occasion, even if his long hair and beard make him look as though he's still very much in character for
Hell on Wheels
. One half-expects him to ride in on a horse for at least a scene or two.
Another depiction of these SEALs and their mission is coming to the big screen this December. And
Zero Dark Thirty
will be directed and produced by Kathryn Bigelow, an Oscar-winner for
The Hurt Locker
.
SEAL Team Six
at least can say it got there first and created a little controversy in the process. But it's otherwise likely to be comparatively little-seen -- as well as quickly forgotten.
GRADE:
B-minus
unclebarky@verizon.net