Doubt bounces Katherine Heigl over to CBS
02/14/17 02:05 PM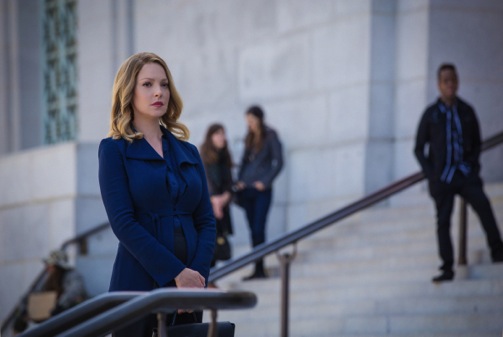 Katherine Heigl tries again as defense attorney in Doubt. CBS photo
Premiering:
Wednesday, Feb. 15th at 9 p.m. (central) on CBS
Starring:
Katherine Heigl, Dule Hill, Elliott Gould, Laverne Cox, Steven Pasquale, Dreama Walker, Kobi Libii, Judith Light
Produced by:
Tony Phelan, Joan Rater, Carl Beverly, Sarah Timberman
By ED BARK
@unclebarkycom on Twitter
Here comes Katherine Heigl again.
All hasn't gone as planned since she left
Grey's Anatomy
in 2010 with the idea of becoming a movie star.
Grey's
remains gainfully deployed on ABC while Heigl since has been in a pile of pedestrian, barely seen feature films (
Jackie & Ryan, Home Sweet Hell, Jenny's Wedding
, etc.) while also fronting NBC's quickly canceled
State of Affairs
during the 2014-'15 TV season.
Heigl also has publicly let it be known she'd happily return to
Grey's
for a limited arc as her old character, Izzie Stevens, for which she won an Emmy. But all-business show runner Shonda Rhimes is not known as a forgiver or a forgetter after Heigl's less than amicable departure. So nothing's materialized.
Now that the
E! True Hollywood Story
portion is out of the way, let's get to Heigl's latest go-around. She's starring as defense lawyer Sadie Ellis in CBS'
Doubt
, which is replacing
Code Black
.
As with
State of Affairs
, there's a serial storyline in play but no guarantee it will get resolved. Heigl's NBC drama ended with an open-ended cliffhanger after 13 episodes. Sorry, viewers, but feel free to write your own storylines from here on out.
In
Doubt
, Heigl's Sadie is representing cute pediatrician Billy Brennan (Steven Pasquale), who's newly accused of murdering his girlfriend 24 years ago when he was a teenager. Billy and Sadie also have become lovers, which makes his guilt or innocence of more than passing importance. Throughout the first two episodes, and another out-of-sequence hour made available for review, Billy seems to have the evidence on his side -- until he doesn't. But then he does again. And doesn't.
The show's New York City-based, "boutique" law firm otherwise is well-stocked with familiar TV faces. Dule Hill (
The West Wing, Psych
) plays Albert Cobb, who's Sadie's best friend and trusted colleague. Laverne Cox, fresh from
Orange Is the New Black
, is transgender attorney Cameron Wirth. And Elliott Gould is firm founder Isaiah Roth, who's also Sadie's father. Everyone seems to revere him. So it's snap to it time when he says, "OK. Go, do, conquer" near the start of Episode 2.
Tiffany Simon (Dreama Walker), one of the firm's newer arrivals, is broadly and ridiculously drawn as an import from the milk-fed Midwest who keeps admonishing herself for being so damned "normal."
"I'm from Iowa. We don't yell. We seethe," she says in Wednesday's premiere after feeing guilty for loudly expressing her opinion. In Episode 2, Tiffany still finds it disconcerting that "We actually had a white picket fence" back home.
There's also Nick Brady (Kobi Libii), a felon who earned his law degree while incarcerated and is now trying to make his mark when he's not getting sloughed off.
Steady doses of highly generic mood music tend to kick in whenever the lawyers are supposed to be bantering amusingly. The sub-plot cases range from a diagnosed schizophrenic who's accused of murder and freaks out on the witness stand ("Control your client!") to a cantankerous former judge and friend of Isaiah's who's charged with abusing his Alzheimer's-afflicted wife by having sex with her.
Judith Light, who's terrific in Amazon's
Transparent
series and was a sneering hoot in TNT's
Dallas
reboot, has a recurring role as the incarcerated Carolyn Rice, who's also Sadie's mother. Light brings a convincing, cutting edge to her brief but powerful scenes with both Heigl and Gould.
Doubt
is the kind of series where answers are left hanging at commercial breaks and where preachments tend to run thick. All three episodes made available for review have thoroughly predictable outcomes for the sub-cases while the pot keeps percolating between Sadie and her Dr. Billy.
Cox, as attorney Wirth, is given ample time in courtroom scenes while also getting a chance to briefly declare, "I'm a woman, but I used to be a man." Hill's attorney Cobb admonishes and advises Sadie but relies on couples' therapy to sort out whether it's possible for him to have an enduring relationship with his on-and-off girlfriend. Gould's patriarchal Isaiah seems out of sync in the opening hour but shows signs of gaining his bearings in upcoming episodes.
All in all, though,
Doubt
is a Heigl-driven vehicle, and perhaps the last she'll get for a while if this one can't find an audience. So far it's strictly so-so on the storytelling front, but with some scenes that raise the bar beyond that. Those mostly involve Light, though. And she's not the one who's supposed to carry the load.
GRADE:
C+