The Tudors and In Treatment are back in play on Showtime, HBO
04/03/09 12:54 PM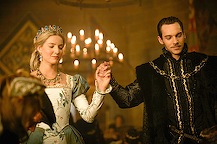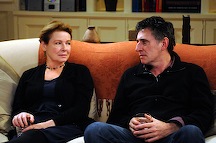 Jane Seymour and Henry VIII; Drs. Gina Toll and Paul Weston.
By ED BARK
Premium cable's warring big shots, HBO and Showtime, each return estimable series Sunday night.
Showtime weighs in with the third season of
The Tudors
while HBO launches Season 2 of
In Treatment
. They're pitted against each other at 8 p.m. (central), but cable subscribers with On Demand capabilities can tune in anytime.
This isn't so much a review as a reminder that both series are well worth your time. Although I do prefer the palace intrigues and histrionics of the newly divorced King Henry (Jonathan Rhys Meyers) to the angst and soul-searching of the newly divorced Dr. Paul Weston (Garbriel Byrne).
Henry, who rid himself of second wife Anne Boleyn at the close of last season, takes on his third wife, Jane Seymour (Annabelle Wallis), at the start of this one. Meanwhile, he's beset by a commoner rebellion of Catholics who resent the destruction of their places of worship at the order of Henry's principal deputy, Sir Thomas Cromwell (James Frain).
On
In Treatment
, Weston has relocated his therapy practice from Maryland to Brooklyn, where he sees returning and new patients in his brownstone. John Mahoney from
Frasier
will play one of them.
Weston, not entirely of sound mind himself, also will resume his therapy sessions with Dr. Gina Toll (Dianne Wiest), who still has her hands full with him.
The Tudors
of course is far more picturesque, sometimes breathtakingly so.
In Treatment
, with its intimate confines, could just as easily be a stage play.
They're two more good reasons why HBO and Showtime are worth their extra costs. In these tough times, though, share with a friend if you can.