HBO's Game of Thrones is still to die for
04/04/14 09:42 AM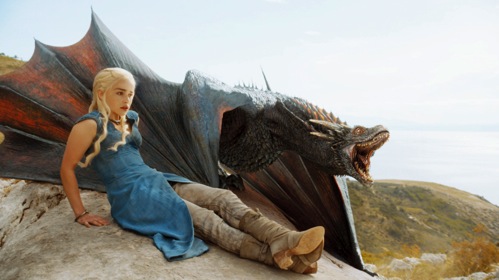 Girl's best friend: Daenerys Targaryen and one of her three dragons.
HBO photo
By ED BARK
@unclebarkycom on Twitter
Don't expect an abundance of the always welcome Daenerys Targaryen in Season 4's first three episodes of
Game of Thrones
.
Do expect a major development that will "change everything," as they like to say in teases for
Scandal
. Or
Revolution
. Or
The Good Wife
. Or maybe even
Wheel of Fortune
someday.
We'll say no more. HBO's latest batch of
Game of Thrones
review DVDs came with a cover letter asking recipients to "not reveal any major plot points in advance, or point to any one episode as a 'big one.' You'll know what I'm talking about after you see them."
The letter also promises that "major events will happen throughout the 10 new episodes," with executive producers D.B. Weiss and David Benioff already on record as saying "no one is safe at any point in this season, which serves up weekly edge-of-your-seat viewing possibilities."
The new season's promotional tagline -- "All Men Must Die" -- bears further witness to that. So let's only reveal that one of the first three episodes is of bigger import than the others. Which isn't to say the others are inconsequential. Which isn't to say that readers of the George R.R. Martin book series won't already be prepared for what's going to happen. Which isn't to say I've read them. Which isn't to say that the TV adaptation must be chapter-and-verse faithful to what's already appeared in print. Which is to say that "reviewing" these three episodes again is akin to navigating a minefield of what's a "spoiler" and what's not quite.
These early episodes of Season 4 are still reverberating from the shocking "Red Wedding" slaughter of Starks near the end of Season 3. But the fractious Lannisters' grip on the Iron Throne remains tenuous. And there's yet another threat in the form of a new character named Oberyn Martell (Pedro Pascal), also known as the Lannister-despising "Red Viper of Dome."
Oberyn has arrived in King's Landing with his principal lover, Ellaria Sand (Indira Varma). The sexually adventurous couple plan to attend the big wedding of young punk King Joffrey (Jack Gleeson) and Margaery Tyrell (Natalie Dormer). Suspicions rise.
Meanwhile, Daenerys Targaryen (Emilia Clarke) continues to march her increasingly formidable army of former slaves while also trying to keep her three dragons under control. "They can never be tamed. Not even by the mother," she's warned. We'll see about that.
Peter Dinklage's Tyrion Lannister, who's emerged as the central character of
Game of Thrones
after three seasons of attrition, remains a pint-sized major player along with fellow Lannister schemers Tywin (Charles Dance), Jaime (Nikolaj Coster-Waldau) and Cersei (Lena Headey). But Tyrion seems increasingly prone to do the right thing while retaining his fondness for sardonic quips.
Season 4's first three episodes of course come with sex and violence included. But there's nothing approaching what happened to Jaime Lannister near the outset of Season 3. He's still adjusting to the loss of a hand while also worrying about his fitness for combat. But in this respect he's lent a hand -- so to speak.
One of the signature lines in these early episodes comes from a character who might as well be speaking on behalf of all the power brokers and power seekers. It's delivered in Episode 3: "I will not become a page in someone else's history book."
Game of Thrones
is not about to run out of George R.R. Martin's pages anytime soon. And in these first three episodes, it shows no signs of getting stale. HBO very well could hit the 10-season mark with what's become its franchise series. There's no reason to kill this golden calf -- particularly with so many characters still available to be sacrificed instead.
GRADE:
A-minus
Email comments or questions to:
unclebarky@verizon.net