NEW SEASON: Latest Nikita re-do a showcase for Maggie Q
09/09/10 08:25 AM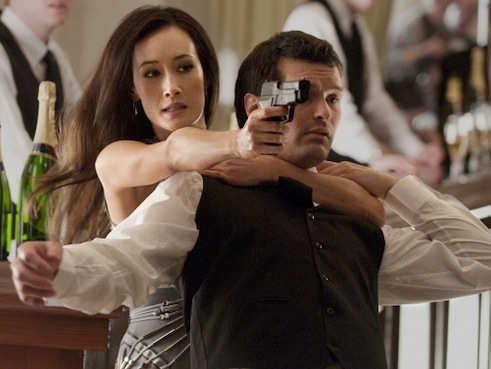 Nikita gets the drop while looking drop-dead gorgeous. CW photo
Premiering:
Thursday, Sept. 9th at 8 p.m. (central) on The CW
Starring:
Maggie Q, Lindsy Fonseca, Shane West, Melinda Clarke, Aaron Stanford, Ashton Holmes, Tiffany Hines Hines, Xander Berkley
Produced by:
Craig Silverstein, McG
By ED BARK
Estrogen-powered new series are in fairly short supply this fall.
CBS for one has canceled four --
Ghost Whisperer, Cold Case, The New Adventures of Old Christine, Accidentally on Purpose
-- and added none.
But The CW, subsidiary of CBS, retains an avid interest in showcasing the gender that also embodies its principal target audience -- 18-to-34-year-old women.
To join its club, though, you'll need a smokin' hot bod and a willingness to bare it. As was the case with Wednesday's premiere of the cheerleader series
Hellcats
. As is the case with Thursday's launch of a
Nikita
remake being paired with CW's holdover
Vampire Diaries
.
Hard-boiled, hard-bodied Nikita is played by Maggie Q (Maggie Denise Quigley), a 31-year-old veteran of intensive martial arts training who looks suitably smashing in her multiple action scenes. Early in Thursday's opener, she snaps the neck of a fat pig poobah while suitably dressed for his pool party in a showy fire engine red swimsuit. Now that's entertainment.
This looks to be one of CW's better series in recent seasons. It's dead serious at its core but garnished with enough eye candy to qualify as a
Charlie's Angels
minus one. That's no coincidence. One of
Nikita's
executive producers, McG (Joseph McGinty Nichol), directed both of the
Charlie's Angels
feature films and also has produced TV series such as
Sorority Forever
and
Pussycat Dolls Present: Girlicious
. So he knows this particular terrain -- both action-wise and otherwise.
Nikita's
other principal star is Lyndsy Fonseca as Alex. She's an apprentice assassin being schooled by a covert unit of government known as Division. Nikita had the same employer until escaping three years ago and dedicating herself to destroying her tormentors. Her connection with Alex is more than it initially seems, with viewers let in on their not-so-little secret at episode's end.
Also featured is taut-taking Michael (Shane West), a not altogether ruthless Division operative assigned to hunt Nikita down and execute her by a despotic bossman named Percy (Xander Berkley). That of course isn't going to happen anytime soon.
Maggie Q clearly has the right skill sets for this role. She's quick with her fists, deadly with her aim and also impressive to behold in black underwear before picking out the outfit she'll wear to her next assassination shutdown. An occasional quip is also mixed in. "That could have gone better," Nikita deadpans after taking a bit longer than she'd like to subdue a pair of male Division underlings.
Unlike some series of this genre, the "mythology" is pretty straightforward. Nikita once had a taboo civilian lover who was taken out by Division. And Percy will stop at nothing to cover up a variety of misdeeds that the government is predictably clueless about.
It all makes for a romp, a stomp and an ongoing fashion show. And this time The CW has pretty much got it right.
GRADE:
B