Kyle Howard finally sticks it in TBS' My Boys
12/28/06 11:19 AM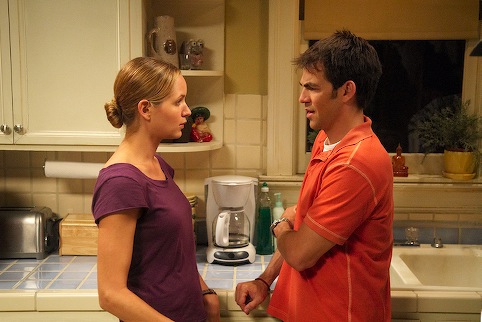 Jordana Spiro and Kyle Howard air it out on TBS cable's My Boys
By ED BARK
Kyle Howard's won-loss record wasn't getting him anywhere fast in Hollywood. At age 28, he'd already slogged through a quintet of quickly canceled TV series, beginning with 1998's
The Love Boat: The Next Wave
.
But he kept working, guest-starring and believing that few producers blame the actor for a series that doesn't stick.
"Because if that's the case, I'm screwed," Howard says during a recent stop in Dallas.
At the time he didn't know the fate of TBS cable's well-received
My Boys
, in which he plays a Chicago sportswriter moving within the orbit of series star Jordana Spiro. Now he's having a particularly happy holiday season after TBS announced it had ordered nine more episodes of its first unscripted comedy series. The last of the show's initial 13 episodes premieres Thursday (Dec. 28) at 9 p.m. central time.
My Boys
then is scheduled to return in the summer.
Howard's character, Bobby Newman, had a start-stop romance with Spiro's PJ Franklin before they went all platonic. She's likewise a sportswriter who covers the Cubs, plays poker, collects sports cards and drinks beer.
"At the same time she's sexy and beautiful and 'girly' in her own way," Howard adds.
In real life, he prefers the company of a woman who's willing to go to third base, but doesn't necessarily know the intricacies of a pitcher's earned run average.
"I'm not like a big sports guy myself. For the real guy's guy, maybe PJ is the perfect girl. But I'd probably fall somewhere in between. I don't want a girl that's like an idiot. You had mentioned Paris Hilton . . ."
"Thanks for confirming that for me," his interviewer interjects.
"I don't think that's a secret to anyone," Howard rejoins, wisely foreclosing any future opportunity to go Parisian.
His favorite sport is surfing. Some girlfriends have waved him off.
"I'd sit down and watch a surfing video and she'd be so bored. It'd be like, 'I don't get it. Every wave looks the same. Why do you even watch this?' But for me it's like super-interesting. Then we'd go shopping and she'll want to spend, like, $1,200 on a handbag. And I'm like, 'I don't get it.' It must be basic differences in wiring. You've kind of got to just meet in the middle."
Howard's character in
My Boys
is more straight-ahead and serious-minded than any he's ever played.
"I love to be the goofy best friend or the sort of nerdy guy or the dumb stoner guy," he says. "This is as normal as I've been in anything."
Besides that quickly capsized new version of
Love Boat
, he's been a regular on
Opposite Sex, Grosse Pointe, Run of the House
and
Related
, none of which lived to see a second season. Howard also has guest-starred on a wide variety of successful TV series, including
Friends, CSI: Crime Series Investigation, Nip/Tuck, The Drew Carey Show, Providence
and
Boston Public
.
"At times it's been a frustration. But at the same time I feel lucky to stay busy," he says. "I've grown so used to it that it's almost normal to me. It doesn't necessarily freak me out that much when a pilot doesn't get picked up or a series gets canceled. Of course I'd love to have a little job security for a few years."
It's now looking as though he'll finally have that. And although first impressions can be misleading, it couldn't happen to a nicer guy.