The Shield goes out like a lion with rousing finale
11/25/08 11:16 AM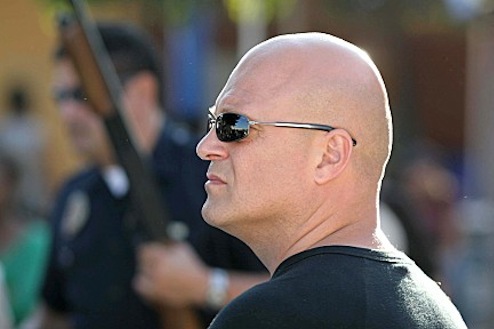 Michael Chiklis re-defined himself as rogue cop Vic Mackey.
By ED BARK
Tonight's the end game for FX's game-changer. That would be
The Shield
, which closes the book Tuesday (9 to 10:30 p.m. central) on its seventh and final season.
Central question: Will bull-headed Vic Mackey (Michael Chiklis) take a bullet for his many sins, skate away scot-free or pay in other ways?
I'm honor-bound to cop a plea here. And no television critic with an ounce of integrity would give away the ending anyway. Know this, though. Fans of
The Shield
almost assuredly will not be disappointed by this very satisfying resolution to the series that forged FX's barrier-breaking identity. Not that there still couldn't be . . . well, let's leave it at that.
Before
The Shield
, which premiered on March 12, 2002, FX was little more than another brand X basic cable network. Now it's the undisputed champ of hard-boiled dramas anchored by seriously flawed leads, most of them males. Without
The Shield
's success, there'd likely be no
Nip/Tuck, Rescue Me, Damages
or
Sons of Anarchy
.
I'm no big fan of the last one, but gladly applaud the others. Then again,
The Shield
's exit might also beckon another fresh start in which every new FX drama doesn't necessarily have to shove harder than the next. Under its current programming strategy, FX's version of
Dirty, Sexy Money
would be set in a strip club populated by rival gangs of off-duty hit men. And frankly, that's too predictable at this point.
The Shield
also restored Chiklis to the good graces of his profession after a dispiriting period where he starred in NBC's mercifully short-lived
Daddio
sitcom and played Curly in a made-for-TV movie about The Three Stooges.
The role of Mackey required Chiklis to both lose weight and gain a swagger. This paid off immediately when he won both a best actor Emmy and Golden Globe in
The Shield
's first year.
Chiklis has had ample support, in no small part from the vastly under-recognized CCH Pounder as police captain Claudette Wyms. Pounder has yet to win an Emmy or even a Globe nomination for her work on
The Shield
. Her sterling performance in Tuesday night's finale is all the more reason to rectify both omissions.
Shield
fans also will see what befalls Mackey's erstwhile partners in lawless crime-busting, detectives Shane Vendrell (Walton Goggins) and Ronnie Gardocki (David Rees Snell). Everyone's fate revolves around Mackey's planned big-time bust of drug lord Guillermo Beltran (Francesco Quinn) in return for full immunity from many past misdeeds.
But who might Mackey be double-crossing? Or might he end up in the crosshairs? And what about his long-suffering wife, Corrine (Cathy Cahlin Ryan), who turned against him and became a police informant? If he finds out, will she be safe from him?
You'll get both definitive answers and command performances before
The Shield
's extended finale at last exhales and holsters itself. The final bow belongs to series creator Shawn Ryan, who's had the very good grace to pay the show's fans in full.
FINALE GRADE:
A