Michelle, Teddy keep Dems from dozing before McCain has some last laughs
08/26/08 10:57 AM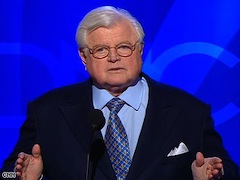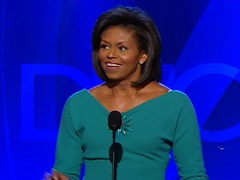 By ED BARK
News and views from Night 1 of the Democratic National Convention in Denver:
"A girl from the South Side of Chicago"
-- Maybe she's the real orator in the family. Michelle Obama likely gave the best spousal speech ever at a national political convention, particularly when contrasted with Theresa Heinz Kerry's fingernails-on-a-blackboard performance at the 2004 gathering.
CBS floor reporter Byron Pitts quoted an unnamed Obama supporter as saying that Michelle needed to be "less Jackee, more Jackie-O" in her remarks.
The labored references were to saucy black actress Jackee Harry and Jacqueline Kennedy Onassis. Anchor Katie Couric repeated them with a hint of disdain in her voice before Michelle was introduced by her older brother, Craig Robinson.
Smooth, conversational and charismatic, she also looked smashing in a dress that Victor Costa no doubt already is knocking off by the thousands. Who wouldn't look good in a "Michelle?"
"I'll tell ya, the girl from South Chicago knows how to make a speech," CBS podium reporter Bob Schieffer enthused.
His counterpart at Fox News Channel, Chris Wallace, termed it a "beautiful speech, beautifully delivered." But he wasn't alone in saying that for the Democrats, "I can't help but feel it was a largely wasted night."
How so? Because the Dems supposedly didn't go on the attack enough after accentuating the positive too much four years ago. Serpentine gut-fighter James Carville agreed, saying on CNN, "If this party has a message it has done a hell of a job of hiding it tonight."
CNN analyst David Gergen, who has been an advisor to presidents of both parties, earlier characterized Monday night's presentation as "a television show without a message" or much momentum for that matter.
All seemed positive about that at least.
Teddy Bearcat
-- Sen. Ted Kennedy, battling terminal brain cancer, put his shoulder to the podium and talked vigorously for eight minutes after an adoring, Ken Burns-directed biographical film portrayed him as a devoted sailor and family man dedicated to justice for all.
Escorted by his wife, Vicki, Kennedy's appearance at Denver's Pepsi Center had been confirmed earlier Monday night. But few knew whether he could muster much of a speech. His left hand wrapped in an ace bandage, Kennedy delivered an abbreviated, but trademark stem-winder that had delegates roaring, but not for too long out of concern for his health and stamina.
"I think we can rack that one up as an adrenaline moment," said CNN's John King. "Whatever you think of his politics, the guy wanted to be here."
"We just looked at one reason why we still have these conventions," historian Richard Norton Smith said on PBS.
It indeed was a singular moment, but not nearly of the same import as Kennedy's very public snub of President Carter at the close of the 1980 convention. Now his party's elder statesman, Carter and his wife, Rosalynn, earlier appeared on the convention stage after a film extolled his work on behalf of the homeless.
During later interviews on PBS and MSNBC, he talked of how the combative 1976 Republican campaign between Ronald Reagan and President Ford had hurt the latter's bid for reelection against Carter. But out of deference or ignorance, no one asked Carter about events at the 1980 Democratic convention, when Kennedy declined to join him in a concluding celebration. That hurt lots, with Carter eventually losing his reelection bid to Reagan.
The Kennedy speech, from 8:30 to 8:38 p.m., came with ABC, CBS and NBC still showing entertainment programming. But the slow pace of the night's events gave ABC a window to replay his address in its entirety well before Michelle Obama took center stage and commanded it.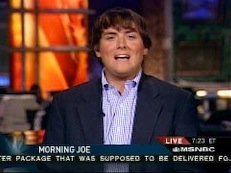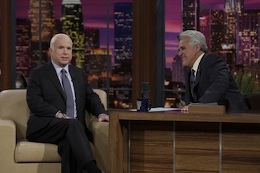 Luke Russert in convention mode; John McCain on the Tonight Show.
Not-so-cool hand Luke
-- Luke Russert, only son of the late Tim Russert, is making his MSNBC debut at the Dem convention as a reporter on "youth issues."
More than a little hyper-caffeinated but definitely not lacking self-assurance, Russert reported from the floor early Monday evening on a poll that said potential voters between the ages of 18-to-24 favor Barack Obama over John McCain by a 55 to 32 percent margin. He especially trusts the poll because it utilizes youth-favored cell phones, not just land lines, Russert said.
But wait, there's more. The poll also showed that 18-to-24-year-olds trust McCain more as commander-in-chief by a thin 31 to 28 percent margin.
"That cannot bode well" for the Democrats, he asserted without equivocation, adding that "If they feel this way, it's a huge problem for Obama."
MSNBC co-anchor Keith Olbermann and Tom Brokaw, who is Tim Russert's interim replacement on
Meet the Press
, both smiled broadly after the kid's first dispatch.
"Luke, dad would be very proud," Brokaw then said.
Life on planet Maher
-- Also on MSNBC, comedian Bill Maher lamented the IQ erosion of your basic American voter, contending that "people get stupider and stupider at the end of every election cycle."
He'll be voting for Obama, Maher said. Still, "there's no doubt McCain would be better for nightclub purposes" as president. "I mean, a 200-year-old man is always amusing."
Segue to the 200-year-old man with Jay Leno
-- In Hollywood for a fundraiser, McCain made what he said was his 13th appearance on NBC's
Tonight Show
after host Leno first aimed some monologue jokes at his age and the purported seven homes he shares with wealthy wife Cindy.
McCain in turn had been given seven dressing rooms backstage, Leno cracked.
The presumed Republican nominee first embraced the black vote by hugging bandleader Kevin Eubanks.
"You forgot to mention when I warned the people about the British coming," he then told Leno. And furthermore, "My Social Security number is eight."
Terming himself the underdog against Obama, McCain again referenced his long-ago captivity as a Vietnam war POW after Leno asked, "For one million dollars, how many houses to you have?"
He didn't specify, but emphasized that his wife's father was a self-made businessman who achieved the American dream. "My friends," McCain added, "I'm proud of my record of service to this country, and it has nothing to do with houses."
His answers and one-liners were enthusiastically received by
Tonight
's studio audience, which numbers only in the hundreds compared to the thousands jammed into the Pepsi Center.
But whoever the speaker and whatever the trappings, they're all playing to a far more important national television audience. In that realm, Michelle Obama, Ted Kennedy and John McCain each took their own giant steps Monday night.