Frontline puts names to faces in Documenting Hate: Charlottesville
08/07/18 09:52 AM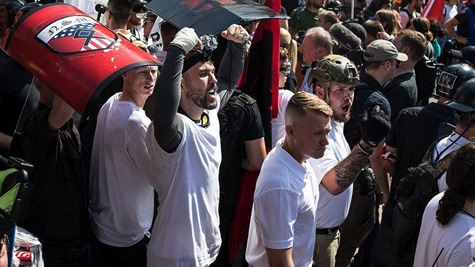 Some of the violent supremacists in Charlottesville are tracked down by a dogged reporter who very much likes his face time. PBS photo
By ED BARK
@unclebarkycom on Twitter
Charlottesville, VA, former home of Presidents Thomas Jefferson and James Monroe, may never again be primarily known for that.
The violent events of Aug. 12, 2017 -- and President Trump's "blame on both sides" reaction to them -- are still seared into the public consciousness.
Frontline's
latest one-hour investigative report,
Documenting Hate: Charlottesville
(
Tues., Aug. 7 at 9 p.m. central on PBS
), has a reporter on the trail of several notably violent participants in a "Unite the Right" rally that left one woman dead and a number of others injured.
The driver who allegedly hit and killed 32-year-old Heather Heyer while she was crossing the street, has been indicted and is facing charges on 30 counts. For the record, his name is James Alex Fields, Jr.
But other free-swinging white supremacists have been roaming free without much apparent interest from federal and local police.
"If Charlottesville was a crime scene, then most of the criminals had gotten away," says reporter A.C. Thompson, whose efforts to track some of them down are in partnership with ProPublica, which describes itself as an "independent, nonprofit newsroom that produces investigative journalism with moral force."
Thompson finds that three of the men shown committing violent acts on videotape have histories with various white supremacist groups. He confronts one of them, Michael Miselis, face-to-face, and another, Vasillios Pistolis, by telephone. The third alleged perpetrator, Robert Rundo, is said to be somewhere in Europe.
Pistolis was still on active duty with the U.S. Marines when he very actively participated in the Unite the Right rally and the previous night's chilling "torch march." He eventually was court-martialed and discharged. While talking to Thompson and still with the Marines, Pistolis says, "I've literally left that shit behind." He also offers to later help Thompson with his career if "none of this comes out." Thompson surely has bigger ambitions than ProPublica, Pistolis reasons.
Miselis had been a graduate student at UCLA and was employed by the defense contractor Northrop Grumman, which required him to have a U.S. government security clearance.
"Hey, do Northrup and UCLA know you're involved with the Rise Above Movement?" Thompson asks before Miselis drives off. On the following day, according to Thompson, the defense contractor announced that Miselis had been dismissed.
Fingering these alleged culprits -- and also getting some results -- is no small thing. And the reporter shows true grit in staying on the case. But Thompson's pervasive on-camera presence becomes an irritant. He passingly resembles Michael Avenatti, and seems determined to get as much face time as Stormy Daniels' ubiquitous attorney.
Documenting Hate
even has a lengthy -- and wholly superfluous -- shot of Thompson walking down the street during a snowstorm. It seems that no more than 10 seconds ever go by without a closeup or wide shot of the reporter doing his job. In the closing scene, he's shown driving off to nowhere in particular while telling viewers, "One thing seems clear. The story is far from over."
The dogged detective work in
Documenting Hate
isn't devalued by Thompson's omnipresence. But it would be more viewer-friendly if he could show the same determination to keep himself out of the picture a whole lot more than he does. Seeing how the sausage is made is of some value. Constantly seeing Thompson -- whether he's gazing at nothing in particular, on the phone or doing an interview -- detracts from the sobering business at hand. We get it. You're the lead reporter. Now give us a break from you.
Frontline
plans to present more investigations of a resurgent white supremacist movement, likewise in league with ProPublica. This one is primarily satisfying in its successful track-downs of individuals who otherwise may have gotten off without any retribution. Watching two of these "tough guys" shrink into fraidy cats proves to be quite a payoff.
GRADE:
B
Email comments or questions to:
unclebarky@verizon.net