Satanic Stones of yore get their ya-ya's out in HBO's evocative Crossfire Hurricane
11/15/12 10:22 AM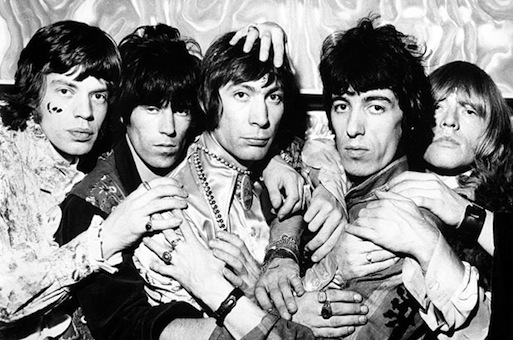 Vintage Stones, with the late Brian Jones on far right.
By ED BARK
@unclebarkycom
Younger generations -- and even older heads who grew up with the Rolling Stones -- might find their jaws dropping over the manic chaos gripping the group's early performances.
"You stayed there for as long as you could until you got besieged," Keith Richards recalls in HBO's
Crossfire Hurricane
.
He doesn't seem to be exaggerating. Premiering on Thursday, Nov. 15th (
8 p.m. central
) and being repeated throughout this month, the one hour, 50 minute film has footage showing the Stones under constant attack from rabid fans. They stormed the stage, jumped band members and sometimes pelted cops in their zeal to be an oft-brutal part of shows that eventually couldn't go on.
"There are whole armies of parents who become almost homicidal at the sight of them," said a bespectacled British commentator from the 1960s. A newspaper headline from those days is also typical as well as laughable. " 'Too-scruffy' Stones are refused lunch," it says.
This was pretty much by design. The band's first full-time manager, Andrew Loog Oldham, positioned and merchandised the Stones as Lucifers to the Beatles' archangels. Or as Richards puts it in a new interview, "The Beatles have got the white hat. What's left? The black hat."
Richards, Mick Jagger, Charlie Watts, Ronnie Wood and former Stones Bill Wyman and Mick Taylor contribute new interviews for
Crossfire Hurricane
, which is tied to the band's 50th anniversary and upcoming tour. But no cameras were allowed for this, making it sometimes difficult to decipher just who's talking during the otherwise brilliantly edited archival footage assembled by filmmaker Brett Morgen (
The Kid Stays in the Picture
).
Richards solves some of this problem. A number of his off-camera comments are punctuated by that unmistakable death rattle laugh. So thanks for that.
Crossfire Hurricane
, which draws its title from a lyric in "Jumping Jack Flash," is also in some ways a reunion among the surviving Stones and charter member Brian Jones, whose life ended at the bottom of a swimming pool on July 3,1969.
"Keith and I took drugs," Jagger recalls. "But Brian took too many drugs of the wrong kind."
Jones, a superb instrumentalist, was around for most of the full-blown mayhem -- both onstage and off-. in one of his pithier comments in
Crossfire Hurricane
, he says matter-of-factly, "Georgia is full of idiots."
He gradually disengaged, telling an interviewer, "Let's face it. The future as a Rolling Stone is very uncertain."
Increasingly unsure about whether he'd show up and what shape he'd be in, Jagger, Richards, Watts and Wyman reluctantly dismissed Jones in June of 1969 and replaced him with Mick Taylor. Less than a month later he was dead. And Jagger still wonders if the band could have done more to keep him on track.
The music unleashed in that period remains thrilling to hear and behold.
Crossfire Hurricane
shows the Stones' rehearsing "Tell Me," the first original song written by Jagger. There's also the early raw power of "I Can't Get No) Satisfaction," with Jagger telling an interviewer at the time, "I can't express myself in the right way when I feel satisfied with the world."
A great early version of "It's All Over Now" is performed within the relatively intimate confines of a TV studio before a group of delirious fans.
Crossfire
also brings home the sheer enormity of the Stones' Hyde Park concert (which became a requiem for Jones) and the foreboding free performance at Altamont, where the Hells Angels provided security during the course of stabbing a rowdy concert-goer to death. "Festival of Horror Contrasts with Woodstock peace," said a newspaper headline.
In its aftermath, Richards nearly followed Jones to the grave. "I was definitely on another planet at this point," he recalls. "I took to the stuff."
Heroin he means. And during the stark "Exile on Main Street" recording sessions in the south of France, it's easy to see the tracks on Richards' arms.
All these years later, Taylor says the principal reason he abruptly left the Stones in 1974 was to keep from becoming Keith. "I slowly became addicted to heroin," he reveals. So he dropped out to survive. Wood agreed "in a New York minute" to replace him. "Fitting into their mold was easy for me," he says.
Richards kicked his addiction after being busted in Canada for heroin possession. At age 33, he was fortunate to receive one year's probation in lieu of a lengthy prison term. "That's when I stopped," Richards says.
"I was quite relieved when he cleaned up some," Jagger adds.
He's now 69. And the 68-year-old continues to cheat all predictions of his imminent death. So there are still a few more bucks to be made and stages to conquer as the Stones hit the half-century mark.
Crossfire Hurricane
serves as a marketing launch pad in that respect while more importantly giving viewers the Stones in all their primitive glory. They survived the near-Satanic image laid out for them while the comparatively angelic Beatles disbanded and now are half the men they used to be.
Take it from Keith Richards, who says near film's end: You just don't (f...) with the Stones. This is a simple rule. It don't pay."
For good measure, he then lays down another death rattle cackle.
GRADE:
A-minus
unclebarky@verizon.net