AMC's The Making of the Mob: New York is a hard-hitting hybrid
06/11/15 02:27 PM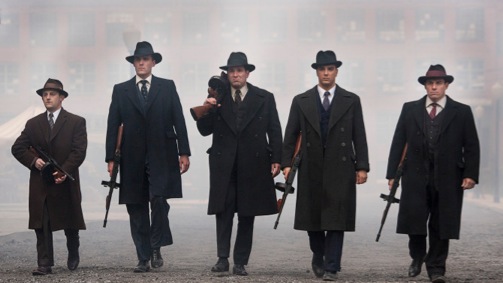 Making of the Mob: These guys don't mess around. AMC photo
Premiering:
Monday, June 15th at 9 p.m. (central) with the first of eight chapters
Narrated by:
Ray Liotta
Produced by:
Stephen David
By ED BARK
@unclebarkycom on Twitter
Mobsters are a bottom-less chalice of blood. They've also been the volatile leading men in all-time classic movies (
The Godfather I and II, Goodfellas
) and TV series (
The Sopranos
).
AMC is the latest to get its tommygun on, launching the unscripted/scripted
The Making of the Mob: New York
on Monday, June 15th after
Goodfellas
serves as a platesetter from 6 to 9 p.m. (central).
Both productions very much include veteran tough guy Ray Liotta, who narrates
Making of the Mob
solidly and matter-of-factly while a clump of largely unknown actors stride through the featured roles without saying a whole lot.
Paramount is Charles "Lucky" Luciano (Rich Graff), after whom Episode 1 is subtitled. Meyer Lansky, "Benjamin "Bugsy" Siegel, Frank Costello, Arnold Rothstein and Al Capone are among the other famous gangland names making their bones and occasionally breaking some. But in the two episodes made available for review,
Making of the Mob
also is intent on telling the stories of two lesser known gangland kingpins -- "Joe the Boss" Masseria and Salvatore Maranzano. Both were terrorizing taskmasters who essentially come off as the real villains while Lucky and his boys are more gray-hatted although equally power-thirsty.
It's all handsomely produced and cogently told, even if the soundtrack and dramatizing can sometimes be akin to over-baked zitti.
Making of the Mob
also has assembled a conveyor belt of talking heads, sprinkling them like parmesan while also scrimping on the likes of Rudy Giuliani, Frankie Valli, Joe Mantegna, Chazz Palminteri and Gay Talese. All are barely used in these first two of eight scheduled hours, although Giuliani does get a chance to say that New York mobsters were "totally criminal, totally immoral, totally horrible -- but totally brilliant."
The Sopranos
contingent so far is made up of Vincent "Big Pussy" Pastore, who twice compares mob hit men to combat soldiers taking orders. Drea de Matteo, who played Adriana La Cerva on
The Sopranos
, is billed as a fellow talking head, but doesn't make an appearance in Episode 1 or 2.
There's ample violence, of course, but nothing close to the graphic gore on AMC's
The Walking Dead
or FX's
American Horror Story
. Bullets fly and punches land without more than perhaps a few shot glasses of blood spilled. The language is also fairly chaste, with nary an f-bomb dropped -- bleeped or otherwise -- on this advertiser-supported cable production. "Joe the Boss" is allowed to get a bit ripe in Monday's premiere hour, snarling at Lucky, "You got some big balls comin' over here like this."
This isn't Mobsters for Dummies. But you can get a pretty good History 101 lesson in terms of rises to power and how they happened amid all the infighting. Episode 1 begins in Chicago at a big 1931mob conference before flashing back to New York, 1906, the year Luciano arrived as a nine-year old Italian immigrant. He soon hooked up with Costello and Siegel, a brutish young lad who relished pounding people senseless. All three wanted to go places fast.
Making of the Mob
isn't in any big hurry, but doesn't overly tarry save for those ridiculous post-commercial recaps of what was shown just a few minutes earlier. Attention spans aren't what they used to be, but your basic viewer still should be equipped with at least a very short term memory.
AMC has yet to really score with an unscripted series. This is something of a hybrid but looks to have a decent chance to draw a fair-sized crowd. The network plans to offer an appetizer mob movie each Monday, with
Goodfellas
followed on June 22nd by
The Godfather
. Being in such austere company could diminish
Making of the Mob
. In fact, how could it not? Still, this so far is an overall sturdy production that re-details the lives and deaths of high-powered hoods who at their heights were "making millions, killing thousands and changing the face of crime forever."
GRADE:
B-minus
Email comments or questions to:
unclebarky@verizon.net