NBC's The Player might not want to bet on its survival
09/23/15 04:39 PM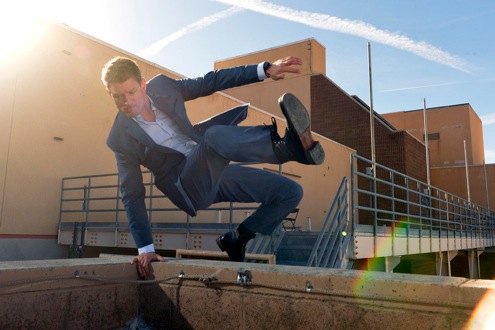 There's going to be a lot of this in The Player. NBC photo
Premiering:
Thursday, Sept. 24th at 9 p.m. (central) on NBC
Starring:
Philip Winchester, Wesley Snipes, Charity Wakefield, Damon Gupton
Produced by:
John Rogers, John Fox, John Zinman, Patrick Massett
By ED BARK
@unclebarkycom on Twitter
Automatic weapons fire, screeching/smoking motor vehicles, flying fists and daring last-minute rescues are very much in
The Player
's playbook.
Darn, there's dialogue, too, with a very authoritarian "Pit Boss" named Mr. Johnson (Wesley Snipes) doubling down with lines like, "Fold, Mr. Kane. You don't have a strong enough hand."
Kane is Vegas casino security consultant Alex Kane (Philip Winchester), a former bad boy FBI agent with a poker face. But the latest "hand" dealt to him has nothing to do with card games. Instead, Kane suddenly finds himself a pawn in a game of life run by Mr. Johnson and his beautiful blonde British assistant, Cassandra King (Charity Wakefield), also known as "The Dealer."
As preposterous premises go, this one's right up there -- but really no more so than CBS'
Person of Interest
or Fox's new adaptation of the feature film
Minority Report
. All three base their weekly jeopardies on stamping out major crimes before they happen. The added twist in
The Player
is a group of so far unseen billionaires who bet on whether a designated "Player" will succeed in that endeavor or die trying. They've become bored with betting on anything less.
NBC publicity materials say that "the show's kick-in-in-the-doors pulp ride is meant to bring big action back to television." But within the same release, NBC says "the show isn't about action, however." Instead, it explores "the nature of power: how it is won, lost, and contained. How power can never be destroyed, but only harnessed."
Whatever. And by the way, Certs is a candy mint. No, Certs is a breath mint. So maybe
The Player
is entitled to have it both ways, too.
Winchester is a solid enough presence as Kane, whose ex-wife, Ginny (Carla Buono), still loves him and vice-versa. Early in Thursday's premiere episode, they're romping around sexually and wondering if things just might work out the second time around. "I love you," she tells her big lug. "And the rest we can just figure out as it comes."
This of course means that Ginny will -- well, even NBC isn't hiding the fact that "the death of his beloved ex-wife" will propel Kane into a tumbling dice of a world world that he never ever envisioned. "I need you to wrap your head around impossible," Cassandra tells him after rescuing him from a passel of pursuing cops (who think Kane might have killed his wife) and taking him to the penthouse domain of Mr. Johnson.
They quickly clue him to a high-tech surveillance system that's been in place forever and a day. Therefore the world is their oyster, and not merely on the half shell either. Or as the Pit Boss later puts it after Kane survives a casino floor gun battle, "The world is already watching itself, Mr. Kane. We just happen to be paying attention."
Not sure exactly what that means. But Kane has a more basic question. "Did you predict Ginny's death?"
The non-committal response puts him in a foul-ish mood. "When I'm done I'm gonna come back here and throw you through that window."
Mr. Johnson finds that to be pretty hilarious, mainly since he's already physically subdued Kane with the ease of an Olympic power-lifter flicking off a 100-pound weakling. "Bravo," he says with a condescending smile. "I'll take that bet."
The Player
otherwise will largely be about Kane's derring-do in tandem with Cassandra's very high-tech help. NBC says that upcoming episodes will find him going up against the likes of a mob hit team and a Vegas serial killer. Or as Mr. Johnson cavalierly puts it, "the worst humanity has to offer." That should be enough to excite all those otherwise yawning billionaire high rollers.
Although this isn't a flat-out terrible series, don't bet on NBC having a winner opposite fearsome time slot competition from CBS'
Thursday Night Football
and ABC's
How to Get Away with Murder
. No one likes those odds.
GRADE:
C+
Email comments or questions to:
unclebarky@verizon.net