Adrift and out of sorts: Veep re-starts with Selina in political Siberia
04/12/17 10:20 AM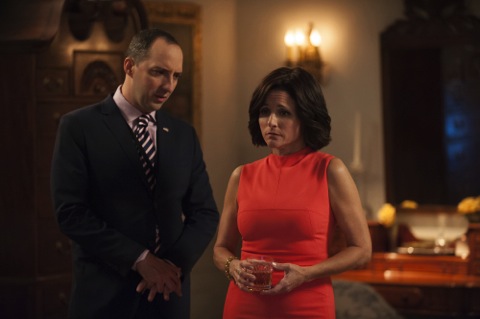 A bumbler & his Queen Bee. Tony Hale, Julia Louis-Dreyfus of Veep.
HBO photo
By ED BARK
@unclebarkycom on Twitter
Entering Season 6, HBO's
Veep
has reached a stage where its title is a misnomer in league with CBS' long-running
48 Hours
or the recently deceased
Cougar Town
.
Craven, clawing Selina Meyer (five-time Emmy winner Julia Louis-Dreyfus for this role alone) is no longer vice president, president or even within the not so hallowed corridors of Washington, DC. Turned out of office by the usual legislative chicanery, she's adrift and politically toothless but still bitingly profane as hell.
"It's like being a man's nipple," she says of her ex-presidency. "People go right by ya to jerk off a dick."
Not quite in all its glory yet,
Veep
returns on
Sunday, April 16th at 9:30 p.m. (central)
. HBO made the first three of 10 episodes available for review. And like Selina herself, they're still finding themselves.
Veep
has never been hesitant to use pointed private parts humor. But absent the trappings of official power and high-stakes infighting by Selina and her team, the very blue banter at times seems both juvenile and excessive. As when the deservedly detested Jonah Ryan (Timothy Simons), whose newly diagnosed testicular cancer is the least that could happen to him, is told in Episode 2, "Let me save you the peanut log you're about to squeeze out of your face anus." (Well, upon further review, maybe that
is
pretty funny.)
Ryan, the former White House liaison turned New Hampshire congressman, is otherwise speaking out against healthy school lunches as Sunday's opening episode unfolds. The only staffer still firmly clinging to Selina's side is toadying personal aide/"body man" Gary Walsh (Tony Hale), whose every utterance remains amusingly deferential and/or nonsensical.
Dashing, womanizing Dan Egan (Reid Scott) is now with
CBS This Morning
, former chief of staff Ben Cafferty (Kevin Dunn) finds he's an ill fit for Uber and ex-communicators director Mike McLintock (Matt Walsh) is fighting off financial ruin while continuing to adopt babies with his wife, Wendy (Kathy Najimy). Amy Brookheimer (Anna Chlumsky), who was Selina's chief of staff, remains a political operative trying to steer her slimy fiancé, Buddy Calhoun (Matt Oberg), into a Nevada Senate seat.
Selina herself is torn between various vainglorious visions. They include opening a grand presidential library (commemorating her less than one year in office), running again for president, writing her memoirs after securing a lucrative book deal or becoming a Jimmy Carter-like international elections watchdog/peacemaker. None of these ambitions have anything resembling an idealistic bent, because that would be so out of character.
The new president, ex-New Mexico senator Laura Montez (Andrea Savage), was inaugurated in Season 5's closing episode. She's unseen in Season 6's initial three episodes. But there's an obvious tie-in to the real-life current president during Selina's Episode 3 trip to the Republic of Georgia, where she's supposed to be an elections monitor. Instead she's all ears, although a bit wary, when being offered a multi-million dollar presidential library donation by a candidate who's also been well-documented as a ruthless killer. The guy doesn't look much like Putin, but you get the drift.
This episode also includes a truly tasteless joke at the expense of Danny Thomas, founder of the St. Jude's children's hospital. That's Selina for you, but really.
The open question is whether
Veep
can sustain itself as a comedy about a festering ex-president who's desperate to remain relevant in civilian life. But it seems likely -- and to the show's benefit -- that Selina soon will be back in her sweet spot as a candidate for some high national office.
Veep
is at its best when her political team is united -- and of course also divided. So let the infighting begin anew. The profanity is already firmly in place.
GRADE:
B+
Email comments or questions to:
unclebarky@verizon.net