New fall season: Tim Allen goes back to his basics on ABC's "new" Last Man Standing
10/10/11 08:33 AM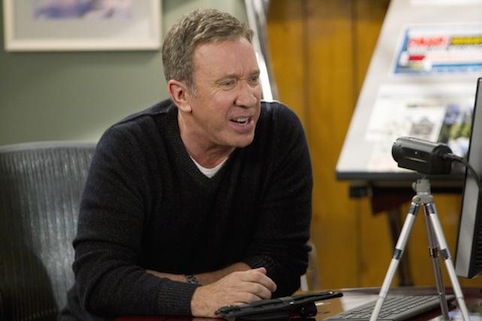 Tim Allen cantankerously decries the descent of man. ABC photo
Premiering:
Tuesday, Oct. 11th at 7 p.m. (central) on ABC
Starring:
Tim Allen, Nancy Travis, Molly Ephraim, Alexandera Krosney, Kaitlyn Dever, Hector Elizondo, Christoph Sanders
Produced by:
Jack Burditt, Tim Allen, Becky Clements, Marty Adelstein, Shawn Levy, Rick Messina
By ED BARK
One of this fall's purportedly manly new sitcoms, CBS'
How to Be a Gentleman
, already has been sent from Thursdays to Saturdays in preparation for burial after its handful of remaining episodes are burned off.
Now comes another. ABC's
Last Man Standing
may have a far better chance with Tim Allen front and center. But it's even less subtle, with the star of the show loudly and symbolically proclaiming "I'm back!!!" while striding into the family kitchen with a big raw fish that he plops onto the dinner table.
Really? You mean this is the same guy who played basically the same role on ABC's
Home Improvement
from 1991 to 1999?
Home Improvement
ranked among prime-time's Top 10 series for all eight of those seasons. Disney-owned ABC likely would send Mickey Mouse to the guillotine in return for that kind of success for
Last Man Standing
.
Allen, now sporting a gently sloping paunch, returns to a brood of three daughters instead of three sons. But he retains a tolerant wife who mostly grins at his steady stream of pronouncements. This time it's Nancy Travis as Vanessa instead of Patricia Richardson as Jill.
The household sass-back comes from the offspring, one of them a single mom who gripes that toddler son Boyd "knows about six words, and half of 'em are 'I blame Obamacare.' " That's part of the indoctrination from a grandfather who doesn't know what
Glee
is and thinks soccer is effeminate. But he very much loves fried pork products. It's all clumsily imparted in this first of back-to-back episodes Tuesday night.
Blustering Mike Baxter otherwise is the marketing director for the Outdoor Man sporting goods store, whose sour-tempered owner Ed (Hector Elizondo) demands a halt to his business travels until the company's outmoded website is fixed. Mike responds with a "vlog" rant about the decay of his gender. As in, "What happened to men? Men used to build cities just so they could burn them down." It of course goes more or less viral.
Meanwhile, the laugh track seems perplexed, at least on the review copy provided on ABC's media site. Sometime it weakly titters while other times approaching a collective guffaw. Unfortunately, one of the bigger laughs comes after Mike decides against dropping Boyd off at a daycare center that he later describes as "Hippie Hippie Rainbow." So he instead takes the kid to Outdoor Man, quickly handing him off to an apprentice young underling named Kyle (Christoph Sanders) for diaper-changing purposes.
"I just don't think your kid should go to that school," Mike tells daughter Kristin (Alexandra Krosney). "You know how that ends up -- Boyd dancin' on a float."
Yeah, political correctness can be a bitch. But this particular joke just doesn't belong anymore.
Tuesday's second episode ends up being a manifesto against baby-proofing the Baxter home. Its instigator is an over-the-top video huckster who pronounces the family coffee table a "coffin table." Mike rants against such precautions -- "Bumps and bruises and scar tissue. That's how you grow" -- before wife Vanessa eventually agrees that they've gone a little too far. The tipping point is her inability to get into the living room wine cabinet, which has been shackled. And she likes her wine, as was also evident in the first episode.
Last Man Standing
, which will be paired next week with ABC's new
Man Up!
sitcom, is about as dexterous as last fall's
$#*! My Dad Says
on CBS. William Shatner awkwardly tried to throw his weight around in that one. Allen has a better feel for this stuff, but the show's rhythms still seem way off.
Home Improvement
offered some comedic electricity along with its power tools. This one is pretty much a dim bulb re-do on behalf of the so-called "manly arts." Allen's mere presence may keep it in business for a while. But it already seems as though it belongs on TV Land, where
Home Improvement
repeats already reside.
GRADE:
C-minus