TBS' Men at Work digs itself a manhole
05/22/12 09:29 AM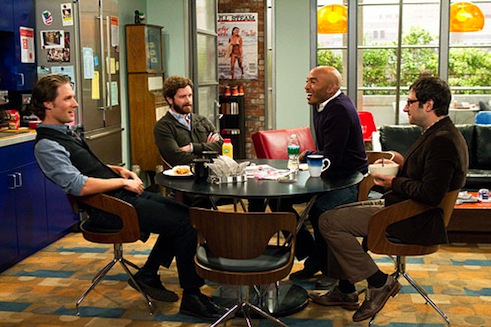 Men at leisure in the new comedy Men at Work. TBS photo
Premiering:
Thursday, May 24th at 9 p.m. (central) on TBS (with back-to-back episodes)
Starring:
Danny Masterson, James Lesure, Michael Cassidy, Adam Busch
Produced by:
Jamie Tarses, Julia Franz, Breckin Meyer
By ED BARK
@unclebarkycom
Ever been dumped and then found yourself blasted in a bar asking a woman you've just met, "Will you be my rebound ass?"
Such is the texture of TBS'
Men at Work
, the saga of four buds who'll drink Buds (if TBS can land a product placement deal) while plotting their next plans of attack. That's basically their work.
Thursday's premiere on the "Very Funny" network finds bearded Milo (Danny Masterson from
That '70s Show
) getting sacked by his girlfriend. He replays their breakup with friends Tyler (Michael Cassidy), Gibbs (James Lesure) and Neal (Adam Busch), whose advice of course is not very Dr. Phil-ian.
Gibbs proposes that "we take your single penis for a test drive."
"You need to have a meaningless sexual encounter with a drunken stranger," Tyler adds.
Neal, the designated married nebbish, isn't much help. His wife lately wants sex every night after they had settled into what for him was a comfortable routine of programmatic quickies follow by
The Daily Show
. Now she wants him to talk dirty, too. The poor guy's really up against it.
Affixed with a knee-jerk laugh track,
Men at Work
labors from start to finish, whether it's Gibbs' effortless conquests or Milo's long faces. While he flails about, Gibbs nails Tyler's buxom European cleaning lady, triggering a dialogue between the two friends that sets a sitcom record for use of "bang/banged/banging" before Milo finally intercedes.
Men at Work
has received heavy promotion during sister network TNT's presentation of NBA playoff games. That's the intended target audience -- NBA athletes and the young males who watch them. Even though two of the show's executive producers are women, including former ABC entertainment president Jamie Tarses.
Tarses, also a producer of TBS'
My Boys
, was once witnessed at an ABC All-Star party having a little make-out session with Ryan Reynolds, the then up-and-coming co-star of the network's
Two Guys, A Girl and a Pizza Place
. Her approach toward guys in the years since is to portray them as lunkheads with little grasp of the social graces. Although Gibbs does have a certain sense of propriety, bellowing at a bar, "Trust me. You do not want to have sex with a horse!"
You might not want to have a TV relationship with these guys either. They're just not much fun on any level.
GRADE:
C-minus