CBS makes a Robin's nest as part of rise in new fall comedies
05/15/13 09:43 AM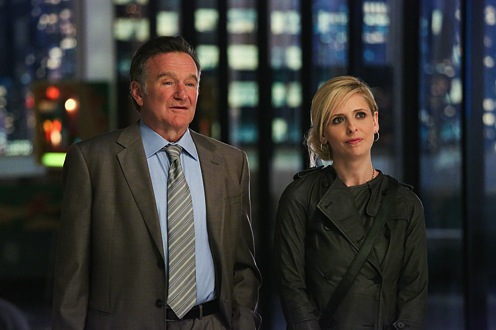 Robin Williams & Sarah Michelle Gellar in The Crazy Ones. CBS photo
By ED BARK
@unclebarkycom
CBS is amping up its comedy content, highlighted by a new Thursday night pairing of Robin Williams and Sarah Michelle Gellar.
A runaway No. 1 in total viewers and first with advertiser-prized 18-to-49-year-olds for the first time in 21 seasons, CBS will go with four new sitcoms and a lone freshman drama in the fall. It's also adding a comedy rerun component to Saturday nights.
The network's success story is marred only by the unusual number of failures among last season's newcomers. Only the Sherlock Holmes drama
Elementary
has been renewed while
Vegas, Golden Boy, Partners, Made In Jersey
and
The Job
have been canceled. CBS also has axed
CSI: NY
after nine seasons while likewise dropping
Rules of Engagement
after a long run of off-and-on scheduling. The Monday night comedy
Mike & Molly
is being held until midseason.
CBS has done some night-swapping, too, with
Person of Interest
moving from Thursdays to Tuesdays while
Hawaii Five-0
goes from Mondays to Fridays. The
Person of Interest
transfer gives the network a super-potent drama trio that also includes
NCIS
and its L.A. spinoff. Meanwhile, ABC will set forth with four untested new series on Tuesdays this fall. That now seems like a possible suicide mission.
The other major CBS move is a comedy bulk-up on Thursdays, with the Williams-Gellar series and another new sitcom starring Will Arnett joining incumbents
The Big Bang Theory
and
Two and a Half Men
. The network has left well enough alone by keeping its Wednesday and Sunday lineups intact.
Here are CBS' five announced new fall series:
The Crazy Ones
(comedy) -- Williams stars as the eccentric -- what else? -- head of an advertising agency, with Gellar cast as his even-keeled daughter and business partner. The supporting cast includes former
Lone Star
star James Wolk, who's currently playing up-and-coming young ad man Bob Benson on AMC's
Mad Men
. On CBS, Wolk co-stars as a "dashing and talented" ad agency staffer named Zach. So it looks as though his participation in
Mad Men
could either be curtailed or end entirely. The show's executive producer is David E. Kelley, who previously has specialized in comedy-laced dramas such as
Boston Legal
and
Ally McBeal
.
The Millers
(comedy) -- Quickly rebounding from NBC's disastrous
Up All Night
, Arnett plays a newly divorced local news reporter preparing to leap back into the singles game until his parents tell him they're also splitting after a 43-year run. So of course mom moves in with him. The parents are played by Margo Martindale (FX's
The Americans
) and Beau Bridges.
Mom
(comedy) -- Producer Chuck Lorre gets his fourth CBS comedy series, with Anna Faris (
The House Bunny
) playing a "newly sober" single mom with two kids and a "critical, estranged" mom played by Allison Janney (
The West Wing
). Lorre also helms
The Big Bang Theory, Two and a Half Men
and
Mike & Molly
.
We Are Men
(comedy) -- Four single guys living in an apartment complex unexpectedly bond over "their many missteps in love." Tony Shalhoub (
Monk
) and Jerry O'Connell (
The Defenders
) head the cast.
Hostages
(drama) -- Toni Collette (
United States of Tara
) stars as an elite surgeon who's "thrust into a chilling political conspiracy" when her family is taken hostage by a renegade FBI agent played by Dylan McDermott (
The Practice
). Further complicating her life, Collette's character is ordered to assassinate the president of the United States while operating on him. Jerry Bruckheimer (the
CSI
franchise) is executive producer.
Here is the new fall schedule announced by CBS:
MONDAY
How I Met Your Mother
We Are Men
2 Broke Girls
Mom
Hostages
TUESDAY
NCIS
NCIS: Los Angeles
Person of Interest
WEDNESDAY
Survivor
Criminal Minds
CSI: Crime Scene Investigation
THURSDAY
The Big Bang Theory
The Millers
The Crazy Ones
Two and a Half Men
Elementary
FRIDAY
Undercover Boss
Hawaii Five-0
Blue Bloods
SATURDAY
Comedytime Saturday
Crimetime Saturday
48 Hours
SUNDAY
60 Minutes
The Amazing Race
The Good Wife
The Mentalist
CBS has three new midseason series in waiting, including a high-tech thriller that will replace
Hostages
on Monday nights after its shorter run series finale in January. The tack is similar to ABC's aggressive plan to offer some of its returning serial dramas in two uninterrupted 12-episode chunks bridged by special events and limited series.
Here are the three midseason entries:
Intelligence
(drama) --
Lost
star Josh Holloway returns to action as a high-tech intelligence dude with a super-computer microchip in his noggin. This makes him the "first human ever to be connected directly into the worldwide information grid and have complete access to Internet, WiFi, telephone and satellite data," says CBS. Yeah, but is he a good tweeter? Another familiar TV face, Marg Helgenberger from
CSI: Crime Scene Investigation
, also is back in play as our hero's boss lady.
Reckless
(drama) -- A beauteous Yankee litigator and a charismatic Southern attorney must keep their "intense mutual attraction" under wraps while a police sex scandal potentially tears Charleston, S.C. apart. Relative unknowns Anna Wood and Cam Gigandet play the principals, with help from Gregory Harrison (
Trapper John, M.D.
) as a former father-in-law who's still a powerbroker.
Friends with Better Lives
(comedy) -- Six pals are in different stages. All are outwardly content but also wondering if their friends are even happier. James Van Der Beek, back from playing himself on ABC's canceled
Don't Trust the B -- In Apartment 23
, is the best known member of the ensemble cast.
Email comments or questions to:
unclebarky@verizon.net