NBC's Powerless plugs into the (what else is new?) superhero genre
01/31/17 08:59 AM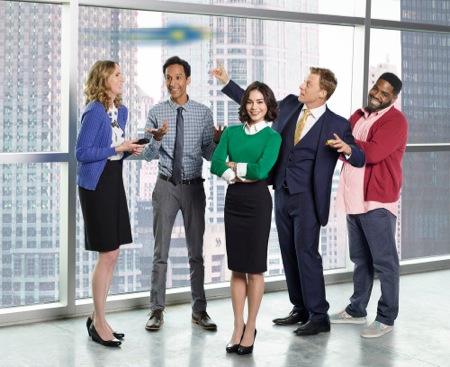 Presenting the flailing non-superheroes of Powerless. NBC photo
Premiering:
Thursday, Feb. 2nd at 7:30 p.m. (central) on NBC
Starring:
Vanessa Hudgens, Danny Pudi, Alan Tudyk, Ron Funches, Christina Kirk
Produced by:
Justin Halpen, Patrick Schumacker, Len Goldstein, Marc Buckland, Dean Lorey
By ED BARK
@unclebarkycom on Twitter
It's possible, although not very probable, that superhero fatigue will set in at some point in our likely distant futures.
Until then one can only marvel (sorry) at all the stuff coming at us via TV, streaming sites and movie houses. The latest, NBC's
Powerless
, is from DC Comics, birthplace of Superman, Supergirl, Batman, The Flash, Green Arrow, etc. It's also the first authorized DC sitcom, with a collection of ordinary humans at center stage while superheroes and super villains create super collateral damage during their never-ending battles. Based on the single episode made available for review, it's looking like a pretty lame premise. But the colors are bright.
Vanessa Hudgens (
High School Musical
) stars as perky Emily Locke, who's hired by Wayne Security as the latest new director of research and development. Owned by the so far unseen Bruce Wayne, the company is entrusted with building products that can protect the citizenry from the potential harm all around them. The place is run by Wayne's festering cousin, Van Wayne (Alan Tudyk), who yearns to be transferred from the minors to Gotham's all-powerful corporate headquarters.
Emily has been hired to increase productivity and ingenuity from an inept staff that's been losing ground to the rival Lexcorp. The featured dolts -- well, maybe that's a little harsh -- are Teddy (Danny Pudi), Ron (Ron Funches) and Jackie (Christina Kirk).
Tudyk camps it up as Van Wayne, sometimes amusingly so. A villain known as Jack O'Lantern also gets off a bit of a zinger while flying overhead. "Prepare to feel my powerful balls" -- pause, one-two -- "of fire!" he bellows. The opening comic book credits are pretty cool, too.
Powerless
otherwise is notably short on pop or long-term promise, with things staying pretty flat throughout Thursday's scene-setter. And of course, just when it looks as though all is lost, a "game-changing product" materializes that keeps Wayne Security from being shut down and Van Wayne from being "absorbed" into the Gotham office. So now he's even more bitter.
The newcomer will follow
Superstore
, a fellow workplace comedy with a misfit toy motif. Perhaps
Powerless
can get its bearings and at some point live up to Emily's rallying cry of "Let's Be Better." If not, the world runs no risk at all of being hit with a sudden superhero shortage. Coming on Wednesday, Feb. 8th is FX's first plunge --
Legion
. It's based on a character from Marvel's
X-Men
comics. The ball's back in your court, DC.
GRADE:
C
Email comments or questions to:
unclebarky@verizon.net