Ex-cellent: The Starter Wife returns in even better form than before
10/10/08 08:13 AM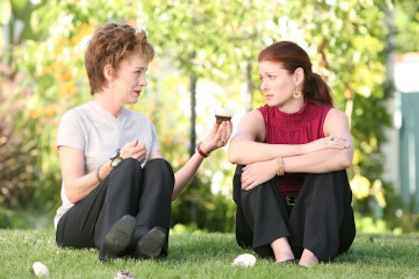 Starter Wife mainstays Judy Davis and star Debra Messing
By ED BARK
There's no sex in her city. Well, there is, but Molly Kagan's still not having any.
As USA's
The Starter Wife
begins a 10-episode first season Friday, its newly divorced heroine is holding to the "virgin queen" vows taken at the end of last year's crowd-pleasing miniseries. Repeat after her: "I am swearing off men. No dating. No sex. Not even petting."
You won't find a better, brighter, yet still serious-minded series anywhere else on the much-trumpeted "Networks of NBC Universal." That especially includes broadcast Big Daddy NBC, where signs of life currently are undetectable.
Star Debra Messing, who plays Molly, already has a signature series in the Peacock's
Will & Grace
. Still,
Starter Wife
in time may replace it as her shining hour. Friday's two-hour re-launch (8 p.m. central) is graced by consistently clever writing, crisp pacing and invigorating performances from its principals.
Messing sets the pace, with perfect accompaniment by the returning Judy Davis as her best friend, Joan. Davis has never been bad in anything, and was memorably superb as Judy Garland in the acclaimed 2001 ABC miniseries.
In
Starter Wife
, she's a recovering alcoholic married to a caring yet increasingly lifeless husband played by durable Ronny Cox and aptly named Pappy. Their closing scene Friday night is a stark awakening for her. Take away line: "You're outsourcing me!" Hmm, but how?
Molly's ex-, young Hollywood producer Kenny Kagan (David Alan Basche), shares a seven-year-old daughter with her. Once bankable, he's gone nearly bankrupt backing a stinker.
Her refuge is a writing class presided over by a strapping dude named Zach (Hart Bochner). That's predictable, as is his budding, less than platonic interest in her. Obviously this is going somewhere, but don't expect the obvious.
Messing amassed five best actress Emmy nominations for
Will & Grace
, and won once. She also was in the running for the
Starter Wife
miniseries, but went home trophy-less.
There'll be a next time, though. Her opening night performance in
Starter Wife
's return is sterling from start to finish, whether she's quipping with pals or turning up the intensity in scenes with her ex-husband and a hoped-for new friend named Liz (Danielle Nicolet).
Davis also crackles in exchanges with besotted actor David Shea (Daniel Gerroll), whom she's trying to help after reluctantly taking on a part-time job at a rehab center.
Lifetime would kill to have
Starter Wife
in its lineup. It'd be a magnet for that network's female target audience.
On broader appeal USA, the show's percentage of male viewers still might be lower than George W.'s approval rating. Don't worry, though. You won't lose your fastball if you're one of 'em.
Grade:
A-minus