BBC America's Intruders is more off-putting than involving
08/21/14 01:44 PM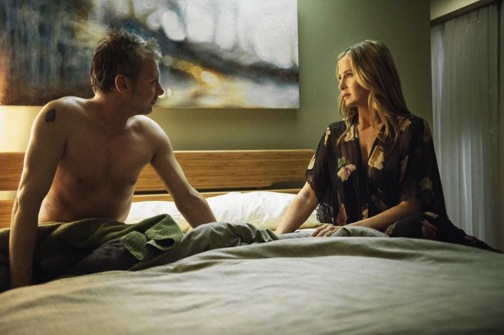 John Simm & Mira Sorvino have very little time for this in Intruders.
BBC America photo
Premiering:
Saturday, Aug. 23rd at 9 p.m. (central) on BBC America
Starring:
John Simm, Mira Sorvino, James Frain, Millie Brown, Tory Kittles
Produced by:
Glen Morgan, Jane Tranter, Julie Gardner, Rose Lam
By ED BARK
@unclebarkycom on Twitter
Story continuity isn't the only problem with BBC America's
Intruders
.
Early in Episode 1, a brief kitchen counter make-out scene makes it look as though Mira Sorvino rather magically has her robe off, on, off, on and off again. Upon further review, this is supposed to be some sort of arty, sleight-of-hand sequence shot from two angles. Unfortunately it also foreshadows the crazy-quilt makeup of this discombobulated tale, which furthermore is set in the "moody" Pacific Northwest, as described in BBC America publicity materials.
Four of the eight hour-long episodes were made available for review. That's a considerable investment in time before hitting the desktop keyboard and rendering judgment. I kept wanting
Intruders
to get a grip on itself and in the process become more gripping. Instead it toggled to and fro, gradually making a little more sense while taking way too much time to do so. Being neck-deep in a muddy, murky eerie canal gets tiresome in due time. And the performances aren't all that hot either in this adaptation of Michael Marshall Smith's 2007 novel.
Sorvino is the marquee name, but her character isn't the central figure of
Intruders
. That job goes to John Simm as former LAPD officer Jack Whelan, whose book
Afterlife
is now available in stores dotting the picturesque coastal town of Birch Crossing, WA. Whelan, who left the force after a violent incident, is newly dedicated to living quietly with his wife, Amy (Sorvino). But she soon vanishes amid the drama's multiple story lines in venues ranging from Finley Beach. Oregon to Reno, Nevada.
Intruders
begins with a surfeit of spooky music and drum-pounding at a teen girl's 1990 birthday party in Barstow, CA. Two mysterious men eventually invade her bedroom. One of them is played by the redoubtable and always welcome
Robert Forster
, who's briefly shown saying, "Donna, can you keep a secret? It's a secret that you gave to us. We're here to give it back to you, just as you asked all those years ago. We're just here to shepherd you."
She next vomits, of course, before writhing around, writing a "not Donna" letter and then drowning herself in a bathtub of blood. Then it's on to present-day Seattle, where a marauding assassin named Richard Shepherd (James Frain) blows away a mom and her son while searching for an engineering professor whose knowledge could be dangerous to a very sinister secret society known as
Qui Reverti
.
The other featured characters are Jack's old high school buddy, Gary Fischer (Tory Kittles), and a nine-year-old girl named Madison O'Donnell (Millie Brown), who's both possessed and dangerous. Gary turns out to know a lot more about Jack's duplicitous wife while Madison drowns her purring cat in a bubble bath before wailing "What have I done?" near the end of Saturday's Episode 1. You may want to stop watching right there.
In subsequent episodes, Richard keeps killing, Jack keeps searching and kid Madison spews profanity -- "So limp dick, there's some shit I need from you" -- that often ends with the tagline, "What goes around comes around." Then again, she's sometimes not in her right mind.
Sorvino is largely out of the picture in Episodes 2 and 4, leaving Simm to do most of the heavy lifting. Frankly, he's not much of a leading man in a drama that requires some standout acting and a galvanizing presence to offset all the detours and plot knots. Sorvino and Simm try to rally these proceedings with an extended, boozy confrontation in Episode 3. "You saved me. Let me save you," he finally pleads. Too little too late -- in every respect.
A lot of
Intruders
is shot at night, which perhaps is fitting for a drama that leaves viewers too much in the dark. Those willing to be strung along on the quest for immortality front would do far better to catch up or stay with FX's ongoing
The Strain
.
Intruders
, in contrast, just can't seem to breathe sustaining life into its characters or storyline.
GRADE:
C