ABC makes Dancing a one-step while otherwise crowding its fall schedule with eight new series
05/14/13 11:40 AM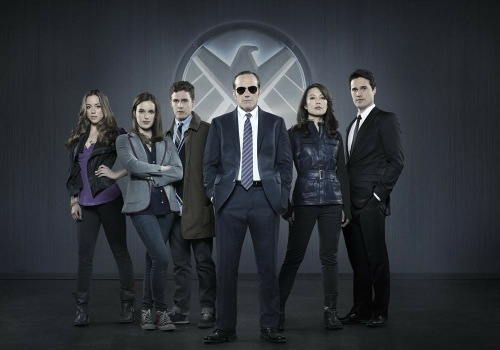 Marvel's New Agents of S.H.I.E.L.D will take on NCIS this fall. ABC photo
By ED BARK
@unclebarkycom
Struggling ABC will go into battle this fall with more freshman series than any other rival -- including an all-new Tuesday night -- and a one-step
Dancing with the Stars
airing only on Mondays.
The No. 4 network in the key 18-to-49 demographic is making room by canceling a flotilla of series. The casualties, most of them previously announced, include
Body of Proof, Red Widow, Malibu Country, Happy Endings, Family Tools, How to Live with Your Parents (For the rest of Your Life), Last Resort, 666 Park Avenue, Zero Hour, Private Practice
and
Don't Trust the B -- In Apartment 23
.
The new season's stand-alone
DWTS
, with both performances and results on the same night, possibly could still have a viewer vote-in component, ABC entertainment president Paul Lee said Tuesday in a teleconference with TV writers. Ratings sagged badly this season while viewership continued to skew beyond the advertiser-prized 18-to-49 age range.
Lee said he hoped that a condensed
DWTS
will "build a sense of occasion." ABC also is determined to find ways to "help us age it down" he said.
With
DWTS
out of the picture, the network's all-new Tuesday night lineup will start off with
Marvel's New Agents of S.H.I.E.L.D
, a spinoff of
The Avengers
movie helmed by fave rave sci-fi producer Josh Whedon (
Buffy the Vampire Slayer, Dollhouse, Firefly
). It will have super-stiff competition opposite CBS'
NCIS
, this season's most popular scripted series.
Thursday night's leadoff hitter,
Once Upon a Time in Wonderland
, is a spinoff of ABC's
Once Upon a Time
. It joins returnees
Grey's Anatomy
and
Scandal
on what Lee called "a powerful night of empowered women."
ABC also announced five midseason series, including
Killer Women
. Publicity materials say it stars Tricia Helfer (
Battlestar Galactica
) as "ballsy, badass" Molly Parker, the only woman on the Texas Rangers law enforcement team. Still, for some reason the title is plural.
Lee said the network plans to air some of its established serial dramas in separate blocs of 12 episodes to avoid interruptive repeats. Candidates for this treatment are
Grey's, Once Upon a Time, Revenge
and Scandal, with limited-run series (mostly to be announced later) bridging the gaps.
Here are ABC's eight fall newcomers:
Marvel's Agents of S.H.I.E.L.D.
(drama) -- Clark Gregg resumes his role of Agent Phil Coulson from last year's
The Avengers
, which was directed by Whedon. His new team, comprised of largely unknown actors, will "investigate the new, the strange and the unknown around the globe."
Lucky 7
(drama) -- A group of Astoria, Queens gas station employees finally hits a lottery jackpot after chipping in together for months. So now what'll they do? Isiah Whitlock, Jr. from
The Wire
tops the cast.
Once Upon a Time in Wonderland
(drama) -- John Lithgow plays the White Rabbit and Sophie Lowe (
Beautiful Kate
) is Alice. They join other famed characters in "a tumble down the rabbit hole to this Wonderland where nothing is impossible."
Betrayal
(drama) -- A photographer and an attorney, both married, fall instantly in love before finding themselves on opposite ends of a high profile murder investigation. Starring Hannah Ware (
Boss
) and Stuart Townsend (
The League of Extraordinary Gentlemen
), with old reliable James Cromwell chipping in.
The Goldbergs
(comedy) -- Set in the 1980s, this one's about "a loving family like any other, just with a lot more yelling." Co-stars Jeff Garlin (
Curb Your Enthusiasm
) and George Segal are the best-known of the ensemble group.
Super Fun Night
(comedy) -- Three female best friends have a standing date night every Friday until some inevitable sitcom "monkey wrenches" intrude. The three principals are played by Rebel Wilson (
Bridesmaids
), Lauren Ash (
Lars and the Real Girl
) and Liza Lapira from ABC's axed
Don't Trust the B -- in Apartment 23
.
Trophy Wife
(comedy) -- Bradley Whitford of
The West Wing
fame plays the third husband of a "reformed party girl" named Kate (Malin Akerman of
Suburgatory
). Marcia Gay Harden and Michaela Watkins also are in the mix as the Whitford character's ex-wives.
Back in the Game
(comedy) -- An up-against-it single mom and her son move in with her cantankerous, estranged father, played by James Caan. His nickname is "The Cannon," which likely rules out subtlety. Maggie Lawson (
Psych
) co-stars.
This is the fall schedule announced by ABC:
MONDAY
Dancing with the Stars
Castle
TUESDAY
Marvel's Agents of S.H.I.E.L.D.
The Goldberg's
Trophy Wife
Lucky 7
WEDNESDAY
The Middle
Back in the Game
Modern Family
Super Fun Night
Nashville
THURSDAY
Once Upon a Time in Wonderland
Grey's Anatomy
Scandal
FRIDAY
Last Man Standing
The Neighbors
Shark Tank
20/20
SATURDAY
Saturday Night College Football
SUNDAY
America's Funniest Home Videos
Once Upon a Time
Revenge
Betrayal
Here are the five midseason series announced by ABC:
Killer Women
(drama) -- We've pretty much been over this one, but it's always fun to write "ballsy, badass" again. Which is the network's eye-catching description of Molly Parker (Tricia Helfer), the only female Texas Ranger amid men who want to see her fail.
Mind Games
(drama) -- Steve Zahn (
Treme
) and the well-traveled Christian Slater (three prime-time series flops in a row) star as brothers running a "unique agency committed to solving clients' problems using the hard science of psychological manipulation."
Resurrection
(drama) -- Deceased loved ones walk anew, puzzling the citizenry of Arcadia Missouri. Principal among them is an eight-year-old boy who wakes up alone in a rural China rice paddy with no idea of how he got there. He then returns to his hometown of Arcadia, whose denizens include veteran actors Omar Epps (
House
), Kurtwood Smith (
That '70s Show
) and Frances Fisher.
Mixology
(comedy) -- A recently dumped dude named Tom (Blake Lee/
Parks and Recreation
) is tossed "back into the dating pool, whether he likes it or not."
The Quest
(reality) -- A dozen "lucky" contestants embark on the journey of a lifetime upon entering "the world of Everealm." It's billed as "a land of magic and malevolence, where mythical creatures lurk in the woods, agents of darkness stir in the shadows and mystical beings infiltrate the keep." The keep? ABC leaves it at that.
The network also has ordered
Toy Story of Terror
, a special from the makers of the blockbuster
Toy Story
films. Tom Hanks and Tim Allen actually are lending their voices, which makes this much more enticing than if it were Scott Baio and Joey Lawrence in a typical TV markdown.
Email comments or questions to:
unclebarky@verizon.net