More to Love -- less than meets the eye
07/27/09 04:16 PM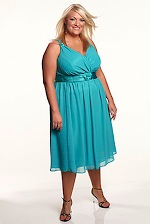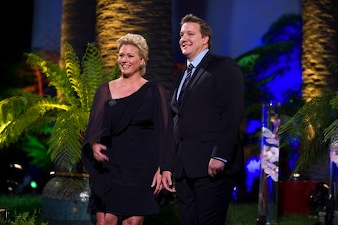 North Texan Natalia Jackson is one of 20 "full-figured" suitors vying for bachelor Luke Conley, pictured with host Emme.
Premiering:
Tuesday, July 28th at 8 p.m. (central) on Fox
Starring:
Bachelor Luke Conley, supermodel Emme and 20 plus-sized women looking for love
Produced by:
Mike Fleiss
By ED BARK
None of the 20 "full-figured" supplicants on Fox's
More to Love
looks quite large enough to make the cut on NBC's
The Biggest Loser
.
Most certainly are weepy enough, though, including North Texan Natalia Jackson, easily the heaviest contestant at 279 pounds.
The show lists everyone's weight, save for "iconic" plus-sized supermodel Elle, who serves as host. And whether or not this thing truly is "inspirational" -- as Fox describes it -- Natalia does seem to be at a sizable disadvantage against love-seekers who weigh as much as 99 pounds less than her.
Premiering
Tuesday, July 28th at 8 p.m. (central)
,
More to Love
is from veteran reality show provider Mike Fleiss, who has already hit the motherlode with ABC's
The Bachelor
. This series is exactly like that show, save for the so-called "
real
" women populating it and the bestowing of diamond-studded promise rings instead of roses by 26-year-old, 330-pound real estate investor Luke Conley.
"I'm a big man, and I enjoy being a man of large stature," he proclaims before heading to the inevitable, floodlighted, Southern California mansion to meet an array of love-handled "voluptuous, curvy women."
Natalia, the last to be introduced to him, is originally from Fort Worth and currently lives in Dallas. Fox press materials list her occupation as "make-up artist," but on the show she's billed as a "recruiter."
"I'm such a good person. And I just want somebody to love me for me and just get to know me and get past all that. And it's hard. It's definitely hard," Natalia says, sobbing.
Most are soon proclaiming their love for Luke, who in turn tells the camera, "They're all so beautiful. They're exactly what I'm looking for."
Alas, he must trim the herd by five on the premiere episode. The supposedly lucky ones are asked, "Will you wear this ring?"
Television is all over the place when it comes to telling women how they're supposed to feel about their bodies. Nary a week goes by in D-FW without a new spate of diet and cosmetic enhancement stories on local newscasts.
Biggest Loser
also implores its over-sized inhabitants to take it off, as do Oxygen cable's
Dance Your Ass Off
and VH1's
Celebrity Fit Club
.
More to Love
-- "I love me a skewer of meat," says one contestant -- and
Mo'Nique's Fat Chance
, also from Oxygen, say it's all right to strut your "junk" and be proud of it. Most guys may indeed "love the skinny bitches," 245-pound Kristian says on
More to Love
. But she's got more to offer and sassily plans to prove it.
Why then, are most of these plus-sized women depicted as desperate, dateless and dependent on
More to Love
for a last grasp at the brass ring? How can they go on if Luke rejects them? Several seem at rope's end, including Natalia.
But that's the way reality TV rolls, no matter what the shapes and sizes of the participants.
More to Love
is no better or worse in that respect. But it sure does seem redundant -- and in no small part phony, too.
GRADE:
C