ABC's Killer Women embraces Texas, films elsewhere, plays pretty dead
01/06/14 02:37 PM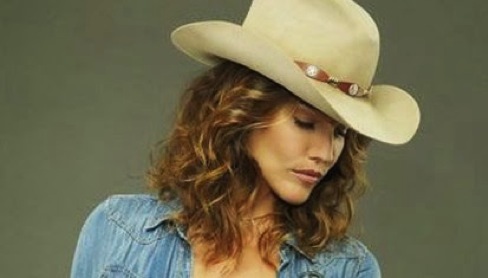 Tricia Helfer plays a hard-charging Texas Ranger in Killer Women.
ABC photo
Premiering:
Tuesday, Jan. 7th at 9 p.m. (central) on ABC
Starring:
Tricia Helfer, Marc Blucas, Michael Trucco, Alex Fernandez, Marta Milans
Produced by:
Hannah Shakespeare, Ed Zuckerman, Sofia Vergara, Martin Campbell, Ben Silverman, Luis Balaguer
By ED BARK
@unclebarkycom on Twitter
ABC's braggadocio publicity materials for
Killer Women
describe its heroine as a "ballsy and badass" Texas Ranger.
That's a bold description, but talk is cheap. In reality, expect nothing new under the sun from a drama set in San Antonio, filmed in New Mexico and falling flat wherever the cameras might roll.
Replacing ABC's almost instantly canceled
Lucky 7
, this series also is reminiscent of an earlier failed effort on rival NBC.
Chase
, launched in fall 2010, starred Kelli Giddish (now of NBC's
Law & Order: SVU
) as Texas tough Annie Frost, head of an otherwise all-male task force of elite U..S. Marshals based in Houston. At least it was filmed in Texas.
Killer Women
makes do with an opening stock footage (or CGI) shot of The Alamo before the producers set up shop in the Albuquerque area.
Starring is Tricia Helfer as Molly Parker, who apparently specializes in tracking down women wanted for murder. In Tuesday's premiere episode, a seeming she-devil in a tight red dress and matching high heels strides into a wedding ceremony and shoots the bride dead right after she kisses the groom. It seems like a cut-and-dried case, but Molly of course suspects larger forces are at work.
When not going against the grain or inducing chortles from chauvinistic male law enforcers, Molly seeks to end her marriage to Jake Colton (the recurring Jeffrey Nordling). He in turn professes his undying love, but Molly later lets viewers know that Jake indeed is as "smarmy" as ABC's press materials describe him. Besides, she's now having a good time in the sack with jaunty DEA agent Dan Winston (Marc Blucas).
The other major man in Molly's life is Rangers company commander Luis Zea (Alex Fernandez), who drops in on occasion to buck her up. Also look for a brief appearance by Brad Leland (showy car dealer/booster Buddy Garrity of
Friday Night Lights
) as a tall-talkin' Texan named Wily Whitman.
The ubiquitous Sofia Vergara of
Modern Family
is listed as one of
Killer Women
's executive producers. ABC is using that as a selling point in its on-air promotions, but the principal hands on this throttle more likely are those of
Law & Order
veteran Ed Zuckerman, former NBC entertainment president Ben Silverman and writer/producer Hannah Shakespeare -- which this isn't.
It all ends with a gun battle and daring escape, followed by a paint-by-numbers prison reunion. Her missions accomplished, all that's left for Molly is a little horn-playing with a honky tonk band. It's not yet known whether she also makes a mean chili pie.
Given all that cable networks have accomplished in recent years, you'd think that a Big Four broadcaster such as ABC would try a little harder to distinguish itself. But there's no danger of that with
Killer Women
, which starts in a rut and stays there.
GRADE:
C-minus
Email comments or questions to:
unclebarky@verizon.net